#Pune
is a few days away from a medical catastrophe. State Govt. has failed. I on behalf of every Punekar have written to Hon. PM
@narendramodi
ji, Hon. HM
@AmitShah
ji, Hon. MoHFW
@drharshvardhan
ji, Shri.
@Dev_Fadnavis
ji and sought intervention from the Central Govt. (1/n)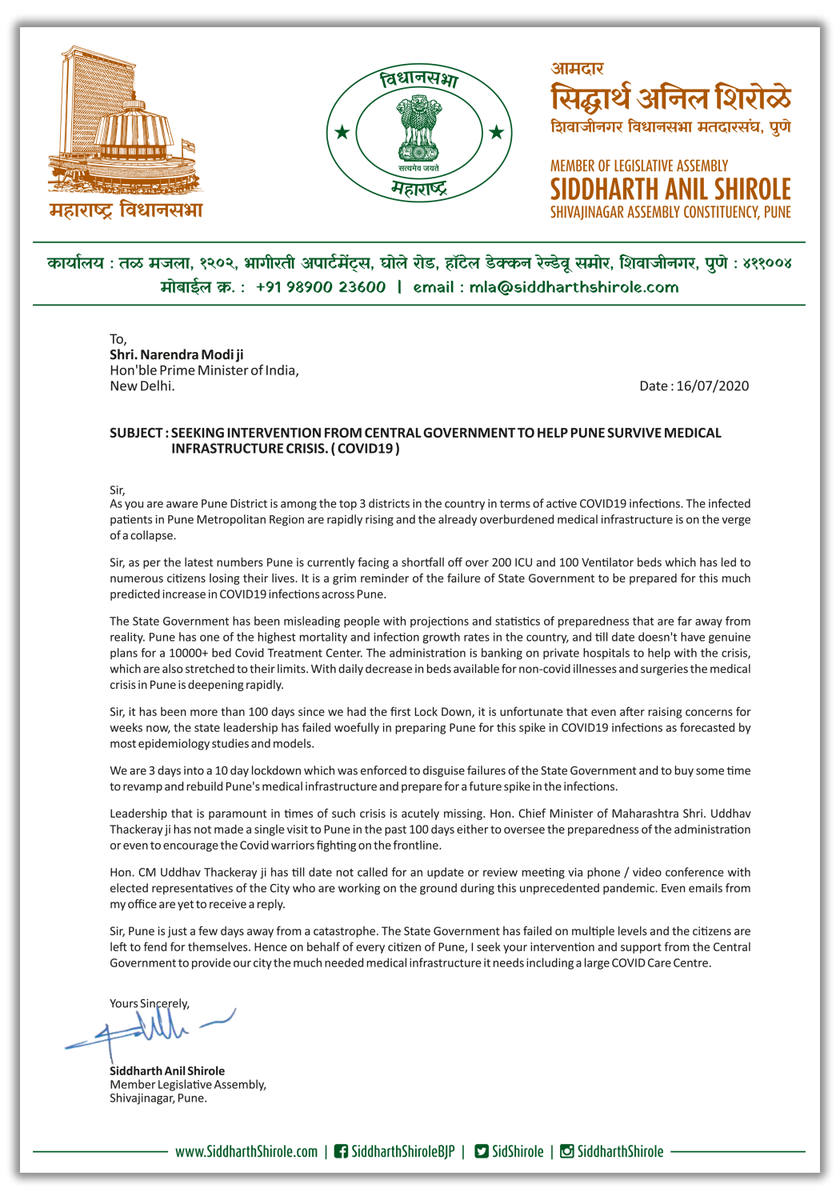 #Pune
District is among the top 3 districts in the country in terms of active
#COVID19
infections. The infected patients in Pune Metropolitan Region are rapidly rising and the already overburdened medical infrastructure is on the verge of a major collapse. (2/n)
As per the latest numbers
#Pune
is currently facing a shortfall off over 200 ICU & 100 Ventilator beds which has led to numerous citizens losing their lives. It is a grim reminder of failure of State Govt to be prepared for much predicted increase in
#COVID19
infections (3/n)
State Govt has been misleading people with projections & statistics of preparedness that are far away from reality.
#Pune
has one of the highest mortality & infection growth rates in India, and till date doesn't have genuine plans for a 10000+ bed
#Covid19
Treatment Center.
(4/n)
Administration is banking on & enforcing private hospitals to help with the
#COVID19
crisis, which are also stretched to their limits. With daily decrease in beds & facilities available for non-covid illnesses and surgeries the medical crisis in
#Pune
is deepening rapidly. (5/n)
It has been more than 100 days since we had the first
#LockDown
, it is unfortunate that even after raising concerns for weeks now, the state leadership has failed woefully in preparing
#Pune
for this spike in
#COVID19
infections as forecasted by most epidemiology. (6/n)
We are 3 days into a 10 day
#lockdown
which was enforced to disguise failures of the State Government and to buy the administration some time to revamp and rebuild Pune's medical infrastructure and prepare for a future spike in the
#COVID19
infections. (7/n)
Leadership that is paramount in times of such crisis is acutely missing. Hon.
@CMOMaharashtra
Shri. Uddhav Thackeray ji has not made a single visit to
#Pune
in the past 100 days either to oversee preparedness or even to encourage the
#COVID19
warriors (8/n)
Hon. CM
@OfficeofUT
ji has till date not called for an update or review meeting via phone / video conference with elected representatives of
#Pune
who are working on the ground during this unprecedented pandemic. Even emails from my office are yet to receive a reply. (9/n)
#Pune
is just a few days away from a medical catastrophe. State Govt. has failed on multiple levels. Hence I on behalf of Pune have requested the Central Govt. to intervene and provide support for medical infrastructure that our city so desperately needs. (10/10)