Good morning from New York.
Almost a year to the day since Jeffrey Epstein's bail was rejected, Ghislaine Maxwell will make the same request before a federal judge. Her accusers will have their say first.
Preview, analysis and live coverage ahead,
@CourthouseNews
.
As we wait for the arraignment and bail hearing to begin, my colleague
@JRuss_JRuss
joins me here in SDNY for continuous coverage today.
In the same court, a federal judge just rejected a proposed settlement in a Harvey Weinstein class action. Josh is on that story now.
Roughly five minutes until the scheduled start time for today's Ghislaine Maxwell arraignment and bail hearing.
Visible on the CCTV in court now:

* Ghislaine Maxwell, in a brown T-shirt, having removed her tortoise-shell framed glasses

* Mark Cohen, her attorney

* Prosecutors, led by AUSA Alison Moe

* U.S. District Judge Alison Nathan

We are about to begin. Judge Nathan calls the case
Judge Nathan: Ms. Maxwell, can you see me, okay?

Maxwell: Yes, thank you.

(The judge and defendant's ability to see each other is critical to an arraignment, even remotely. Maxwell is appearing via video feed from MDC. )
#CourtintheTimeofCovid
: Prosecutors working to resolve technical issues to allow staff to listen in to a line, already dialed in by hundreds of listeners.
Judge Nathan notes we are here for arraignment and bail hearing and that she is appearing remotely, in a video feed from plain room with an unadorned wall.

Maxwell again waives her right to be physically present.
Nathan notes, with some understatement, that the case has considerable public interest. There is video in the SDNY jury assembly room, which can accommodate 50 people.

The audio line has been expanded to accommodate 1,000 people, she says.
BREAKING: Ghislaine Maxwell pleads NOT GUILTY to the charges.
Assistant U.S. Attorney Alison Moe describes some categories of discovery documents:

* Search warrant returns, copies of search warrants, business records, photographs, searches conducted on electronic devices, prior investigative files from the Southern District of Florida.
Judge Nathan delicately notes that in the Florida case there have been issues with "full and timely disclosure."

AUSA Moe: The physical files themselves were shipped to New York.

"We are completely thoughtful of those concerns given the history of this case."
Discussion now shifts to scheduling matters.

Maxwell's attorney Mark Cohen says that the schedule depends upon whether there will be a superseding indictment.

AUSA Moe: "Our investigation remains ongoing," but they do not currently anticipate a superseding indictment.
AUSA Moe describes the efforts to reach out to potential victims on the Child Victims Rights Act.

Three are expected to speak, two through submitted statements and one directly.
Judge sets an anticipated trial date for Ghislaine Maxwell on July 12, 2021.
Judge Nathan shifts to the government's motion to keep Ghislaine Maxwell in jail.

Prosecutors up first, then victims.

AUSA Moe: "The government strongly believes that this defendant presents and extreme risk of flight."
AUSA Moe: "There are serious red flags here."

Maxwell has significant financial means. She has "few if any" community ties, and she has a "strong incentive to flee" to avoid accountability for her crimes.

"There are no conditions that can regularly ensure her return to court."
AUSA Moe: "The defendant is charged with a conspiracy to exploit the [INAUDIBLE] vulnerable members of our community," who were as "young as 14 years old."

Maxwell knew that Epstein had a predilection for underage girls, the prosecutor says.

(Shaky audio connection.)
AUSA Moe says that Maxwell has been moving from place to place for years and has taken efforts to disguise her whereabouts.

Judge Nathan presses Moe on Maxwell's contention that her lawyers kept in touch with prosecutors.
Moe: That did not include information about her whereabouts.

She says that SDNY's contact with Maxwell's lawyers has been "minimal" and has "not been substantial."
Moe: There is a real concern here that the defendant can live beyond the reach of extradition indefinitely.
Judge Nathan presses the prosecutor on what it knows about Maxwell's finances.

Moe: The defendant told pretrial services that the New Hampshire property was owned by a corporation.

She says Maxwell claimed the corporation let her live there.
Moe: It appears that the defendant attempted to conceal an asset from the court.

She moves onto what she calls Maxwell's alias, disclosed in court documents as "G Max."
Judge Nathan: "Your contention there is that she resisted opening the door upon being informed that authorities were seeking entry."
The judge is alluding here to this dramatic passage from prosecutors' recent briefing.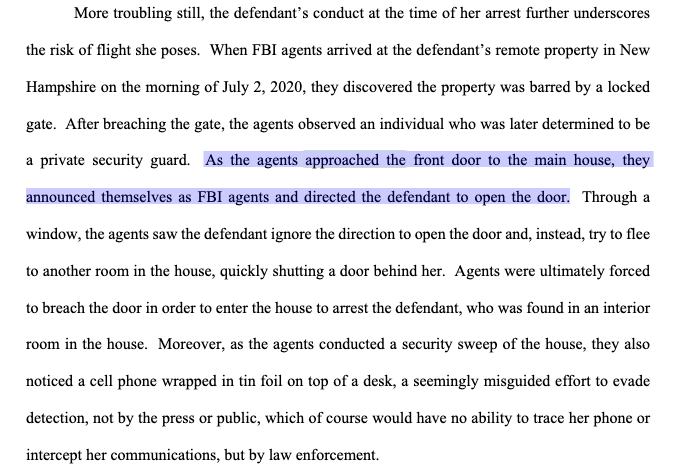 AUSA Moe notes that the defense makes "no effort whatsoever" to describe Maxwell's murky finances, and pressing Maxwell on these details now would be too late.

"The court cannot rely on the defendant to be transparent," Moe says. "In short, she has not earned the court's trust."
Moe: "Instead, she proposes that she stay at a luxury hotel in Manhattan, the most transient kind of residence."

"Your honor, the defendant is the very definition of a flight risk," she adds.
AUSA Moe reads an anonymous accuser's written statement.

Jane Doe describes Maxwell's "calculating" manipulation.

"She was in charged. She egged him on." ...

"I have great fear that Ghislaine Maxwell will flee."

(Static in the audio feed.)
Jane Doe says she received a phone call in the middle of the night threatening her 2-year-old.

Maxwell has "nothing to lose" and "no remorse," Jane Doe says.

If Maxwell is released, Jane Doe says she will want protection.
Second accuser: Annie Farmer, with a brief statement.

"I met Ghislaine Maxwell when I was 16 years old."

Farmer calls her "a sexual predator" who abused her. "She also has a demonstrated contempt for our legal system by committing perjury."
Service advisory: Extremely shaky audio.
Maxwell's attorney Mark Cohen speaks about the difficulty of defending a case like this during the Covid-19 crisis and takes the same anti-press swipe as his legal brief.

"Our client is not Jeffrey Epstein, and she has been the target of endless media spin."
Maxwell's attorney Mark Cohen disputes that her client does not have community ties: "She's part of a very large and close family."

"People have received physical threats... They have received death threats."
Cohen comments on the federal law allowing Maxwell's accusers to speak at her bail hearing. He says that he knows they are entitled to speak under the law, but he claims they cannot speak to risk of flight.

He cites precedent that gives victims a "right but not a veto."
Cohen denies that Jane Doe's description of receiving call with a threat to her two-year-old bears any relation to his client and notes that there is no allegation that it does.
Cohen rattles of precedents in defense of his client.

Judge Nathan asks him whether those cases involve defendants with substantial international assets.

Cohen answers no.
Cohen moves onto precedents with international ties.
Cohen argues that if the court is not satisfied with Maxwell's proposed bail package, the judge should seek a tougher bail rather than denying it.
Cohen disputes prosecutors' allegation that Maxwell essentially resisted FBI agents when they entered the New Hampshire property where she was arrested.

Referring to the security guards there, he says: "My client had to hire security because of the threats to her."
Cohen claims Maxwell's phone has been hacked, but she had to preserve the phone as evidence, explaining the claim that she kept it wrapped in tin foil on top of a desk.
Cohen says that Maxwell's arrest in the United States, in the shadow of a highly publicized prosecution and investigation here, is the "opposite of hiding."
Cohen pivots to Ghislaine Maxwell's finances.

Even if the court were to assume that Maxwell has the means the government claims she does, Cohen argues, it does not matter for the purposes of bail.
In the recent brief, prosecutors pointed to financial records known as Form 114 listing foreign bank accounts with millions of dollars.

Cohen argues that Maxwell disclosing these accounts in government filings shows she is not hiding.
Cohen turns to the non-prosecution agreement (NPA) in Jeffrey Epstein's criminal case in Florida from 2007.

"We have a case where the conduct is more than 25 years old," he says, referring to allegations from between 1994 and 1997.

Prosecutors say the NPA does not cover it.
AUSA Moe's rebuttal begins:

She rejects that the government's case is about "spin," or "throwing dirt" or about "the media."

Noting that a grand jury charged in the allegations in the indictment, Moe says: "It is not dirt. It is not spin. That is the evidence."
Moe rejects the notion that prosecutors could have notified Maxwell's council about her imminent arrest to arrange her surrender.

That is not how one arranges the capture of a criminal target considered a flight risk, Moe adds.
Denying bail to Ghislaine Maxwell would be consistent with pre-trial services recommendations and the request of the victims, Moe says.
The judge is about to read her ruling.

The nature of the offense weighs in favor of detention, she begins.

(No ruling yet.)
Second: The evidence of the case "appears strong," the judge finds.

(No ruling yet.)
Third: History and characteristics gives Maxwell a risk of flight, the judge finds, noting her multiple foreign citizenships and connections abroad.

(No ruling yet...)
The judge moves onto the defense's arguments.
The fact that Maxwell did not flee and was in the United States is significant but not controlling, the judge says.
"The court is persuaded that the government has met its burden" that no combination of bail restrictions would guarantee her presence at trial.

This is a long lead-up to a ruling that still remains to be read.
Without knowing her "opaque" finances, Judge Nathan says, it would be "practically impossible" to craft reasonable bail conditions.
Speaking for Maxwell's flight risks, Judge Nathan says: "The risks are simply too great."

(She still has not officially issued her ruling.)
Judge Nathan moves onto the Covid-19 pandemic.

Though she is "greatly concerned" about that, Nathan notes that Maxwell's age or underlying conditions do not provide additional risks for her.
Maxwell's briefly tilted her head down and rested her chin on her hands. Her head is largely turned down during the judge's recitation.
A slow build-up to an inevitable conclusion: Bail denied.

"We are hereby adjourned."
Maxwell did not show much of a reaction as the ruling formally came down, but it was clear where it was going early in Judge Nathan's preliminary findings.