The reason they have to drop ALL the indictments at once is the Flynn case can't be extricated from the larger RICO criminal conspiracy within which it was formed.
Flynn's framing for a false statement case is just one branch of a MASSIVE RICO criminal conspiracy that occurred across the breadth of most of the federal gov't.

It involved officials in:

1) FBI
2) DOJ
3) St. Dept
4) CIA
5) ODNI
6) foreign gov'ts & foreing intel services.
While they can drip-drip-drip out the evidence for the massive coup plot against President Trump, of which the Flynn framing was just ONE PART of the whole, the JUSTICE cannot be drip-drip-dripped out.
They make a sizable amount of the case for this massive RICO plot to overthrow an elected President public first, until the CRIES FOR JUSTICE reach to the Heavens before they drop the curtain and roll out the indictments.

Been saying for 3 years now: THIS IS THE WAY.
Durham can drop his indictments at ANY TIME before the election.
People freaking out and going "Oh my GOD... there's only ONE HUNDRED AND THIRTEEN DAYS LEFT FOR DURHAM, JENSEN, BASH & OTHER AS-YET-UNNAMED US ATTORNEYS TO UNSEAL INDICTMENTS!!!! AHHHHHHHHHH!!!!!!"

What the hell are people saying? The TRIALS have to start by November? Is that it?

Listen: when these people are indicted, the trials will take anywhere from six months to a year to get started.

Unless some of the plotters accept a plea deal quickly.
Durham is working hard right now to finish by the end of the summer, which would be late August.

One reporter got 2 anonymous sources to **SPECULATE** and "read Durham's mind" so she could publish a story that Durham **might possibly punt to after the election**.
That immediately became the rallying cry of the Conservative Cassandra Chorus, that gets it's views, clicks and $ from stoking panic, fear and outrage every day.

Why do you still listen to fake news at this point?

You haven't figured out how the game's played yet?
Look how easily it became a "proven fact" that Durham **intends** to delay until after the election.

Barr has already said the election will play NO ROLE in the timing of Durham's investigation.

That's **why** this reporter went looking for anonymous sources for her story.
There are an awful lot of DC Swamp creatures right now who get down on their knees every night and pray to God that Durham delays until after the election.

This is what they are fervently praying for.
How **hard** is it for a reporter to find two anonymous sources who will claim to her they are quite intimate confidants of John Durham, they know his mind very well, the tells them inside baseball stuff?

That's EASY.

I've watched this game played forever since the 1980's.
Now, today they do the 'anonymous sources familiar with the matter' FAR more than they did in the 1980's when I started following politics.

But it's the same basic game. Some reporter wants to push a narrative, all they need is source to parrot it back to them.
"Several sources very close to the Mueller Special Counsel's office told me....

FLYNN HAS FLIPPED ON TRUMP!
COHEN HAS FLIPPED ON TRUMP!
MANAFORT IS SINGING LIKE A CANARY ABOUT TRUMP!

Mueller is compiling quite a mountain of evidence of Trump camapign/Russian gov't collusion..."
"Several highly placed intelligence officials told the New York Times that President Trump was briefed in March about the Russian bounty program, and took no action."

"Several intel sources confirm that Trump was briefed on the reality of the COVID-19 virus in early January..."
"Several officials familiar with the matter who would only speak on the condition of anonymity confirmed to the Washington Post that President Trump threatened Ukrainian President Zelensky during the phone call..."
"Two highly placed DOJ officials who refused to go on the record told Fox News anonymously that they are familiar with Durham's thinking, and they state he is mulling over whether to punt until after the election."

All they have to do is find a narrative that grabs you.
See, here's how the sausage gets made.

You can look BACK **now** and see just how many times these fake news goombahs suckered you by having multiple 'gov't officials familiar with the matter' anonymously push a false narrative.

Looking back and seeing it IS EASY.
But you've got to LEARN.

You've got to learn to spot it not only when they were doing it to you a year or a week or a few days ago...

You've got to train yourself to spot it when they are doing it to you RIGHT NOW.
You have **GOT** to learn what your own biases/fears are and **recognize** when some fake news media outlet has successfully **read your biases** and is **deliberately crafting** news stories to APPEAL TO YOUR CONFIRMATION BIAS.

If you can't do that, you'll always fall for it.
That Fox news reporter is SMART.

What's the **biggest fear** of the MAGA Trump right at the present time?

It's that Durham won't finish by the election.

So what'd she do?

She went and FOUND [supposedly] two 'key sources' who would tell her that.
If some reporter for NYT's, WaPo or CNN or Fox came out and tried this right now, "Multiple gov't officials anonymously told me Trump was briefed on the CCP virus in January..." would that work?

No. You're wise to that one now. You don't have a bias leading you to ACCEPT IT.
But if that SAME REPORTER comes to you and pushes a narrative that **IS** based on a current bias or fear you are holding, then if you're not perceptive, you're going to fall for it.

"Multiple gov't officials anonymously told me Durham will punt until after Nov. 3."
THAT'S WHAT YOU'RE SCARED OF RIGHT NOW.

That's what you fear.

Many of you even at THIS late date don't trust Barr or Durham.

So your bias gives the Fake News **some** working room here.
And **THAT**, my friends, is how you are still leaving the door open for Fake News to manipulate you with their cool anonymous sources.

So some of you can STOP TELLING ME YOU DON'T BELIEVE FAKE NEWS.

You prove to me EVERY DAMN DAY you do believe it.

Up your game.
"Brian I don't believe Fake News, I'm too smart for that, ha ha!"

SAME PERSON ONE DAY LATER:

"Brian...OH MY **GOD!** Fox News just says Durham is gonna punt until after the election! HOLD MY HAND BRIAN TELL ME IT'S GOING TO BE ALL RIGHT!!!"
Me: "It's two anonymous sources 'familiar with Durham's thinking'. I can already tell they don't work in Durham's office because Durhams office has had for more than a year the same documents Jensen has been giving to
@SidneyPowell1
& they didn't leak."
Durham's office does not leak and it's members do not talk anonymously to the Fake News Media.

But because people don't trust Barr or Durham, and they think anonymous leaks out of the DOJ are **gold standard**, they end up talking themselves into depression and/or panic.
So to sum up:

This massive RICO criminal conspiracy to overthrow a President was so massive, it took 3 1/2 years to get to this point. Indictments will be rolled out close together.

Fake News is always trying to find your biases/fears & crafting stories to trigger them.
Durham is leading a **team** of US Attorneys. That fact kind of has receded into the background.

We only know the names of THREE US Attorneys currently involved in SpyGate investigations because the DOJ deigned to inform of this:

1) Durham
2) Jensen
3) Bash

There are others.
There's a lot Barr & the DOJ haven't told us and they have very good and compelling reasons for not having told us.
I went into one of them here in a column awhile back: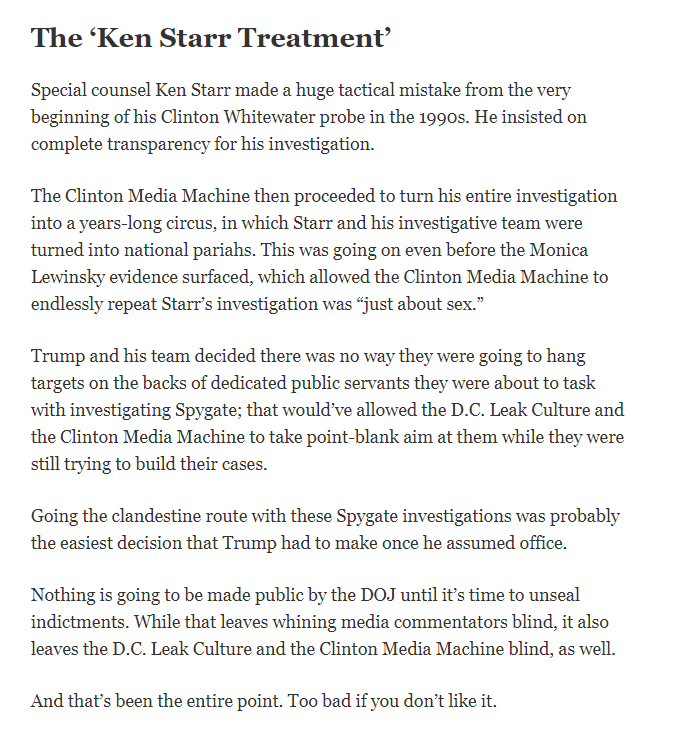 By making himself a lightening rod and holding the Democrats & the Media's attention with his bombastic displays, Trump has kept Media attention off of Durham and other US Attorneys as they work on what is the **most crucial criminal investigation the DOJ has ever attempted**.
Think about how much MORE partisan and rabidly vicious the mainstream media is NOW compared to to the mid-1990's.

Why haven't Huber & Durham and Jensen & Bash all been turned into national pariahs yet? Why don't they have media teams relentlessly stalking them at their homes?
I'll tell you why not.
I'll tell you WHY the media hasn't been able to do to Durham or Jensen or Bash what they did to Ken Starr.
Even **after** these rabid media partisans found out BIDEN is right in the middle of the Flynn frame.
THIS GUY.
THIS GUY RIGHT HERE.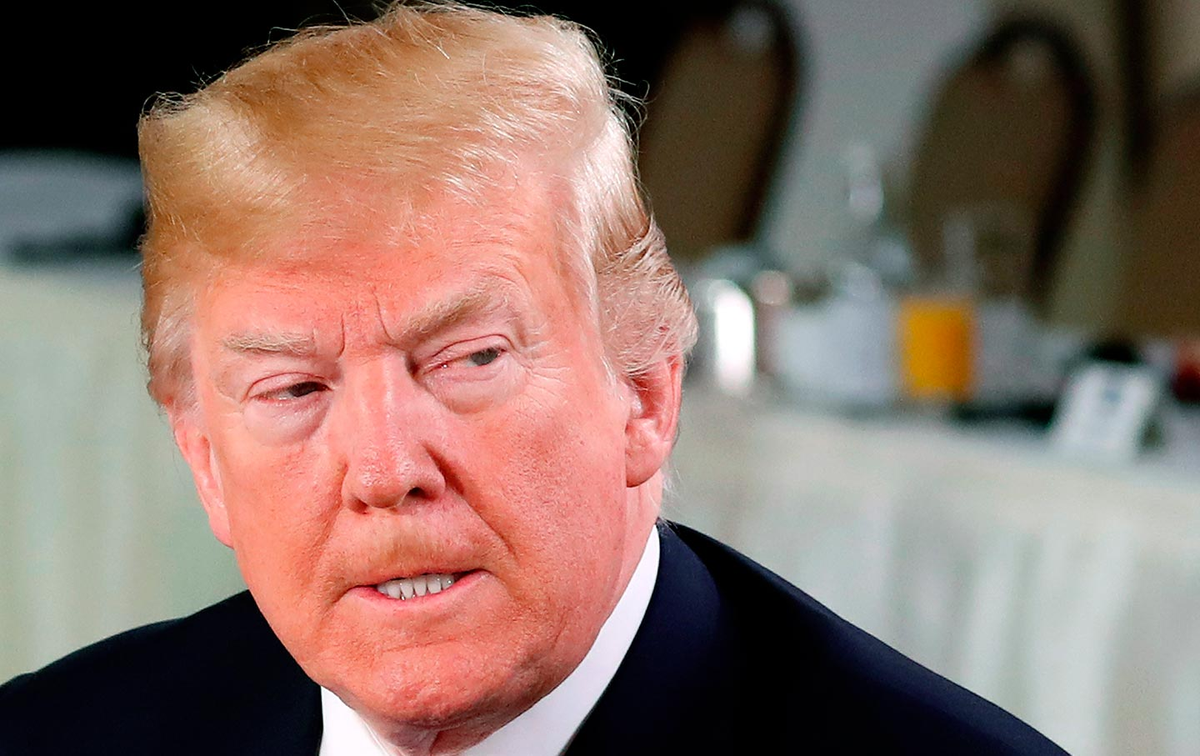 Starr made the HUGE MISTAKE of running his investigation openly, transparently. And the DNC Media/Clinton Machine took FULL ADVANTAGE OF THAT.

I can't tell you the number of times media people camped outside Starr's house just to FILM HIM GETTING INTO HIS CAR.
Starr and his entire team were on the news every night, being roasted as prudes and sexual inquisitors.

That was happening even BEFORE Linda Tripp released the Monica Lewinsky tapes and the whole scandal of Clinton getting blowjobs from an intern in the Oval Office.
When Trump and his team sat down to war game this out, I'm pretty sure one of the VERY FIRST THINGS THEY LOOKED AT was "How do we keep attention away from these US Attorneys while they build these cases?"
Well that's easy. You spend the entire first two years making it look like NOTHING'S HAPPENING.
There's NOBODY for the Dems or DNC Media to attack because NOBODY IS DOING ANYTHING.
[If anybody **was** doing anything, there'd be leaks! **gigglesnort!**]

You let the DNC Media chase after the Mueller rabbit for a year and a half while silent assassin Horowitz & his OIG investigators do their quiet work.

Then Sessions leaves, Barr comes in, Mueller closes down, and you publicly tap Durham & his US Attorney team....
...and you PRETEND you are just now starting to investigate this SpyGate stuff in late Spring of 2019.

Remember what the FBI & DOJ new management **publicly admitted** yesterday in their statement:
ALL THE DOCUMENTS THAT USA JEFFREY JENSEN HAS BEEN HANDING OFF TO SIDNEY POWELL IN THE FLYNN CASE SINCE APRIL 24TH TO NOW....

[are you sitting down? You might wanna sit down...]

HOROWITZ AND DURHAM ALREADY HAD THEM.
Screenshot to preserve the original order of the tweets: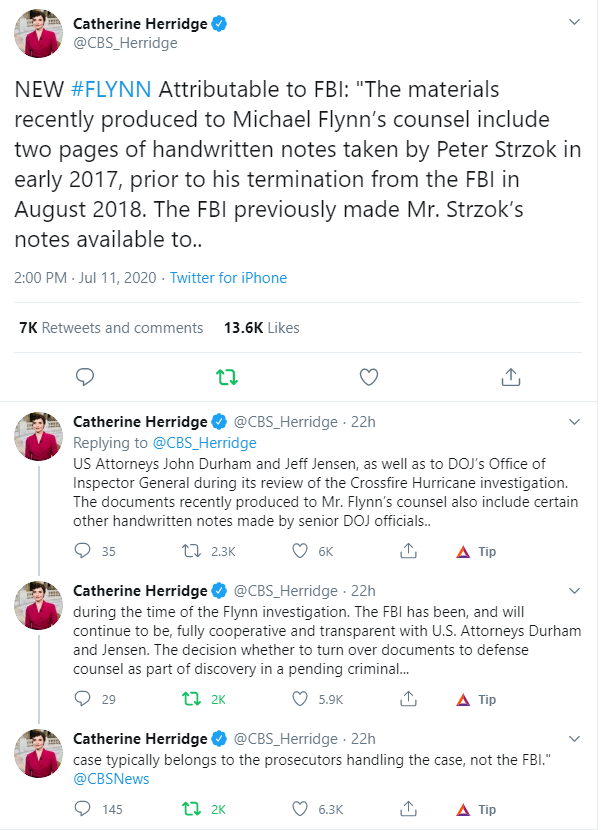 That's right. Everything you've been seeing Jensen hand off to Powell, all those DAMNING exculpatory documents that have been unsealed since April 24,

1) Barr
2) Horowitz
3) Durham

already had them.

They made it SOUND like Jensen just 'found' them recently.
This is a controlled declassification release through Jensen of some of THE most sensitive evidence in a massive RICO criminal coup conspiracy of which the Flynn frame is just a part.

That's why once they are satisfied enough EVIDENCE is public, they will unseal indictments.
The next drop will very likely include the 'lost' Flynn 302 interview form.

113 days.

People will make it SOUND like that is an incredibly short time.

Let's do an update at the end of July.

/end