This morning
@AHS_media
announced that the Misericordia Community Hospital is now under a full facility outbreak due to ongoing transmission of
#COVID19AB
.
Effective immediately, all services at the Misericordia are temporarily closed to incoming patients. 1/11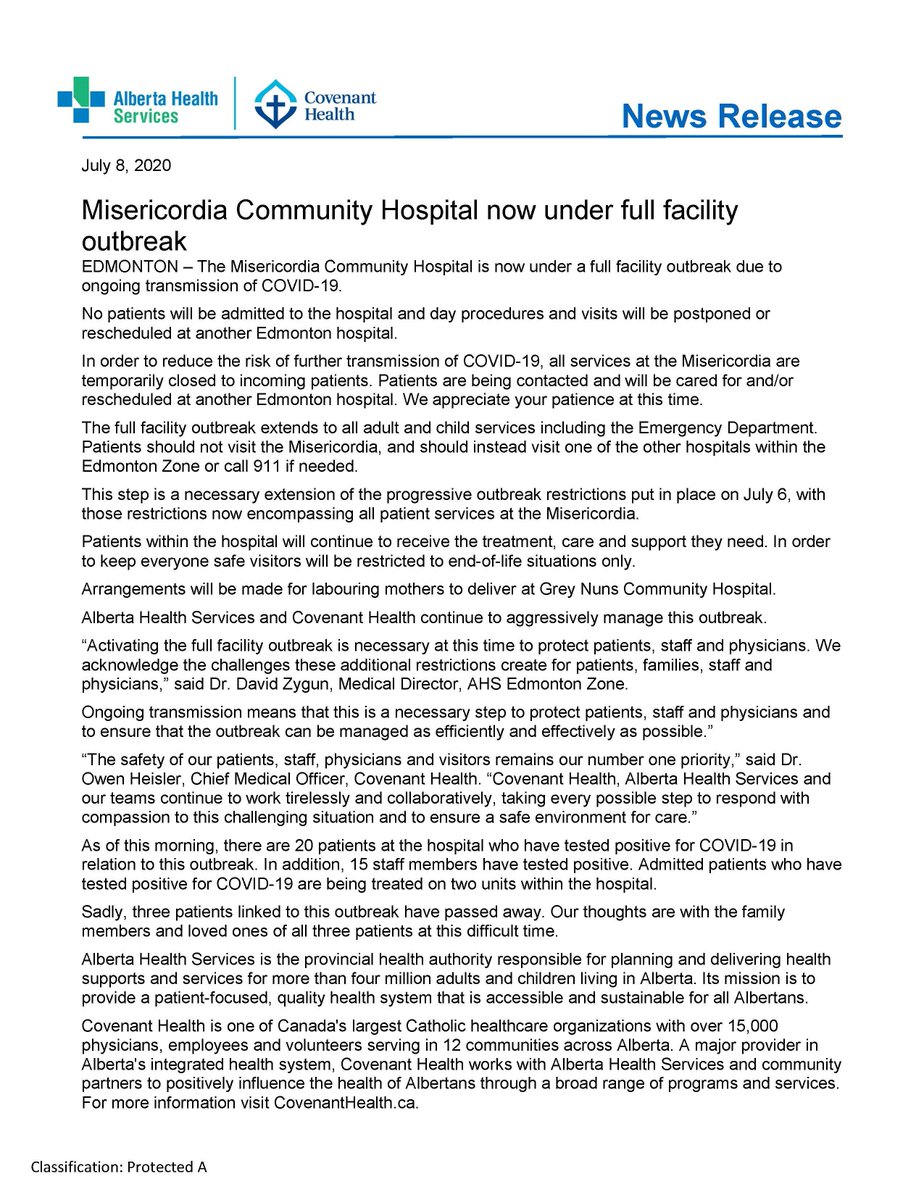 No new patients will be admitted to the hospital.

Day procedures and visits will be postponed or rescheduled.

Patients are being contacted and will be cared for and/or rescheduled at another Edmonton hospital. 2/11
The full facility outbreak extends to all adult and child services, including the Emergency Department.

Patients should not visit the Misericordia.

They should instead visit one of the other hospitals within the Edmonton Zone or call 911 if needed. 3/11
Alberta Health Services and Covenant Health are working aggressively to manage this outbreak. Health teams are taking every possible step to protect patients, staff and physicians and to ensure the outbreak can be managed as safely and effectively as possible. 4/11
To further limit the spread, control measures are in place. All staff in the facility are required to wear masks and face shields at all times on affected units, and masks in public areas. 5/11
Quarantining of all potentially exposed patients is occurring. These patients are tested every 72 hours. There has also been extensive contact tracing of case contacts with quarantine for exposed staff. 6/11
As of this morning, there are 15 staff members and 20 patients at the hospital who have tested positive for
#COVID19
in relation to this outbreak.
Admitted patients who have tested positive for COVID-19 are being treated on two units within the hospital. 7/11
Sadly, three patients linked to this outbreak have passed away. My thoughts are with the family members and loved ones of all three patients during this difficult time. 8/11
To keep everyone safe, visitors will be restricted to end-of-life situations only. Arrangements will also be made for labouring mothers to deliver at Grey Nuns Community Hospital. 9/11
I want to thank both
@AHS_media
and
@CovenantCA
for their quick and collaborative response. I know these additional restrictions create challenges for patients, families, staff and physicians, thank you for your patience and dedication to Albertans. 10/11