Sunak's
#minibudget
includes a variety of active labor market policies.
There is a rich economic literature that can help inform coverage & assessments.
A short thread that points to a few recent-ish papers.
Conceptually speaking: to minimize labor market damage in both short- and long-run policymakers need to navigate the tension between (a.) preserving valuable worker-firm relationships and (b.) facilitating reallocation in the face of temporary & structural disruptions.
Vis-a-vis Covid-19, Barrero, Bloom, and Davis (2020) argue that the pandemic acts as a major reallocation shock:
https://www.nber.org/papers/w27137
Notice that this is not just about between-sector reallocation, even though that facet will likely be more significant than in past recessions.
The Treasury's phasing out of the job retention scheme (=>limiting separation) and the introduction of active labor market policies such as hiring subsidies, training programs and job search assistance (=> promoting new matches) can be understood as a shift towards reallocation.
The furlough bonus is a bridge between JRS and promoting reallocation.
I'd guess that many economists approve of the *direction* of this shift in emphasis from preservation->reallocation. Whether the *timing* is appropriate is very hard to say -- curious what
#EconTwitter
thinks?
On the effectiveness of the various components of the package, there is a huge literature evaluating ALMPs, using empirical&theoretical tools, considering both micro (e.g. alternative program designs) and macro dimensions (e.g. large-scale hiring subsidies, demand effects, ...).
@eduardoyeyati
, Montane and Sartorio (2020 discuss their meta-study here, with an eye towards Covid-19:
https://www.brookings.edu/research/life-after-coronavirus-strengthening-labor-markets-through-active-policy/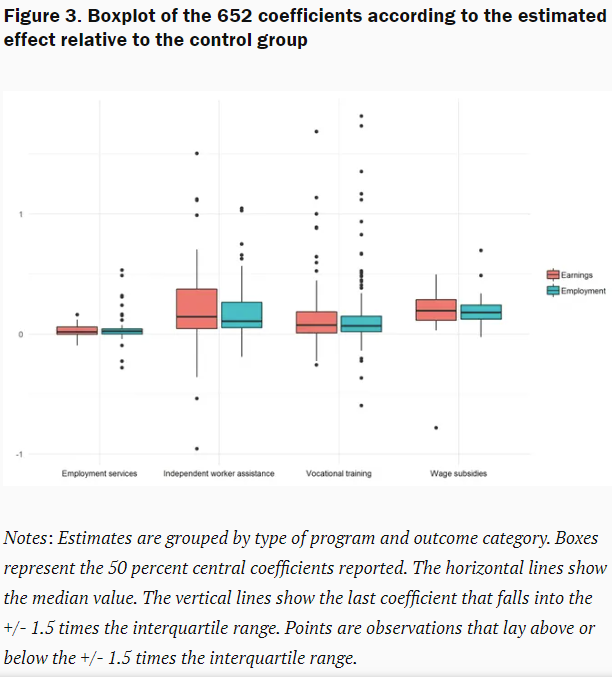 Cahuc, Carcillo, and Le Barbanchon (2019) suggest that the French hiring credit programme implemented during the Great Recession -- unanticipated, temporary, and targeted -- had significant positive employment effects and no effects on wages.
https://academic.oup.com/restud/article/86/2/593/4829925
Thee age-specific programmes announced today as well as sectoral targeting seem at least broadly consistent with those principles.
The links compiled here in a span of 10 minutes just scratch the surface, of course.
P.s.: I hereby publicly confess to having sinned twice: by procrastinating and writing this thing instead of fixing my code problem, and by breaking my own Twitter leave. But how can one, as a macro-labor person, not be fascinated by today's policy package?!