I've ignored fake tweets attributed to me and RTed widely. I've ignored porn tweeted at children on a thread about their art. I've ignored death and rape threats. I'm not going to ignore this. 1/11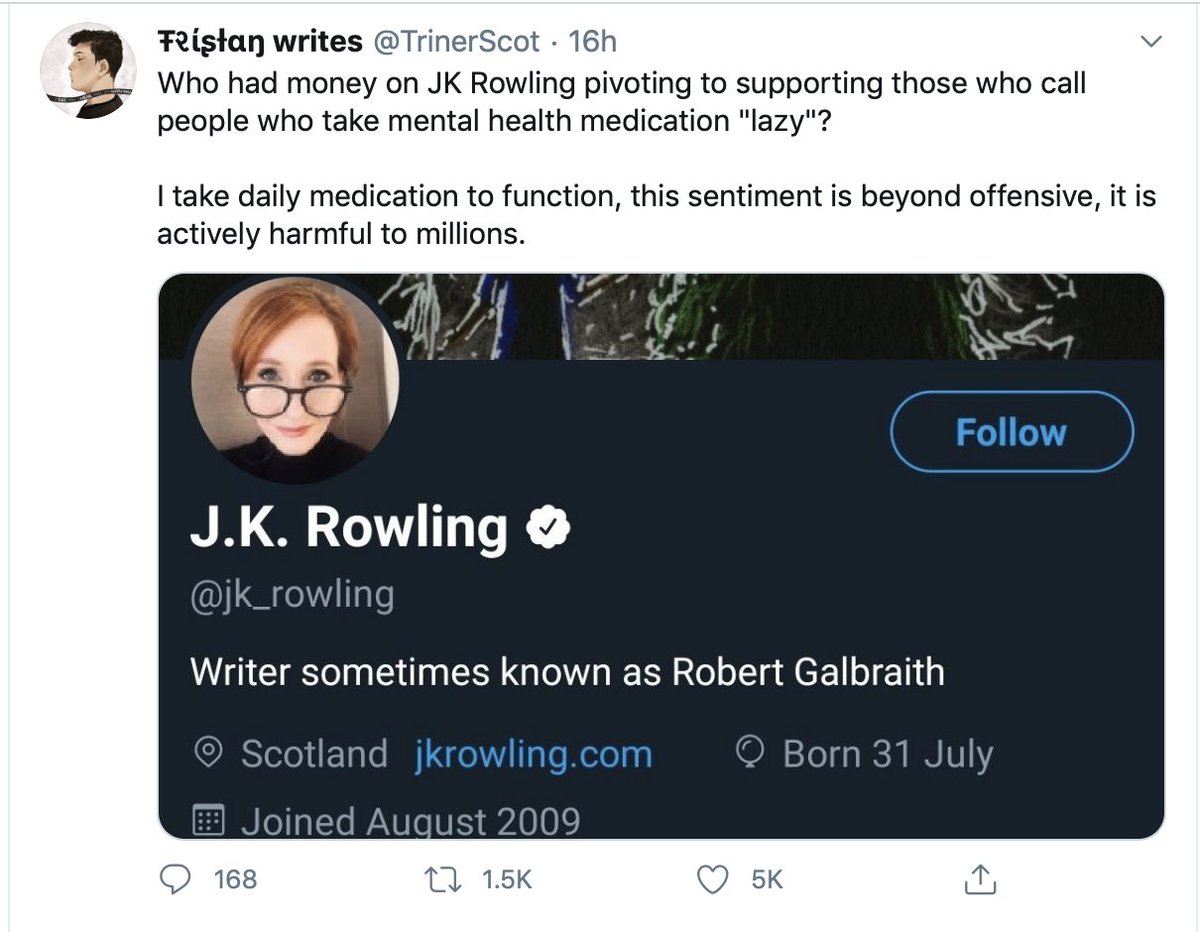 When you lie about what I believe about mental health medication and when you misrepresent the views of a trans woman for whom I feel nothing but admiration and solidarity, you cross a line. 2/11
I've written and spoken about my own mental health challenges, which include OCD, depression and anxiety. I did so recently in my essay 'TERF Wars'. I've taken anti-depressants in the past and they helped me. 3/11
Many health professionals are concerned that young people struggling with their mental health are being shunted towards hormones and surgery when this may not be in their best interests. 4/11
Many, myself included, believe we are watching a new kind of conversion therapy for young gay people, who are being set on a lifelong path of medicalisation that may result in the loss of their fertility and/or full sexual function. 5/11
These concerns were explored by the recent BBC documentary about the Tavistock Clinic. Whistleblowers were talking about transitions driven by homophobia.
https://bit.ly/31KLdRf
6/11
As I've said many times, transition may be the answer for some. For others, it won't – witness the accounts of detransitioners.
"The system sees surgery as the easy fix to girls who do not conform."
https://bit.ly/31LWP6L4/11
7/11
Sophie is a trans woman and a true feminist ally. She was making the point that anti-depressants were over-prescribed to teenagers in the past, with serious consequences.
https://bit.ly/2VNqyIK
8/11
The long-term health risks of cross-sex hormones have been now been tracked over a lengthy period. These side-effects are often minimised or denied by trans activists.
https://bit.ly/38F0GnD
9/11
Carl Henegan, professor of evidence-based medicine at Oxford University, has described the off-label use of puberty blockers on under-18s as an 'unregulated live experiment on children'.
https://bit.ly/3dVU6Kg
10/11
None of that may trouble you or disturb your belief in your own righteousness. But if so, I can't pretend I care much about your bad opinion of me. 11/11
PS I've just realised you can't see Sophie's/
@Manaxium
's tweet in the screenshot above, so you can't see how cynically
@TrinerScot
has misrepresented her.