I think it's time we had a conversation about the huge racket of extortion & corruption that has become of regulations for COVID19. Starting from Police extortion on highways to "essential services" flights & BRT loading fully & overpricing, etc while MSMEs are suffering. Thread.
Up till now, many businesses, most within the MSME space, remain closed or partially opened such that they are struggling to cover costs, many have lost millions in investment. While understandable to curb COVID spread, govt has suffered them for nothing as corruption took over.
It is pathetic that govt continues to suffer these legitimate businesses while paying lip service to other elements of the regulation & enabling the Police & a few others extort & open a huge racket on innocent citizens through COVID. I'll pick examples. First, inter-state travel
The inter-state travel that is banned has been so active that Lagos-Ibadan expressway had massive traffic jam due to tanker explosions & thousands of travellers stranded. Transport operators have hiked prices to accommodate police bribes, e.g. Lagos-Ondo is now 5k (formerly 1k5).
I've engaged transport operators twice to find out and they kept referring to "police settlement" as the reason for price hike. Technically, the enforcement was only to the extent that you are able to settle your way out of the road, and you can travel to the East or North freely
BRT is worse. You would expect that
@followlasg
should have control over this as Lagos issued regulations on spacing in public buses, but with a consequent price hike. Many BRT buses have reverted to full capacity but interestingly retained hiked prices - another extortion.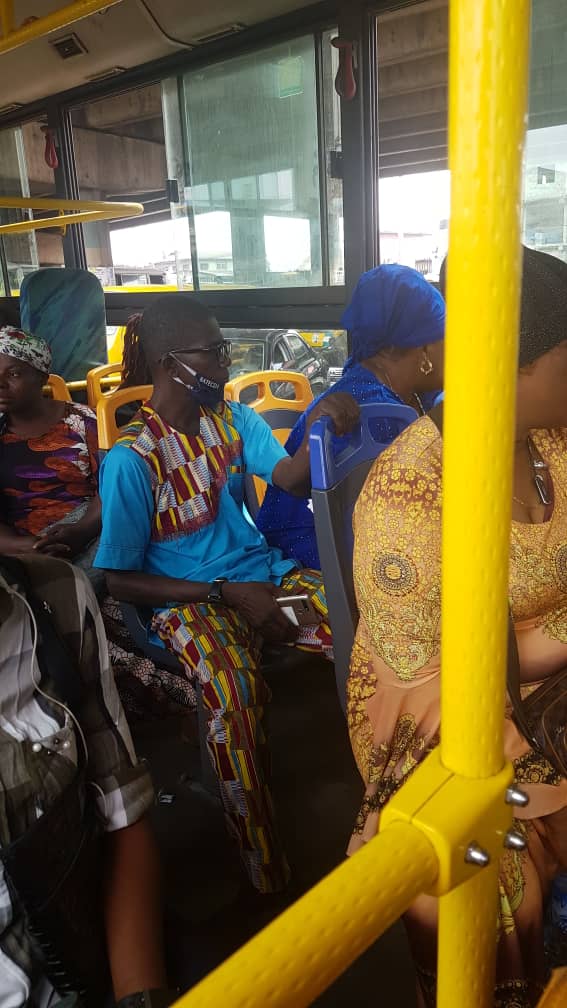 An example is the Costain-Ikorodu route, which hitherto was N250 has been hiked to N500 (to accommodate 60% capacity), but has been operating has full capacity. A sample ticket as at yesterday and a picture of the fully loaded bus is shown here. EVEN WITH STANDING!
Another example is how many govt officials & individuals have found ways to travel during the restrictions, e.g Execujet & Nairamarley scandal. It is interesting that according to the CEO, just the name of Fashola was enough to allow a full chartered flight take off to Abuja.
It's tragic to mention how COVID tests have become a racket for both private & public clinics. Many now pay between 25k-100k for COVID tests due to the uneasy access by ordinary Nigerians to get tested. Many have had to use "connections" to get tested, while others died untested.
Everyone on the streets is now going about their daily bread. Govt officials have been seen hosting meetings and rallies as was seen in Edo. Lagos even had a PARTY to crown the new Oniru! Yet sent Funke Akindele to jail! I think it is cruel & hypocritical for this to continue.
If Govt will keep relaxing the (partial) lockdown for some, then let legitimate MSMEs open under guidelines. We may be killing many by destroying their livelihoods, teachers haven't been paid for months, etc. It is unfair they they lose while others take advantage of this. End