𝕋𝕙𝕣𝕖𝕒𝕕: 𝕊𝕚𝕕𝕙𝕒𝕣𝕥𝕙 𝕊𝕙𝕦𝕜𝕝𝕒 𝕒𝕟𝕕 𝕙𝕚𝕤 𝔽𝕝𝕚𝕡𝕤
The biggest flipper is none other than our very own Sidharth Shukla urf Kullu ji.. Sana to aise hi badnaam hai
*just for a little positivity after yesterday*
#SidNaaz
𝔽𝕝𝕚𝕡 𝟙
Shuklaji said be won't be able to pick up Sana's calls lekin khud zaroor pahonch jayenge raat ke baara baaje.. aise kaise?? Sid toh raat ko jaldi so jaata hai right??
𝔽𝕝𝕚𝕡 𝟚

Shukla ji- The Palti Master- ko koi samjhao... ek hi baat 3 baar bolne se jhoot sach nahi ban jaata...
𝔽𝕝𝕚𝕡 𝟛

Bechari Madhurhima aise hi phas Gaye in dono gadho k beech mei... waise toh dosti mei Ishq nahi laadate... lekin shaadi k baareme zaroor soch sakte hai
𝔽𝕝𝕚𝕡 𝟜
Shukla ji ne koi rishte nahi banaye BB mei... everything was just for the game***... laggi samaj
*** OFC Shehnaaz Kaur Gill is the except to his every rule tho

𝔽𝕝𝕚𝕡 𝟝
From the very first month... bechare shukla ji lagge hue the feelings cut off karne mei.. end mei bechare ki band bajj gayi.. I'm sure aise flips aage bhi karega kyunki vyaktitva hi aisa hai
𝔽𝕝𝕚𝕡 𝟟
No one can tell Shuklaji what to do... but don't ask him to call u hot cuz uske liye permission chahiye humare gabbar sher ko... Kya kare Sher ko bhi Sherawali Maata ke samne jhukna parta hai

𝔽𝕝𝕚𝕡 𝟠

From "tere saath romance nahi kar sakta tu bacchi hai" to breaking records with their sizzling chemistry... aise flips hum aage bhi dekhna chahenge
𝔽𝕝𝕚𝕡 𝟙𝟘
Sid in the initial weeks of BB said that he only likes intellectual talks.. but Sana hates gyaani log

Maybe isliye Sana k saath Sid itni faltu baatein karte tha!
𝔽𝕝𝕚𝕡 𝟙𝟙
This guy went from not knowing how to do any housework to being crowned "Lockdown MasterChef"... Sangat ka Asar I guess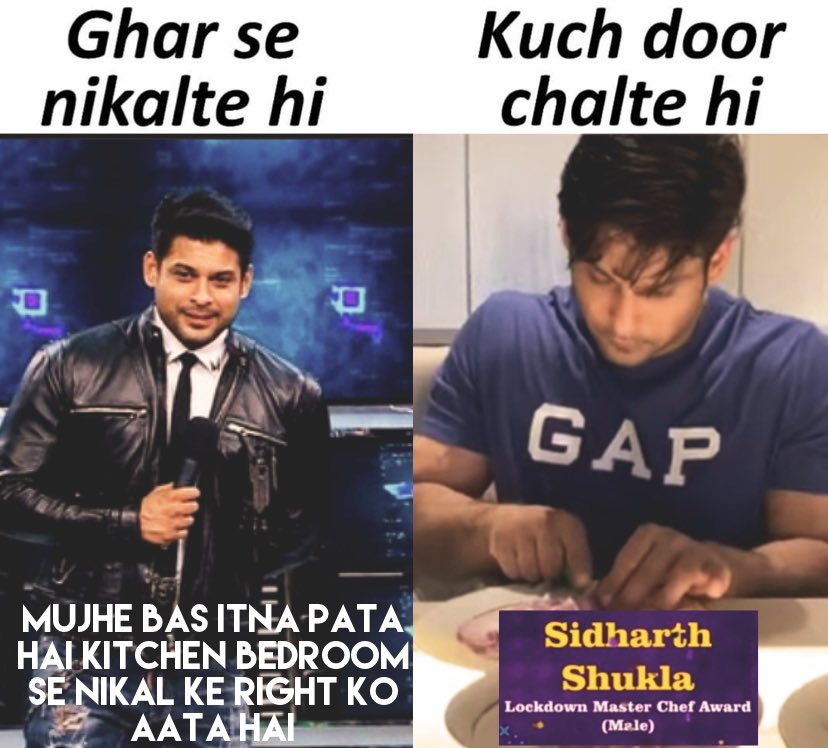 𝔽𝕝𝕚𝕡 𝟙𝟚
The only flip of Shukla ji's that has left me highly disappointed... pata nahi kis janaam ki dushmani hai inko humare se