We're live with more revelations about Epstein, arms dealing, money laundering, Wall Street, Iran-Contra - all with Epstein's *former business partner*, Steven Hoffenberg.

https://twitter.com/ZevShalev/status/1271587567666790400
Bet you didn't know this:

*Jeffrey Epstein was involved in Iran-Contra alongside arms dealer Adnan Khashoggi - uncle of Jamal Khashoggi*
NEW: *Another* of Epstein's partners, Julian Leese, may come forward to explain financial crimes, arms dealing, and espionage*
This ties to Trump.

"Foreign money in America is not a new thing, but it expanded rapidly starting in 1981." - Steve Hoffenberg

This explains why finance as a share of GDP changed so quickly starting from 1980 until the present!
Hoffenberg reveals that Trump and arms dealer Adnan Khashoggi were good friends going back decades.
Trump's partner in buying the Old Post Office in Washington DC for the Trump International Hotel, Tom Barrack, has been managing Middle Eastern money for decades.
This is huge: Jeffrey Epstein, Tom Barrack, and other associates of Donald Trump seem to have come out more powerful after every financial crash since 1981...

Don't forget the role that espionage and arms dealing plays into each of these players.
HOFFENBERG: Jeffrey Epstein did a lot of transactional business with junk bond king Leon Black of Apollo Management, associate of the (sadly) ubiquitous Jared Kushner...
GIULIANI WAS THE ATTORNEY FOR JEFFREY EPSTEIN'S PONZI SCHEME, TOWERS FINANCIAL

Well. THAT explains Fruity G quite a bit better doesn't it?
Giuliani: prosecutes La Cosa Nostra and lets the Russian Mafiya take power in New York, does corporate work for Epstein's Ponzi/money laundering scheme, mayor during 9/11, lobbyist for Purdue Pharma to proliferate opiates in America...
NOTE: I DID NOT COME UP WITH THIS AS A JOKE - APPARENTLY THERE WAS A *HOME APPLIANCES-ARMS TRAFFICKING HUSTLE IN THE EARLY 1990s
I SWEAR THIS IS NOT ONE OF MY JOKES - ZEV DID THE RESEARCH AND THE GRAPHIC - NOT ME
Thank you for coming to my TED Talk.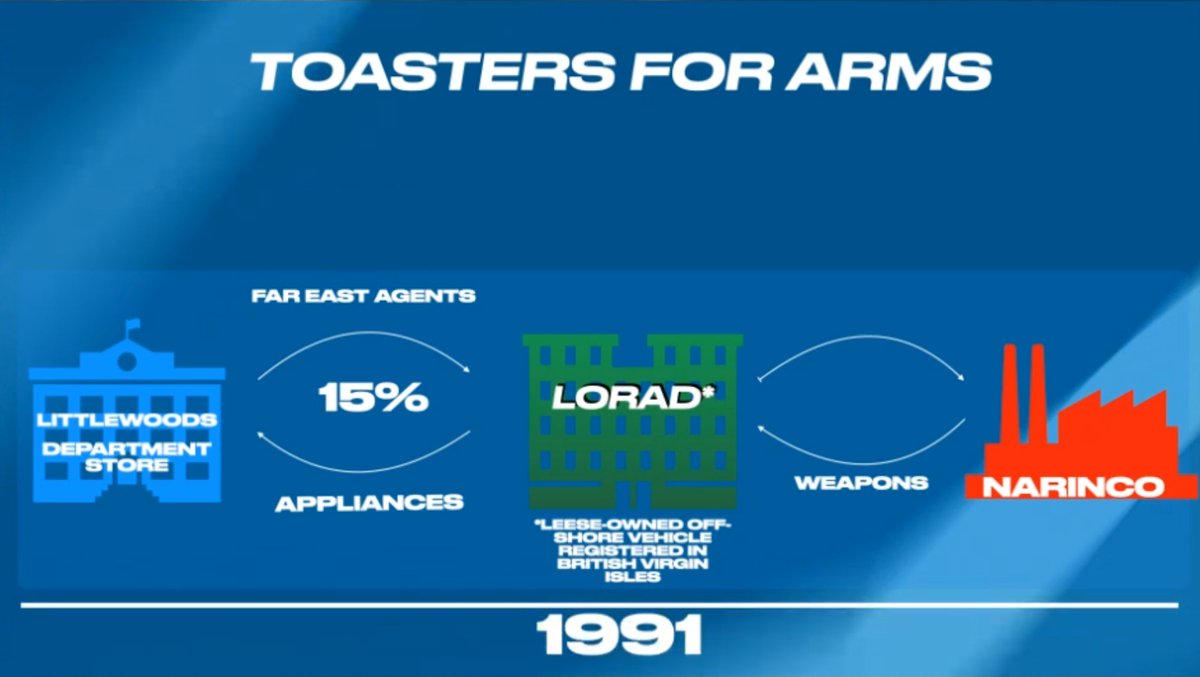 Seriously, though, these kinds of complicated schemes through certain financiers/arms dealers/agents appear typical of post-Watergate Cold War covert operations...

...who was on whose side, then? The question remains complex.

The true number of people laundering money through Epstein and the sums of money have yet to be revealed - Steve Hoffenberg






Great question from
@LincolnsBible
- WHY THE HELL ISN'T THIS STORY ON TELEVISION OR WITH A MAJOR NETWORK?
Because we're trying to work the audio doing this show in real-time (sorry guys), and they have networks and stuff...WHY ARE SO FEW PEOPLE DOING THE REAL STORIES?
And finally from
@ZevShalev
: could Jeffrey Epstein's total legacy be billions or TRILLIONS of dollars in arms and other criminality that caused incalculable suffering of millions for decades?
More to come... </>
P.S. Seriously, with all the free publicity and propaganda they gave this rotten foreign agent, not ONE single fucking TV booker knew Giuliani worked for Epstein? We had to dig it up?

The US MSM had ZERO problem giving that spy/rapist's henchman all the TV time he needed?
And Donald Trump is so tightly tied to this whole nest of vipers and how many *years* did the MSM spend yammering about Hillary Buttery Males, Maybe Steve Bannon Is a Nazi but That's Maybe OK, and Is Russia a Thing?

We have a democracy problem with the Media.