Out of the six Indian Army operational commands (each comprising 2-3 Corps), five are poised against Pakistan. Sixth one (Eastern Command) primarily looks after Chinese, Bangladesh and Mayanmar borders, yet bulk of it is likely to be employed against Pakistan during war time.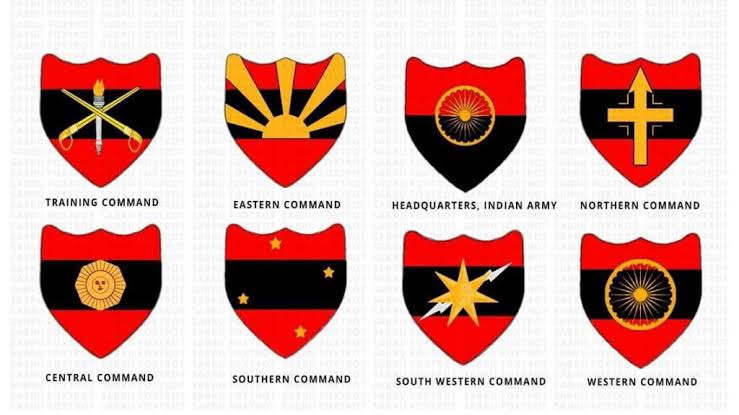 Out of twelve Corps, nine are defensive while three are strike Corps. Three strike Corps consist of three Armoured, four Infantry, three Mechanised (RAPID) & one/two Artillery divisions. Peace time deployment is such that nine out of the twelve Corps are poised against Pakistan.
Indian Army Deployment

Army Commands 7
Against Pakistan 6
Against China 1

Army Corps 13
Against Pakistan 10
Against China 3

Strike Corps 3
Against Pakistan 3
Against China 0

IAF Bases
Against Pakistan 29
Against China 6

Naval Bases 16
Against Pakistan 12
Against China 4
The only country against whom mechanised components of these three strike corps numbering well over 3000 tanks and armoured personnel carriers and the artillery division could be employed, is Pakistan and not China due to the mountainous terrain existing along Indo-China border.
Indian Navy is equipped with over 140 surface ships, 17 submarines & 119 aircraft/helicopters, divided in 4 Naval Commands. Out of 16 Naval bases, only 4 are deployed on its eastern coast against Chinese intrusion whereas 12 naval bases are on its western coast against Pakistan.
Indian border with China including the LAC is about 3380 km. With Pakistan the border including the LOC spans for about 2012 km. To defend this vast space Indian Army's current deployment posture and the increase after new raisings still indicate a heavy bias against Pakistan.