THREAD

Today is the International Menstrual Health Day. Having your period can be tough under normal circumstances, but how about during a pandemic? We have collected some stories, tools and resources below. Add yours!
#ItsTimeForAction
#MHD2020
#PeriodsInPandemics
#PeriodPower
1/2: In January, several feminist orgs in China found out that among the resources sent to hospitals, there was no period panties that were much in need by women medical workers who had to wear personal protective equipment all day.
#PeriodsInPandemics
#May28
#MHD2020
#Podcast
: Upholding reproductive health rights in a pandemic

http://www.rappler.com/newsbreak/videos-podcasts/262171-making-space-upholding-reproductive-health-rights-coronavirus-pandemic
"Healthcare facilities in the
#Philippines
are all hands on deck in the battle against the novel coronavirus. But what happens when a poor mother..."
#PeriodsInPandemics
#May28
#MHD2020
#Report
: Periods in a Pandemic: menstrual hygiene management in the time of
#COVID19
by
@PlanGlobal

https://www.plan.org.au/-/media/plan/documents/learn/publications/periods-in-a-pandemic-plan-international-report-lower-resolution.pdf?la=en&hash=59432C96787FA29294C09CC47C29D2974537932E
#PeriodsInPandemics
#May28
#MHD2020
#MenstruationMatters
#News
: Coronavirus sparks a sanitary pad crisis in India by
@BBCWorld

https://www.bbc.com/news/world-asia-india-52718434
"Schoolgirls in India are facing a massive shortage of sanitary napkins because schools... are closed during the coronavirus lockdown."
#PeriodsInPandemics
#MHD2020
#May28
#Infographic
: Periods don't stop for pandemics!
Check out this brand-new infographic on the implications of COVID-19 on MHH, including what action is needed during and after the pandemic.

https://menstrualhygieneday.org/materials/infographic-2/
#PeriodsinPandemics
#MHD2020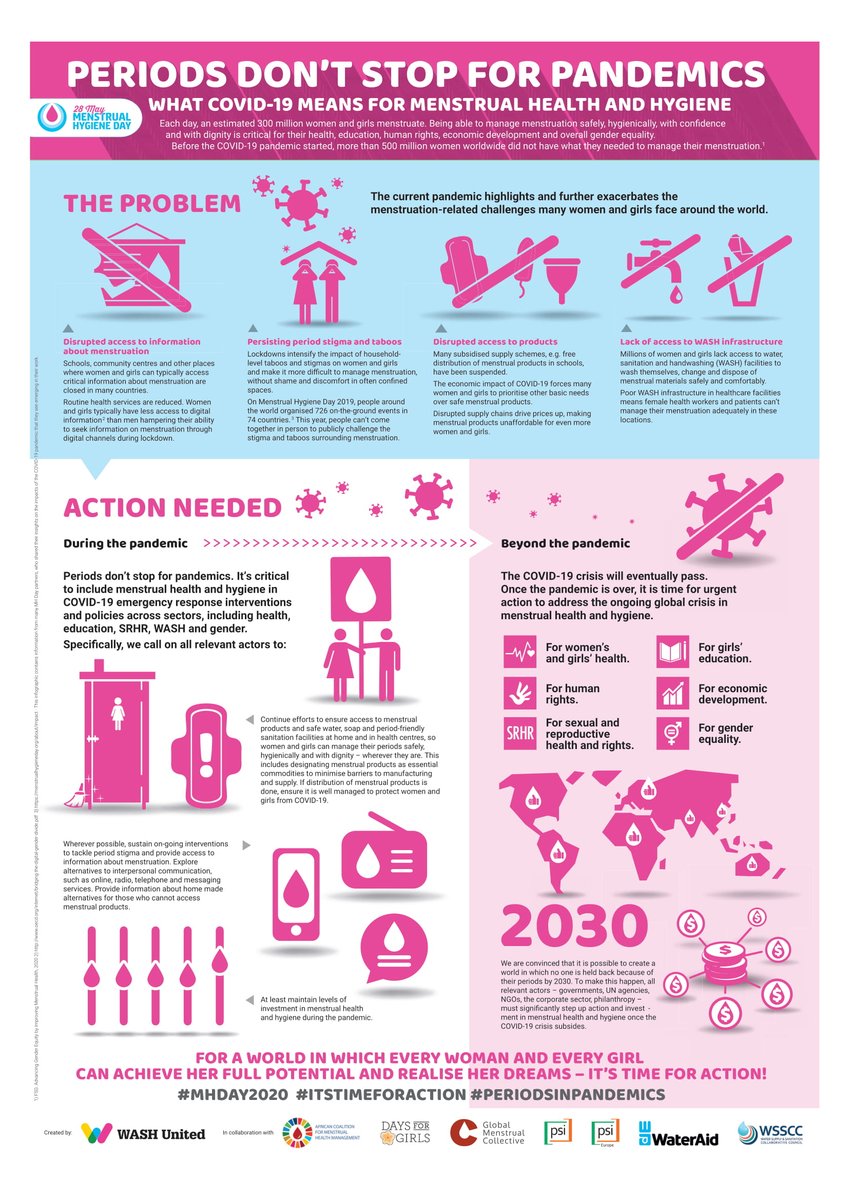 #Brief
: Mitigating the impacts of COVID-19 and menstrual health and hygiene by
@UNICEF

https://www.unicef.org/media/68371/file/Mitigating-the-impacts-of-COVID-19-on-menstrual-health-and-hygiene-Brief.pdf
#PeriodsInPandemics
#MHD2020
#May28
#Toolkit
: Menstruation is not a luxury - a campaign in
#NorthMacedonia
by our partner
@JhrMkd

https://www.instagram.com/p/CAp9mpiH2nC/
#PeriodsInPandemics
#MHD2020
#May28
#PolicyRecommendations
: To make menstrual products, nappies and wet wipes circular by
@zerowasteeurope

https://zerowasteeurope.eu/wp-content/uploads/2020/02/zwe_menstrual_products_nappies_wet_wipes_policy_briefing.pdf
#plasticfreeperiods
#MHD2020
#PeriodsInPandemics
#zerowaste