Team Card #23: The Pittsburgh Penguins
#LetsGoPens

#NHLTeamCards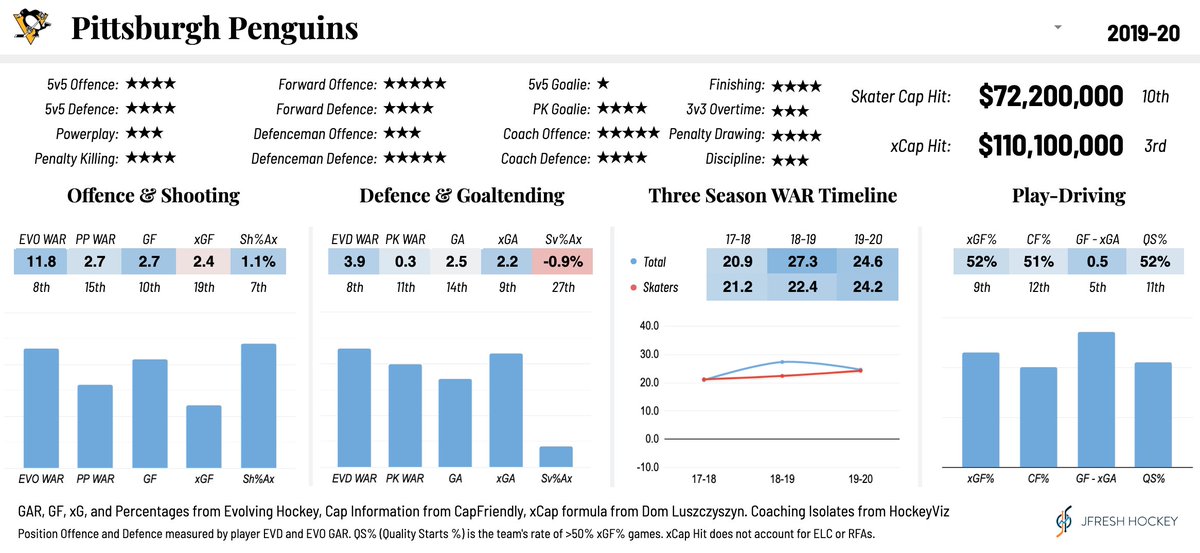 The Pens were a complicated team offensively this year. They were below-average in terms of generating quality scoring chances, but finished top 10 in goals thanks to shooting talent/puck luck. Their injury-riddled powerplay was average,
#LetsGoPens

They were very impressive defensively overall, top 10 at preventing expected goals but let down by their awful goaltending. Even still they were above-average in terms of goals against, and 11th in the league on the penalty kill.
#LetsGoPens

Their skaters were better this season than in any since the back-to-back, but the team was worse than last year thanks to the whole "goaltending" thing. Still, this trend is pretty encouraging considering that theoretically they should be on the downswing.
#LetsGoPens

The Pens' overall play-driving numbers are strong but maybe misleading. Up until Feb 1st, the team was 3rd in terms of xGF%. In the month of February, they were 28th. So while they overall score out as around the 10-12 range, they were never really that kind of team.
#LetsGoPens

The forwards ranked 4th offensively and 9th defensively. Their biggest offensive contributors were Bryan Rust, Evgeni Malkin, and Jared McCann, with the brilliant line of Aston-Reese, Tanev, and Blueger leading defensively. The group's weak link was Dominik Simon.
#LetsGoPens

The blueliners were average offensively but 6th defensively. Letang drove the bus on offence, followed by Pettersson and Marino, while Marino was by far the best defensively followed by frequent healthy sratch Riikola. Jack Johnson was by far the worst at both ends.
#LetsGoPens

When the team was crushed by injuries, Mike Sullivan was a huge reason they thrived. Isolates rate his system as 2nd best offensively and 7th best defensively, a big driver of the team's success. I guess that makes up for playing Johnson with Letang in February.
#LetsGoPens

Some notes: the team is not as good at 3 on 3 as they should be, considering their skill level; they draw and take penalties at an above-average rate (which would be great if their powerplay was above-average).
#LetsGoPens

Finally, this team obviously spends a lot of money on their skaters, but they got the 5th most surplus value out of them of anyone in the league. Rust, Guentzel, Marino, Letang, etc. are worth a lot more than they make.
#LetsGoPens

Overall, a healthy Penguins team is a real contender, especially if they can get back to their pre-February form. The real question mark here is goaltending. If Matt Murray plays like he did for most of the season, the Pens will face a huge uphill battle.
#LetsGoPens

But as eager as everyone is to slam their window shut, the Pens looks like they have plenty left in them thanks to emerging young stars like Guentzel and Marino. This team could really compete for the next few seasons.
#LetsGoPens