If you're new to
#Uranium
Bull Market


Tribeca's Guy Keller recently walked
#investors
thru
the story

beginning today where world's best performing YTD commodity
#U3O8
is up 36%

amidst
#COVID19
#SupplyShock




while
#Nuclear
demand remains "relatively stable"


..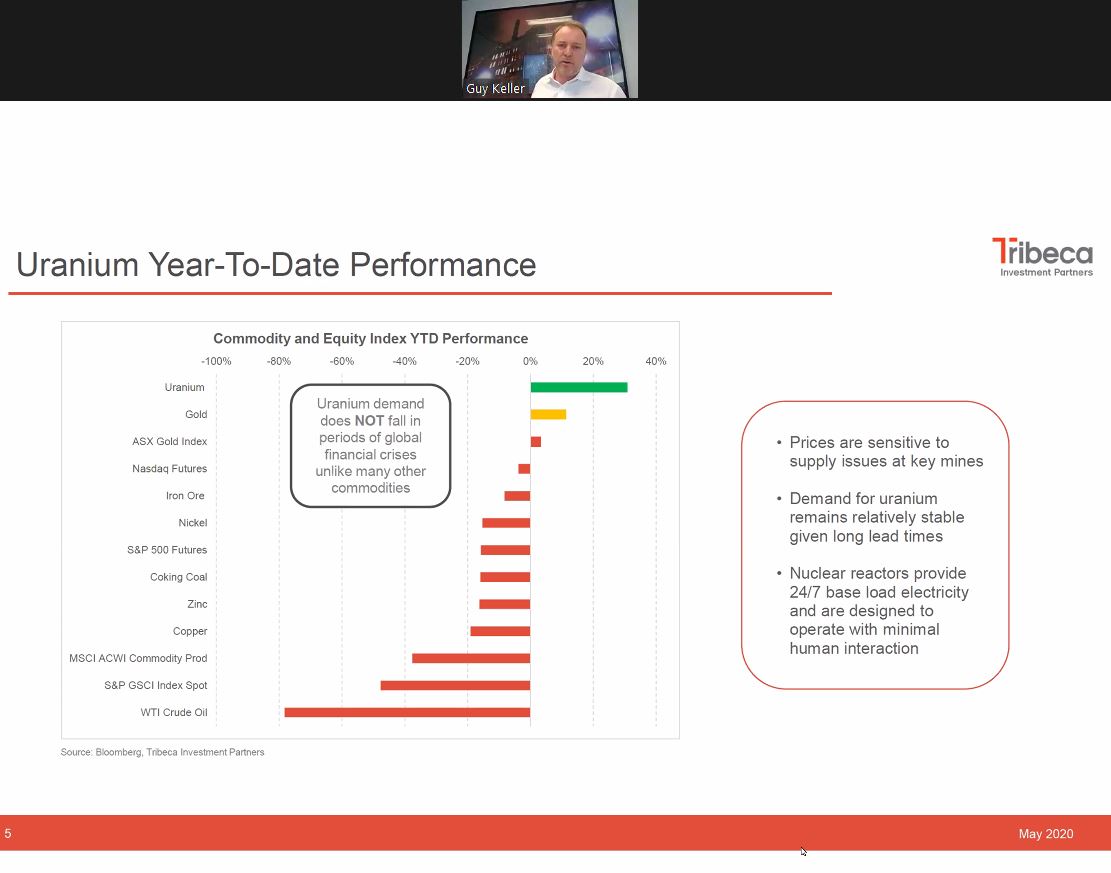 2) Lead-up to
#Uranium
Bull run was 3+ years of supply destruction

including 20% cut for 3yrs by largest
#U3O8
miner
$KAP
& indefinite closure of world's largest U mine, Cameco's McArthur/Key.

#COVID19
has triggered more mine suspensions, cutting >50% of monthly supply


...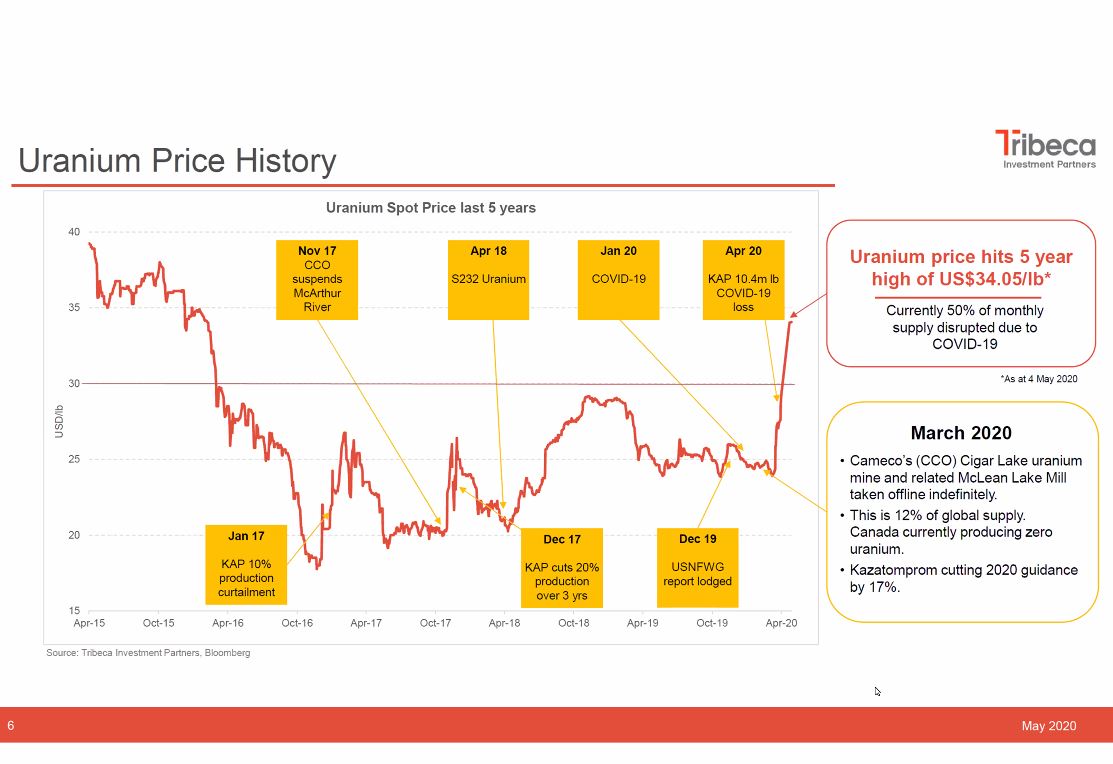 3) Supply cuts in other commodities have historically caused large price corrections

needed to trigger production to meet demand. Supply in
#uranium
is not elastic & price increase is just first hurdle.

Spot
#U3O8
price is up over 80% since 2016 low but more to come.

...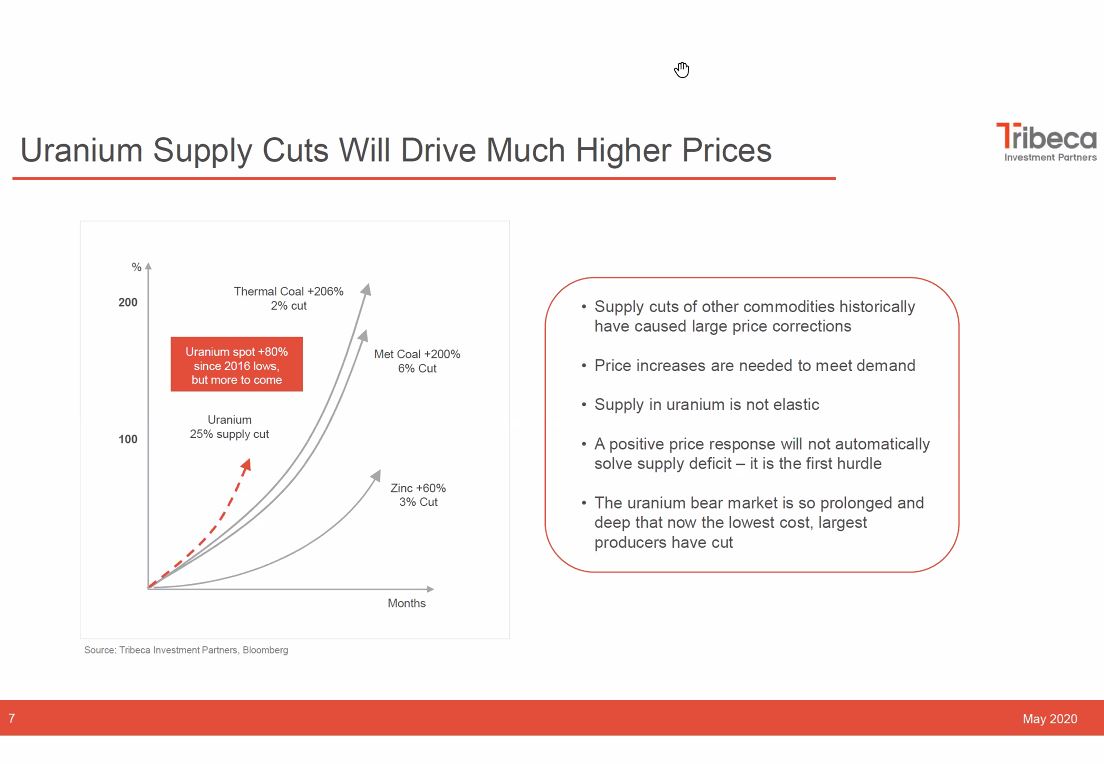 4) For over 2 years there've been many "handbrakes" slowing market response to
#Uranium
supply cuts.. US
#Section232
& subsequent
#Nuclear
Fuel Working Group sent utility buyers to sidelines, then 2020
#COVID19
market crash.. but now those are released & trend has turned up!

...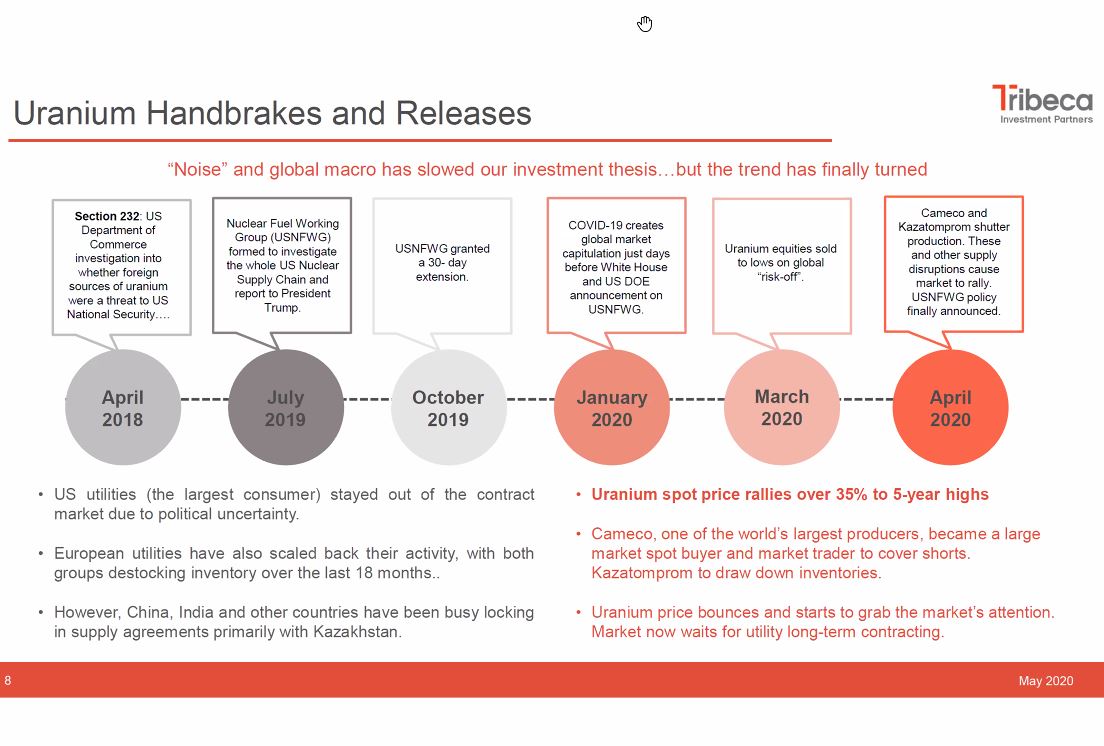 5)
#COVID19
sent shockwaves thru
#Uranium
mining sector, leading to indefinite suspension of all production in
#Canada
, a 17.5% cut in
#Kazakhstan
& stoppages in
#Namibia
resulting in over 50% of global monthly
#U3O8
production disrupted


= 12% global supply destruction ...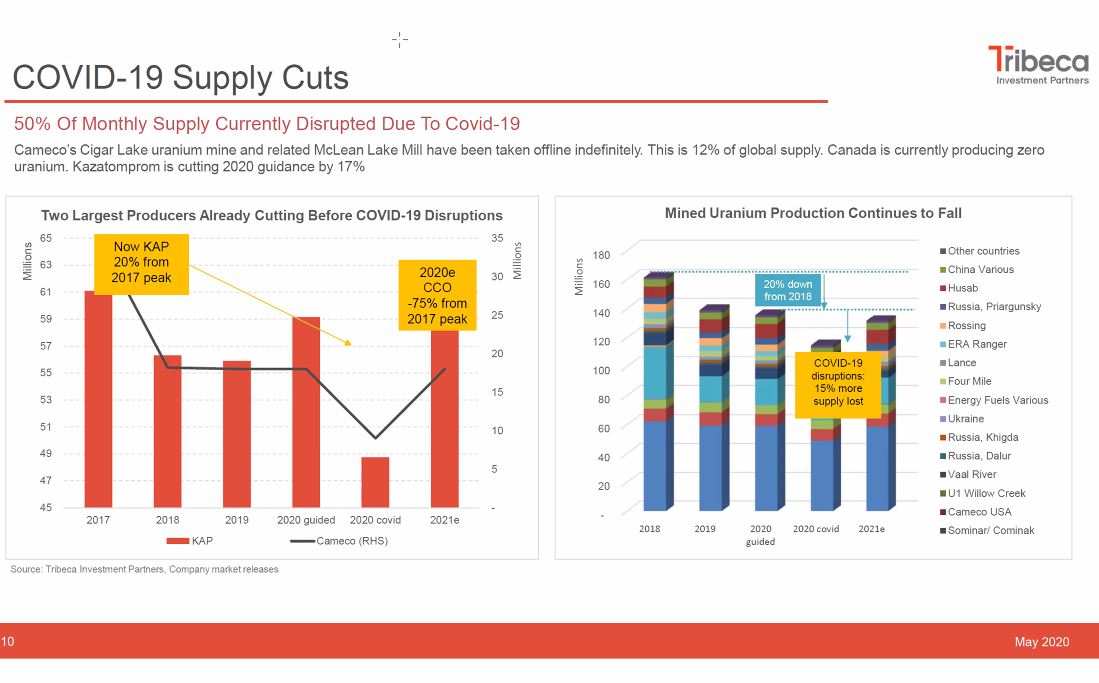 6) Since 2013 there have been a long series of
#Uranium
mine supply cuts &
#U3O8
mines placed into long term Care & Maintenance.



To bring production back will require U prices in excess of US$45/lb at a minimum, plus significant Capital

& signed long-term contracts

...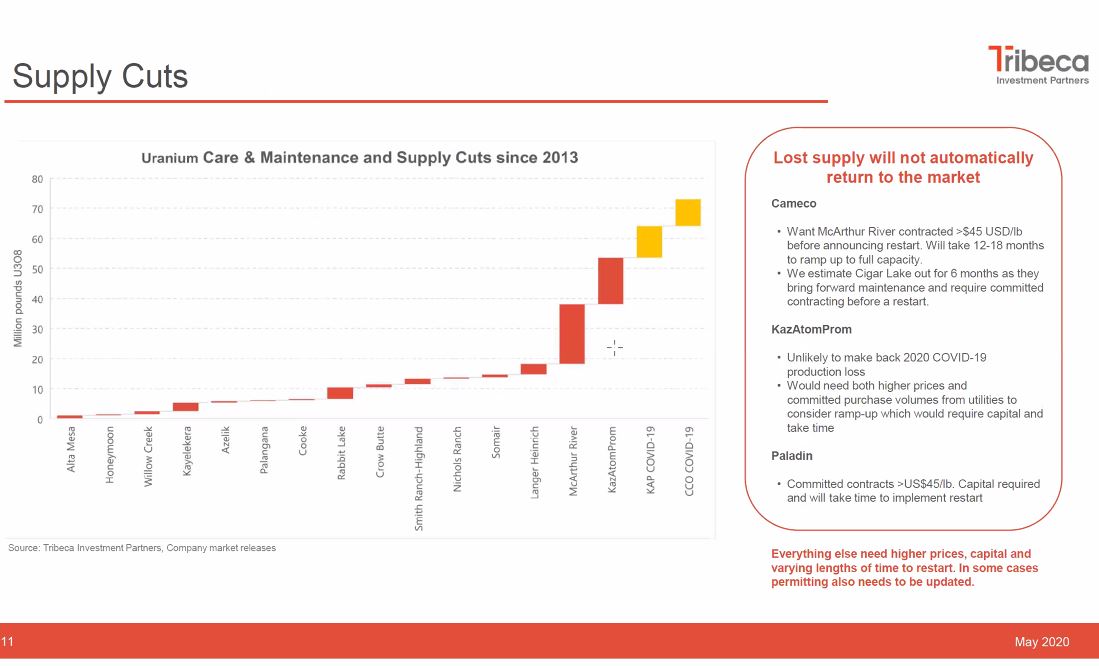 7) 2019 Global
#Uranium
production was close to 135M lbs
#U3O8
(vs
#Nuclear
fuel requirement of nearly 200M lbs) but
#COVID19
#SupplyShock

is cutting 2020 production estimate to 110M lbs

deepening deficit heading to 2 permanent mine closures in 2021, Ranger & Cominak.

...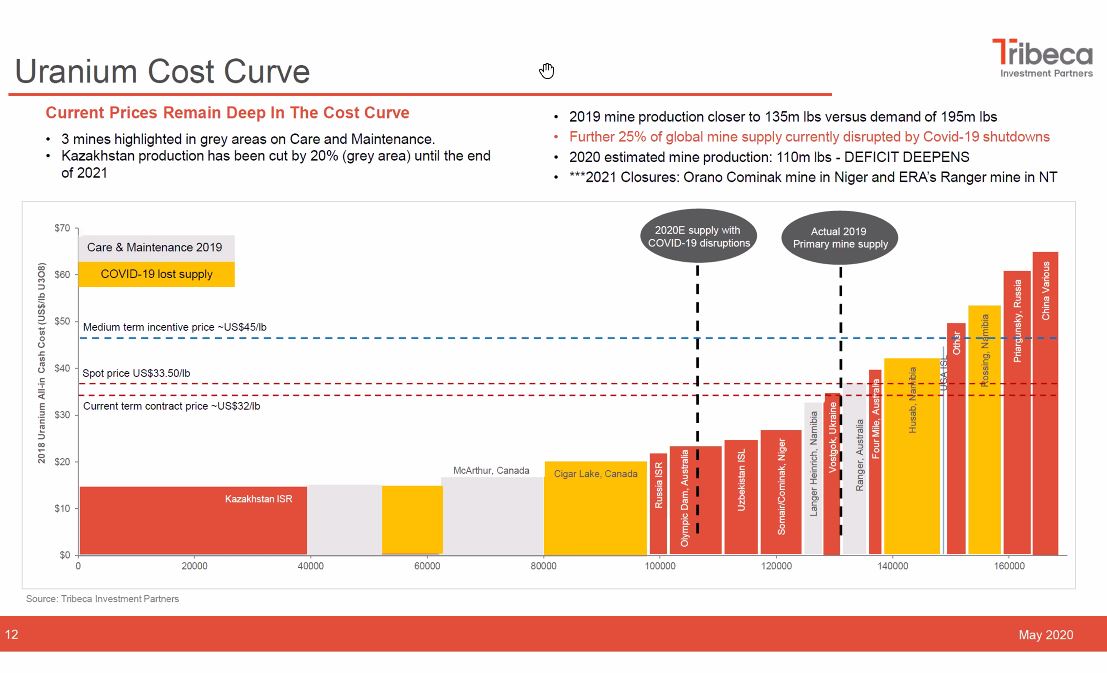 8) In 2019 the World
#Nuclear
Association, for first time in 10 years, modelled
#Uranium
demand increases in all 3 of its
#U3O8
demand scenarios to 2040.

Today there are 450 reactors in operation, 54 more under construction, 111/328 more planned/proposed = Growth story.


...
9) With 2020
#uranium
production at 110M lbs,
#nuclear
demand near 200M lbs, utilities have been depleting inventory for many years & must now begin a restocking cycle

to cover future fuel needs & replenish stockpiles simultaneous with demand from new reactors =
#SupplyRisk

..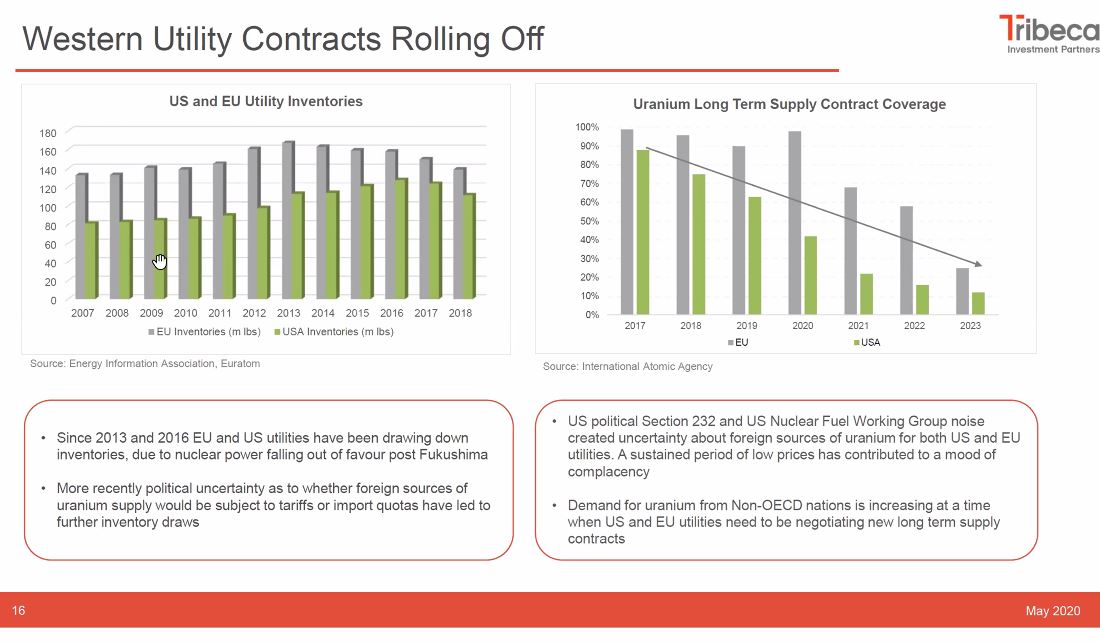 10)
#China
is leading
#Nuclear
growth &
#Uranium
demand, aided by rising global
#CarbonFree
#electricity
demand in an age of
#ClimateChange
&
#ExtremeWeather
.

Renewables "fantasy" has failed miserably, making Nuclear best
#CarbonFree
tool in global
#CleanEnergy
tool box


...