1. The positivity rate (% of + tests of the total nr of tests) of
#CoronaVirusinSA
tests in Western Cape is higher than the national average. (Nat rate = 3.4% for the past 2 weeks; WC = hard to work out, prov doesn't regularly release the nr of tests done). Map from
@media_hack
.

2. The Western Cape has about 10 hot spots. Most of them are in the Cape Town metro (Tygerberg, Khayelitsha, Mitchells Plain, Klipfontein) and Witzenberg in the Cape Winelands metro. You can view all the hotspots on the WC dashboard.
https://bit.ly/3fwmtAK
3.
@alanwinde
is looking at asking companies to stagger the salaries of workers, so that everyone doesn't get paid on the same day in the same area — to prevent large numbers of people from going to the shops and bank on the same day.
4.
@DrZweliMkhize
says we will soon see different
#lockdownSA
levels for different areas. Those wards with a low risk of transmission will have lower levels than areas with a high proportion of
#Covid19SA
cases.
5. SA's
#Covid19SA
SA mortality rate of 2% is in keeping with global global trends, and so is the gender distribution and the % of people on ventilators who survive/die. These
@media_hack
graphs show the total deaths and deaths by province.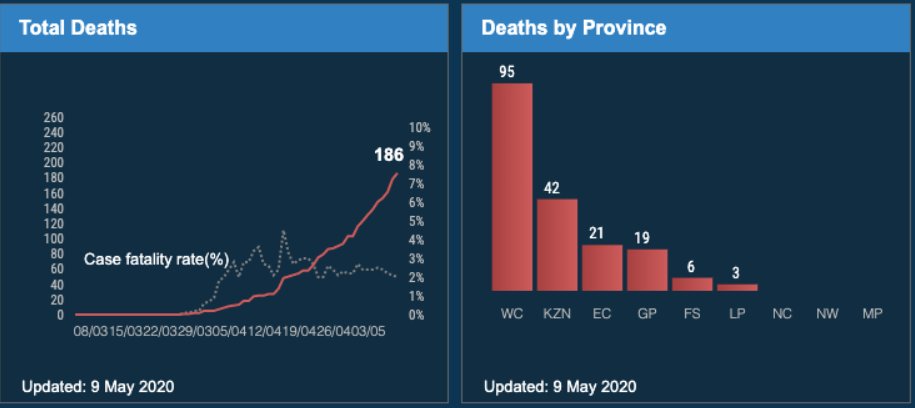 6. The health department is running low on
#Covid19SA
funds.
@DrZweliMkhize
will therefore request more money from treasury. He'll also allocate more docs + nurses to WC and get private hospitals to help with public hospital cases. WC also needs more quarantine facilities.
7.
@nhls_sa
is struggling to procure tests + reagents because suppliers are running low on stock. This causes a testing backlog.
@DrZweliMkhize
says he'll ask private labs to help clear the backlog, but the price of private tests will have to go down.
https://bit.ly/2WJx5ns