SOS Delhi-
@dilipkpandey
@ipathak25
@Zartaab
these 26 families in New Ashok Nagar need help. All are at one location
North C-99, New Ashok Nagar 96, near Sai Baba Mandir.
#DelhiHungerSOS
#HungerHelpline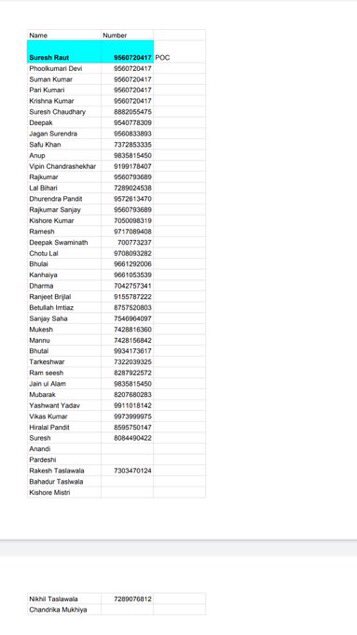 SOS Delhi 2- SOS Delhi- Name - jaya
[ Address - S-88 princess park Baroda jugghi near India gate 110001
Total member- 7 , 5 bade 2 bacche
Mobile no -7982452902
@dilipkpandey
SOS Delhi 3- New SOS
8587801038. Kamla and her family living at garhi east of Kailash need help as food supplies are running .
Plz help them
@dilipkpandey
Sir
SOS Delhi 4-
Shyam lal
9211190388
Works as mechanic but due to lockdown has no source of income or good.
D block, dda market, east of Kailash pls help
@dilipkpandey
SOS Delhi-5:-
family of 7members needs dry ration in North Avenue, New Delhi.5 members lost their private job in lock down ,they don't have ration card and did not get any help from any where. Lady is a domestic worker .
Gunjan-9871229059
@dilipkpandey
Sir pls help
Sos Delhi 7- NAME-ABHISHEK SHARMA . ADD-RZ/M/ 20 nanda block mahaveer vihar dwarka sector 1 (N D) +918376862337
@dilipkpandey
Sir pls help the people named in the 7 sos tweets in this thread
@ipathak25
@Zartaab