Thread
TN Health Minister issued a detailed statement regarding
#TNRapidKitScam
yesterday. His statement follows the allegations raised by DMK President Stalin & AMMK Chief TTV Dinakaran who alleged a huge scam in the purchase.
1/n
To clarify, Vijayabaskar said, ICMR approved selected 7 firms for rapid test kits. Among them, the Chinese Wondfo appointed Cadilla Pharma & Matrix Lab as importers.

This is half truth. ICMR listed out 12 firms for Wondfo kits. They are (1) Matrix Labs (2) Mylan Pharma 2/n
(3) Cadilla Healthcare, (4) Alere Medical (5) Rapid diagnostics (6) Solumed India (7) Invex Healthcare (8) Bilcare Ltd (9) Archerchem Healthcare (10) Care diagnostics (11) Tata International 12) Sanya Hospitality & 13) Tivitron Healthcare 3/n

Then Vijayabaskar says, (1) Aark Pharmaceuticals, (2) Shan Biotech & (3) Rare Metabolics were appointed as dealers to distribute the Wondfo kits.
This is a lie. As per Delhi HC verdict, Matrix Labs, the importer appointed Rare Metabolics as its exclusive dealer. 4/n

As per sources, Rare Metabolics failed to bid in the tender called for by ICMR in time. So it appointed Aark Pharmaceuticals as its exclusive dealer in another agreement.

The Shan Biotech is nowhere in the picture. 5/n
And as TTV Dinakaran questioned, Chennai based Shan Biotech has sprung mysteriously to which TN govt placed orders for 50K kits.

Vijayabaskar then claims, the rate of 600 per kit was paid as per ICMR. ICMR is a research body comprising scientists / doctors. 6/n
Their job is to recommend kits after testing and it is not their job to fix the price.

A good example is that of Chattisgarh govt, which procured Korean kits for 337. So Vijayabaskar's defence doesn't hold water. 7/n
Then Vijayabaskar says, ICMR will only recommend products (like Wondfu) and will not name the firms. And says, it is absurd to find fault that Shan Biotech is not in the list.

This is again incorrect. 8/n
The list issued by ICMR contains names of several firms for the product Wondfu & other products.

Then Vijayabaskar says, Wondfu Kits can be purchased only from the approved distributor so TN purchased from Shan Biotech. 9/n
This is a lie. Shan was never an exclusive dealer for Wondfu.

Vijayabaskar compares the price of kits purchased by Andhra Pradesh which was 730. However AP kits are Korean make and not Chinese. Further, AP government immediately served notice to the supplier 10/n
Sandor Medicaids & informed that only Rs.337 paid per kit.

Vijayabaskar did nothing of that sort to reduce the cost. Yesterday, the central govt announced that no advance has been paid to the supplier of Wondfu kits and there is no loss as kits are found to be defective. 11/n
Vijayabaskar too claims there is no loss. However, TN govt has paid 50% of the cost as advance against an indemnity bond. Why Vijayabaskar who claims to follow ICMR to letter and spirit for all his actions failed to follow ICMR and withhold payment but paid 50% advance 12/n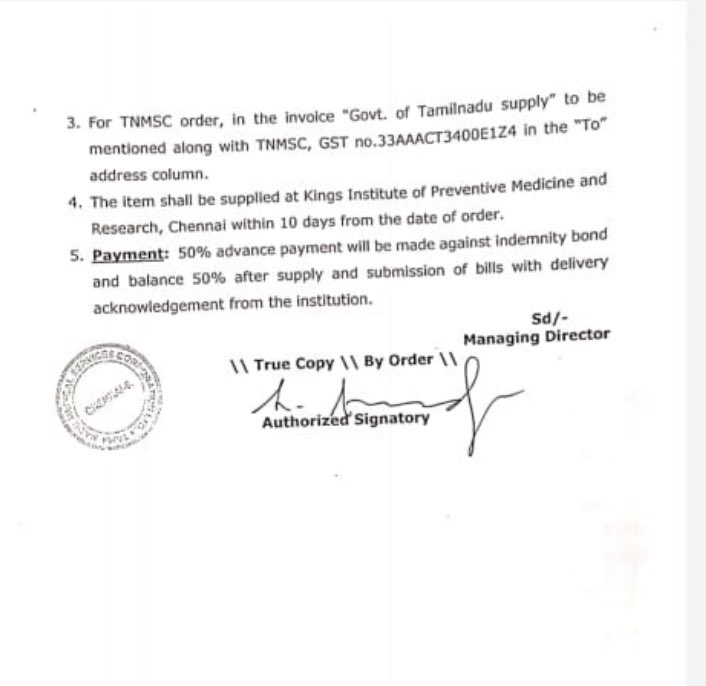 is a moot question.

Further, Dr.Umanath, IAS, who is in-charge for purchases has got nothing to do with the purchase from Shan Biotech nor the price. Vijayabaskar deliberately brought him to the press meet on that particular day and made him scapegoat. 13/n
It was Vijaybaskar who brought in Shan Biotech & it was Vijayabaskar who decided the price.

Dr.Umanath IAS is an officer of impeccable integrity and has been doing commendable job in all the purchases made by TN Health Department, 14/n
and has saved several crores to the TN Exchequer by conducting tough negotiations and overruling Vijayabaskar in several instances.

End of Thread