#Covid19India
Worked out the Testing performance for the States of India (based off partially reconstructed series, since ICMR has ceased to provide information). A major finding is that testing rate growth is strongly correlated with how well a state is doing ...
+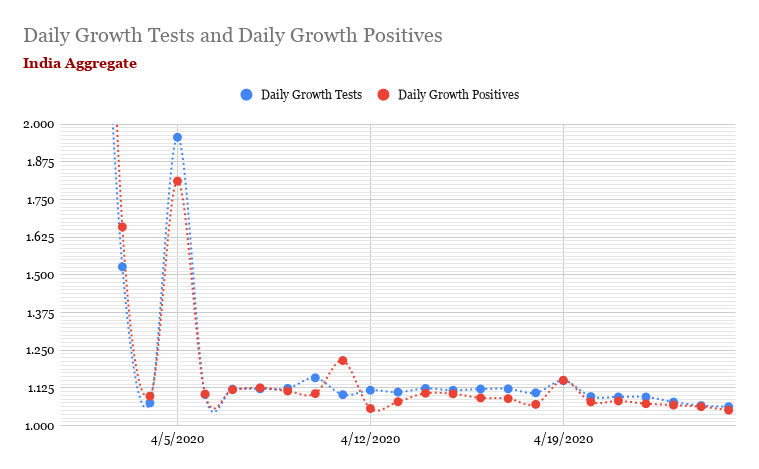 States thate have maintained a testing growth well above the growth of daily positives are able to HOLD DOWN the infection count growth. Those that manage to ramp it up, if not keep increasing, are able to fight down spikes and surges well.
Notice Bihar blowing up now? Why?
+
Delhi is an example of 'ramp up on need' - which explains why each spike/surge has been beaten down. Notive Haryana maintain a consistently higher growth level of tests over positives? Ditto for J&K - except for now.
Observe Gujarat here, the worst of ALL states.
#Covid19India
+
Jharkhand ramps up on need - a little delayed. Karnataka has started maintaining that edge and so it is able to check surges now, when they arise. Observe how inconsistent MP is.
Kerala maintains a very small edge, because it can afford to - with the community programs ...
+
Any surprises now - that Maharashtra's growth is unchecked? Observe Odisha for contrast.
Punjab and Rajashthan ramp up on need, but, of late the former appears of registering the importance of maintaining a decisive edge/margin.
#Covid19India
+
Now you can see why TN has achieved negative Actives growth.
And how UP lost the early control it seemed to have.
And why Uttarakhand is doing okay while West Bengal is exploding unnchecked.
#Covid19India
+
Now when you see the state for India Aggregate - you can think of WHY the
#Lockdown
has not been able to do more than merely damp the daily growth of infection (i.e. slow it down to a middling rate, preventing it from exploding).
Explains why the data shows no containment yet.