This morning, Jason Kenney's close friend and economic advisor, took to twitter to share his regrettable opinions on Canada's worst mass shooting and the coronavirus. Here are my thoughts. 1/
#ableg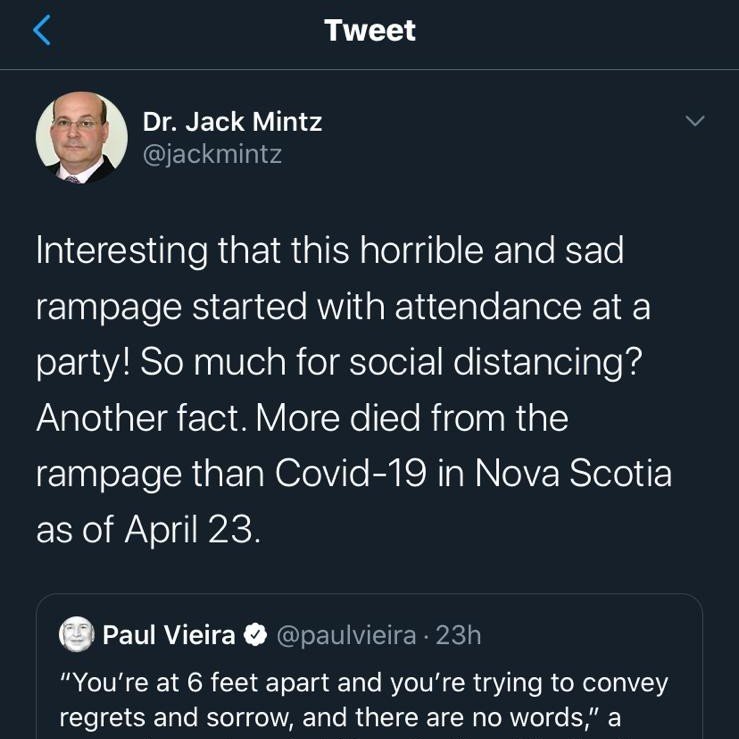 First, let me once again extend my condolences to Nova Scotians who lost loved ones in this tragedy. The loss is unimaginable, and the ability to grieve is made doubly difficult by the circumstances. My heart goes out to the entire province. 2/
New reports have surfaced indicating the murderer first got into an argument with his partner, one of the victims, at a party. The murderer assaulted her at his cottage. We have few details, but this didn't stop
@jackmintz
from displaying extremely poor judgement. 3/
Rather than expressing his own condolences, Mintz sought to shame the mass murderer's partner for being at a party. So first of all,
@jackmintz
, I can't believe I have to say this, but violence against women is no party. 4/
#ableg
Second,
@jackmintz
noted that this mass murder has killed more Nova Scotians than
#coronavirus
. In so doing, he downplayed BOTH the seriousness of a global pandemic AND Canada's worst mass shooting. 5/
#ableg
Jack, what are you trying to say with these terrible opinions? Why do you have so little discipline? Why don't you have what most of us have...empathy?
Your lack of judgement shows an absence of compassion AND common sense.
@jackmintz
6/
#ableg
Albertans, is this really the person we want
@jkenney
listening to for advice on our post-Covid economy? The same fellow who expressed a fondness for Alberta separation and who recently signal-boosted attacks on Health Canada and the integrity of public health experts. 7/
#ableg