The red and orange zones within provinces are clearly in urban spaces.
From 1 May, the whole country will go to Level 4, but there may come a time where different areas are at different levels.
Minister
@DlaminiZuma
underlines the need to restrict movements to limit spread.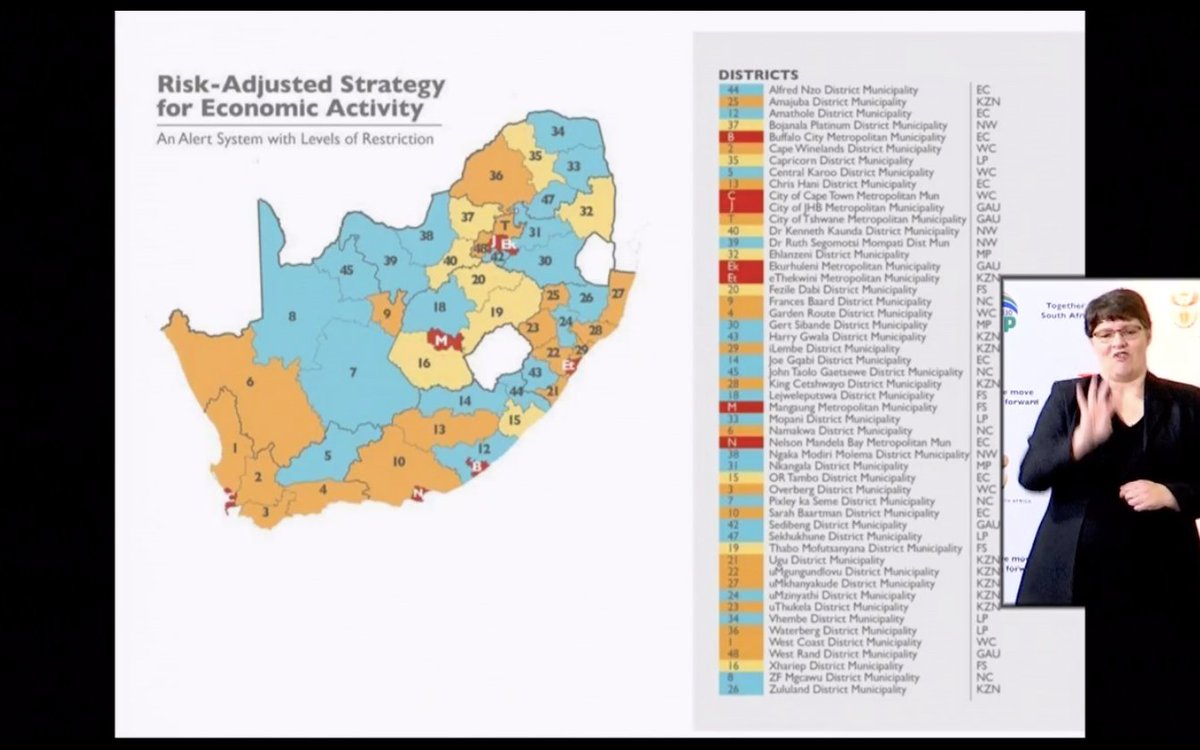 More people will now be able to go to work, but stricter requirements for workspaces and outdoors.
- Regularly sanitised spaces
- Mandatory cloth masks anywhere outside the home (given limitations, if you don't have a mask, you can cover nose & mouth with a cloth)
As long as there are red spots on the
#CoronavirusinSA
map, heavy restrictions will continue.
- Strict adherence to public health instructions is key
- New Regulations impose a curfew
- Social distancing is critical
- Public gatherings are still not allowed, save for funerals
- While people can exercise outside, it will be under strict regulations that exclude recreational facilities (health clubs, etc), mass activities such as parkruns, etc.
- Level 5 Transport regulations remain, with addition that masks are mandatory for drivers & passengers.
The easing is minimal & also aims to promote community well-being & the lives of the vulnerable.

The opening up of the economy is for:
- Local production & consumption
- Some (limited) export & import
- Public to access essentials

OWN NOTE: Most sectors will remain closed.
As winter approaches, important to ensure that people are kept warm.

This means that the easing will allow people to buy blankets, warm clothes, heating etc.
A recap of the Coronavirus Alert & Response Levels: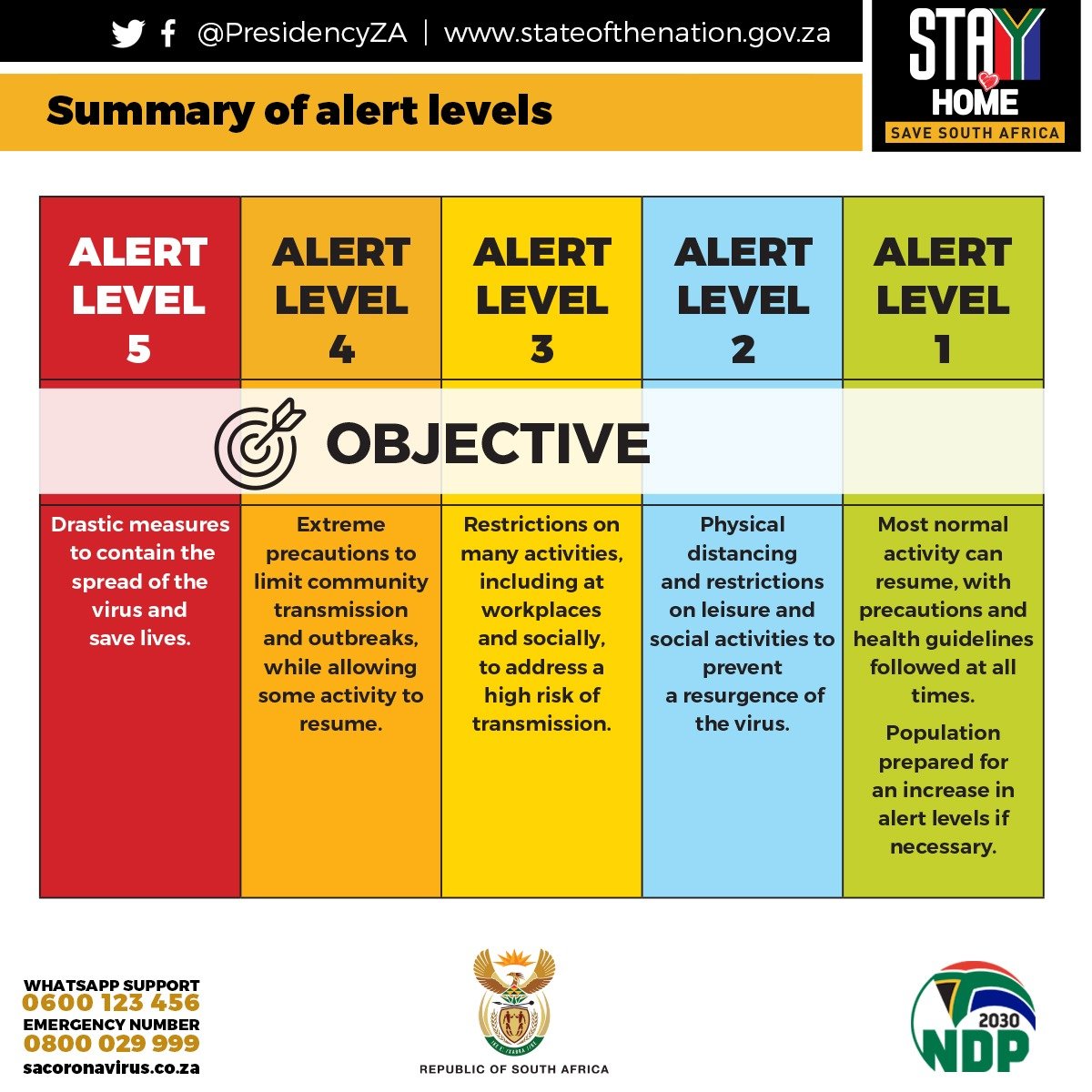 "Touching is a thing of the past"



As always, Minister
@DlaminiZuma
sums up her presentation in isiZulu.
Making sure to stress the key messages:
- Lockdown continues
- Minor adjustments down from Level 5 to 4
- Travel outside of the home is only for work, to buy essentials, see the doctor, go to a police station.
Minister Ibrahim Patel will highlight which economic activities and sectors will be open when we are at Level 4, and the strict conditions under which they can operate.
Purpose of new approach: Calibrate level of openness with level of risk.

Restart as many economic activities as is possible given the level of risk.
4 factors in determining opening:
- Risk of transmission in sector/workplace (e.g. number of people that have to travel to work & to shop)
- Expected impact on the sector under full lockdown
- Contribution to broader economy
- Promotion of community well-being & livelihoods
Big focus must be on reducing the risk to a point where all social and economic activity can resume as 'normal'.

If we move too fast, we risk an upsurge in infections.

If we move too slow, we risk greater devastation to the economy.

Proceed under a risk-adjusted strategy.
List of sectors open under Level 5 is already extensive.
These will continue to operate under Level 4, with some additional sectors open.
Approximately 1.5 million South Africans will be able to go back to work under Level 4.
Framework for different sectors still being developed.
Level 4 - New activities proposed for reopening (under clear social distancing & sanitation directives):
- Agriculture, forestries and fishing sector will reopen in full.
- Manufacturing sector will partially reopen. 20% of manufacturing workers will progressively return to work.
Clothing manufacturing, blanket manufacturing, computer manufacturing, cement & hardware manufacturers, stationery production, some car manufacturing among those in the manufuacturing sector that will reopen progressively.
- Retail sector will further partially reopen. This includes informal trading and spaza shops.
Categories: children's clothing, winter goods, stationery & educational books, tobacco goods, personal ICT equipment
- Mining sector: New addition will be those workers that work at open cast mines can go back to work.

- Professional services sector: engineering, accounting, legal

- Other key services: Call centres, recycling (including informal recyclers), construction
- Restaurants will be permitted to open FOR DELIVERY ONLY.

Opportunity to create a food delivery network in townships as well.
BUY LOCAL.

Support South African businesses - big and small.

Bring demand back into the economy and allow it to slowly recover.