If you know Irish people abroad who would love to watch superb Irish entertainment available online, please introduce them to our new Stay At Home Library:
https://dublin.epicchq.com/stay-at-home
We have chosen highlights from the RTÉ Player, RTE Archives, TG4 Player, GAA Now, YouTube and more
We've put together a page featuring the best of Irish documentaries, dramas, music, podcasts, sporting highlights and more. People can enjoy lots of familiar faces, as well as uncovering new programmes or videos they weren't aware of.
There's compelling creativity available.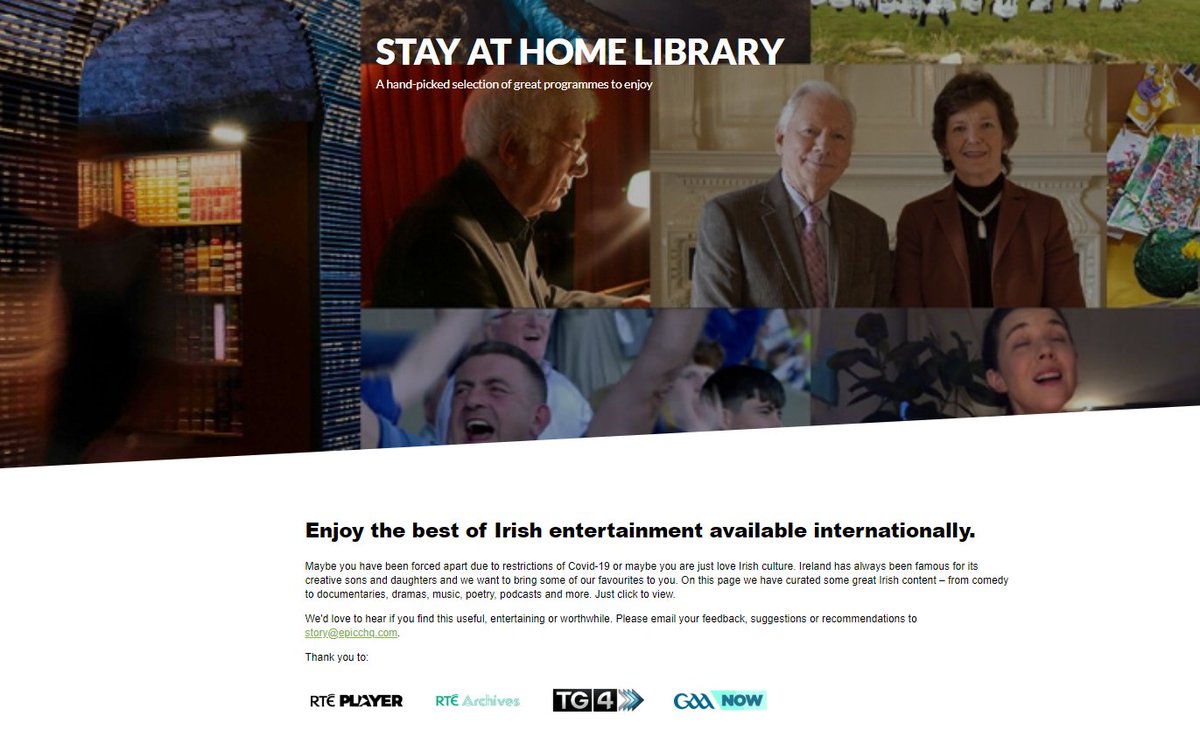 Through the
@RTEArchives
we explore the life and wonderful works of Seamus Heaney. We also meet a magic priest on Achill, Hercules, the most famous bear in the world and learn how 30,000 rabbits caused heartache for the 900 residents in Inis Mór in 1985
Tá na cláranna faisnéise, drámaíocht, agus ceoil is fearr ó Éírinn ar
@TG4TV
. There's a wealth to choose from, between dramas, sports programmes, documentaries and music. Truly one of Ireland's national treasures. You'll see familiar faces and perhaps pick up a cúpla focail.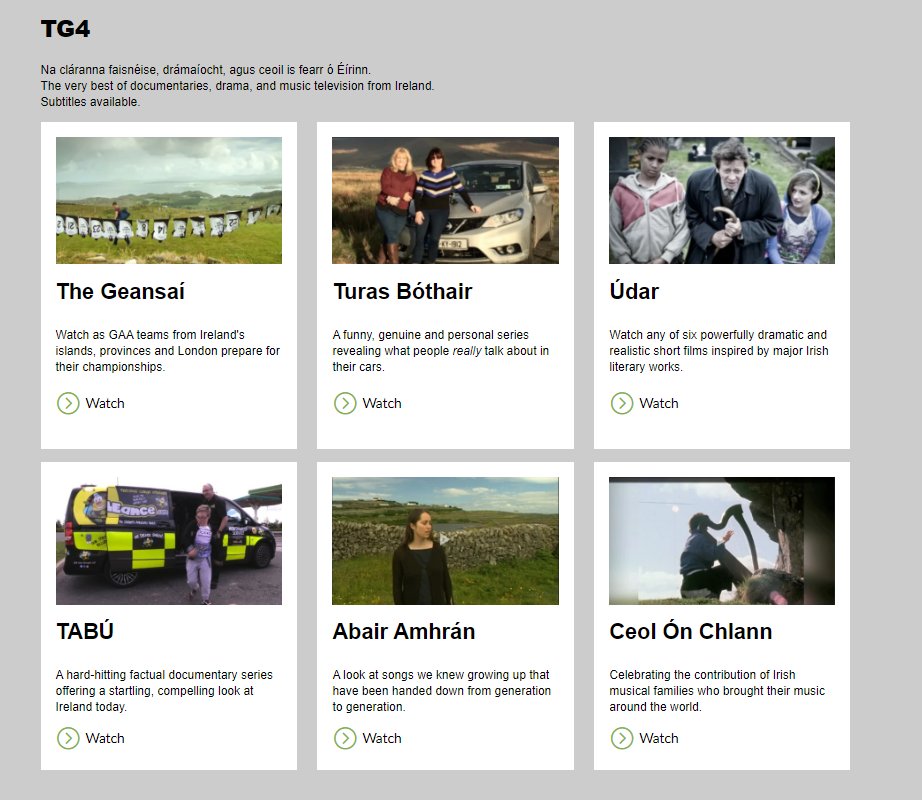 We've also enjoyed the RTÉ Concert Orchestra
@rte_co
videos from their homes, as well as the amazing Martin Hayes performance for the
@NCH_Music
, all on YouTube and on
https://dublin.epicchq.com/stay-at-home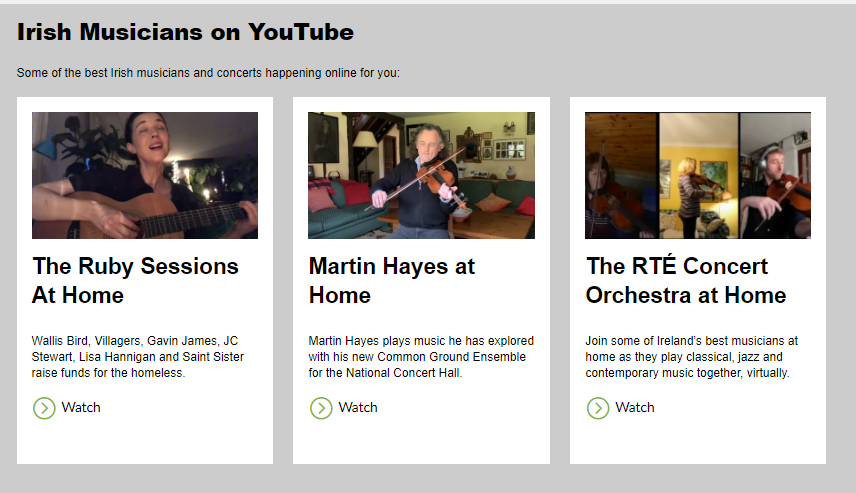 We could fill our Stay At Home Library with Irish poetry, from the
@poetryjukebox
with
@LaureatenanOg
, through
@johnkellytweets
new poems for
@poetryireland
, on to to
@SJSwords
about the Irish in Britain for
@LDNIrishCentre
, plus recitals from
@DanMulhall
agus dán le
@MiseCiara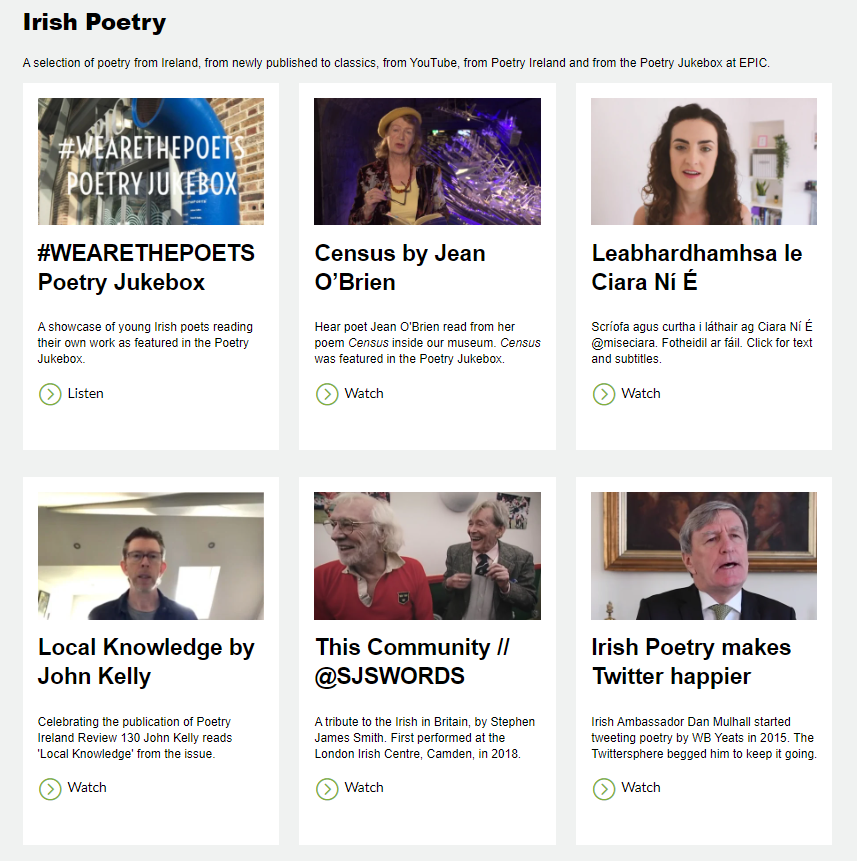 Whatever your interests are, we've chosen a selection of Irish podcasts covering everything from history and comedy to Gaeilge, science and storytelling. While away the time with these podcasts, which demonstrate exactly why the Irish are known for having the gift of the gab.
We're just getting started with this, so feedback welcome.
If you have creativity online you'd like shared with thousands of people abroad who love Ireland and Irish culture, please let us know on
[email protected]
Your support for
https://dublin.epicchq.com/stay-at-home
will help many people