PPTs are for making you mesmerized!
Let us look this first slide
CLAIM:
Post lockdown, testing increased 24 times, while number of positive cases grew only 16 times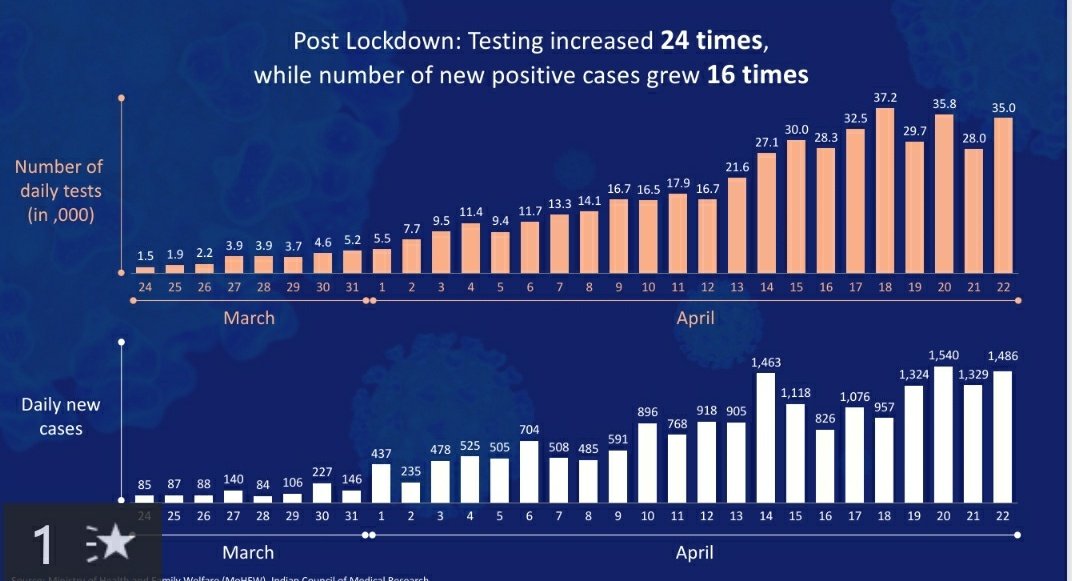 First let us see ICMR press releases for

23rd March and 23rd April

23/03/20

Tests = 20707
Positives = 471

23/04/20

Tests = 500542
Positives = 21797

Increase in tests = 500452/20707 = 24.2 times
Increase in positives = 21797/471 = 46.3 times!!!!!!
Look at this table, before drooling seeing the PPT and graphs my dear friends
While tests increased by 24.2 times between pre-lockdown and today, positives increased by 46.3 times!
Also the % of positive cases detected per tests increased by 191.45%!
That is the STORY........

Remember I taken the number of tests done here, instead of the number of people, because that was the golden period of
#Mysterious890
24.5 times, if we take number of people instead of number of tests.
485172/19817 = 24.5 times!
If anyone had doubts like
@t_d_h_nair
that whether they have taken absolute numbers pre-lockdown and post lockdown.
My answer is here

https://twitter.com/jamewils/status/1253317619383328770?s=19