#THREAD
#MaduraiMadness
There seems to be some kind of
#Corona
competition going on in
#Madurai
between 2 ministers. At a time when PM, Union Ministers & State CMs are avoiding public appearances, looks like these TN Ministers can't live without facing cameras 1/6
#Madurai
reporters are already fed up & now scared to cover the events organised by these ministers where social distancing norms are blatantly flouted. Look at this report by
@NairShilpa1308
to see how "well" these events are organised

2/6
According to sources in
#Madurai
, there is a competition between Ministers Sellur Raju & RB Udaykumar to organise events & get media coverage. If RBU has an event in the morning then SR will hold one event in the evening or the next morning. 3/6
Both
#Madurai
collector PRO &
#Madurai
Corporation PRO make sure that those reporters who attend
#RBU
's event also compulsorily covers SR's events. They make sure ther is wide publicity in both print & TV. Otherwise they are answerable.
These are few more screenshots of invites from PRO's to cover the events on a daily basis. Since Ministers are inaugurating the events, the officials are also forced to leave everything else & participate in the photo op. 5/6
After
@TimesNow
news report went viral, TN Minister RB Udaykumar has issued a statement urging journalists to follow social distancing norms & meanwhile another msg pops up on the WA group asking journalists to cover TN Minister Sellur Raju's event at 8 am tomorrow.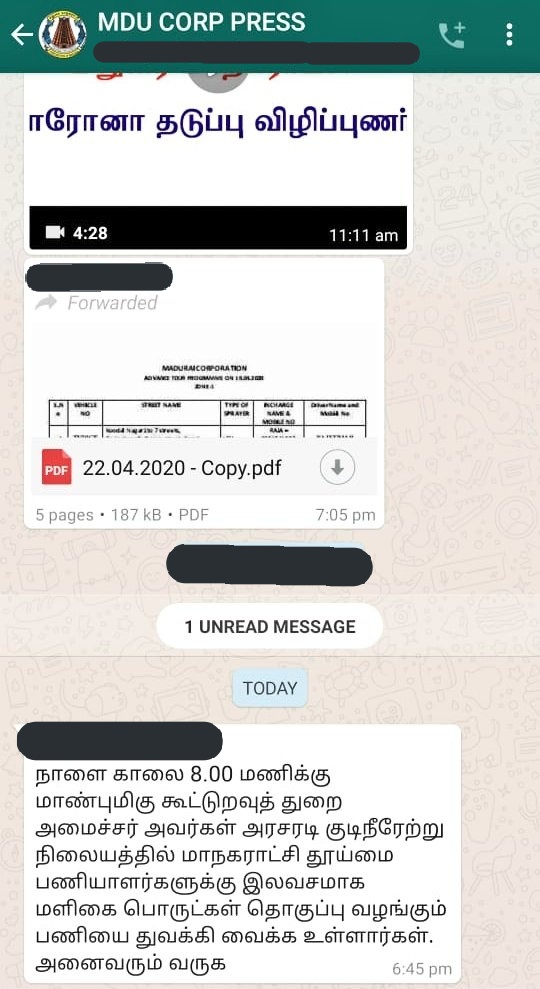 What is the need for so many events on a daily basis? And even if they want to do these events, why can't they have proper arrangements or do it through VC?
Btw RBU handles disaster management & wonder what is he doing in
#Madurai
when he should be HQ during a pandemic.