I went to the "Re-open NH" rally today.
It was the same scene as in other states: flags, signs, a few masks, and 100s of people upset at NH's shutdown order.
Except one major difference: Almost none of the protestors took it out on
@GovChrisSununu
.
(THREAD)
#nhpolitics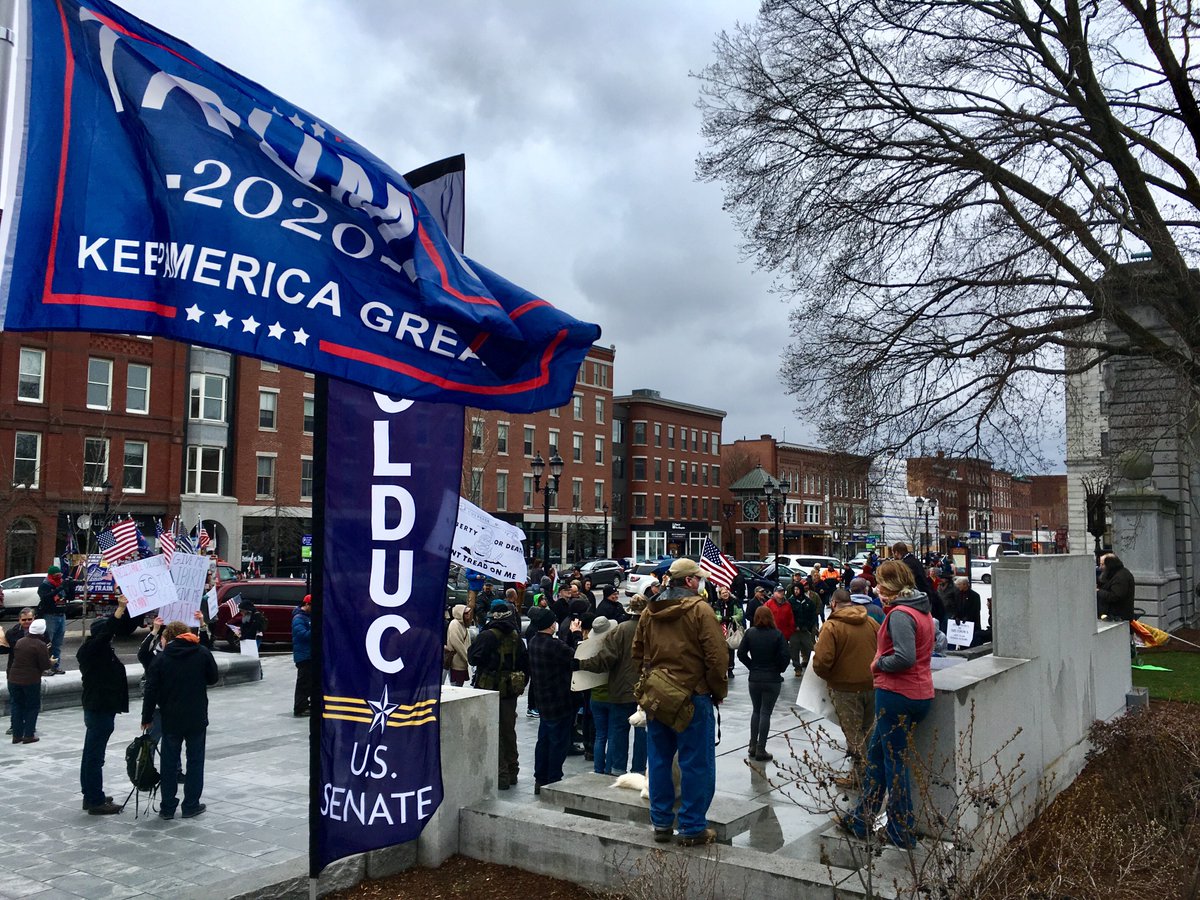 I talked to a dozen people, some of whom had signs like "Resistance to Tyrants is Obedience to God" and "What happened to 'Live Free or Die'?"
But when I asked what they thought of Sununu's actions, a Republican, almost all said "he's doing the best he can."
#nhpolitics
To be clear, Gov. Sununu is the one person responsible for the closure of non-essential businesses. He's the one person who can reverse that closure.
And yet almost no one I talked to was willing to criticize him outright.
#nhpolitics
One speaker took to the microphone and said (to applause) that it wasn't Sununu's fault; he had taken action based on "faulty models, faulty testing, faulty deaths that are attributed to COVID-19."
But now, she argued, he should reverse that stance.
#nhpolitics
Another protester, donning camouflage and an assault weapon and standing with a paramilitary group, told me the same.
"I think we feel like while we're protesting, people feel like Sununu is actually listening to us," he said.
#nhpolitics
"That's the big thing," he added. "As long as they feel like Sununu is listening to us and taking what we have issues with into consideration, he won't really have any issue with getting re-elected."
#nhpolitics
His friend, another member of the paramilitary group, New England Minutemen, agreed.
"I think he's definitely taking a lighter stance on it than obviously some of the Democratic governors," he said. "Because he's listening to people on both sides of the aisle."
#nhpolitics
That's not true though. NH has taken the same major actions as other New England states, and in some cases we did it faster than them.
Take a look at this graph from
@vtdigger
's
@EPetenko
and
@xanderlanden
:
https://vtdigger.org/2020/03/29/how-does-vermonts-covid-response-compare-to-other-states/
#nhpolitics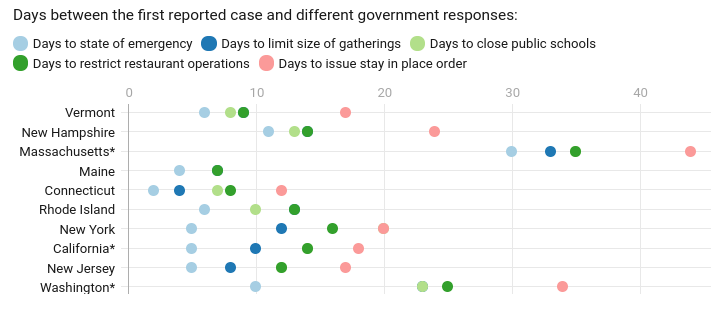 So to recap: strong condemnation of state government overreach. Faint criticism of the person at the head of that government.
#nhpolitics
To me this is an illuminating dynamic. In Michigan, there were literal swastikas on posters used to compare Gov. Gretchen Whitmer, a Democrat, to a dictator.
In NH, whose orders are the same, there were vague posters about tyranny but few attacks against the governor
#nhpolitics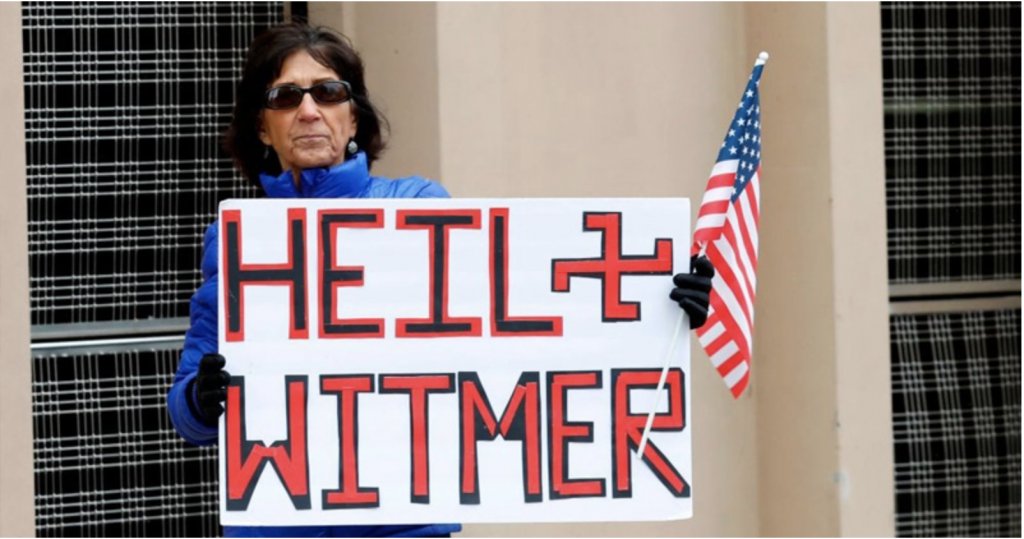 The protesters were majority right-leaning/libertarian to be sure.
But I think the dichotomy illustrates Sununu's unique hold over all factions of the
@NHGOP
, even the ones that are sometimes literally opposed to him.
#nhpolitics
And from all appearances, the governor is aware of that.
In a statement Saturday, he spoke against the protesters' request, urging Granite Staters to have patience.
But he did so gingerly. Here's his whole statement:
#nhpolitics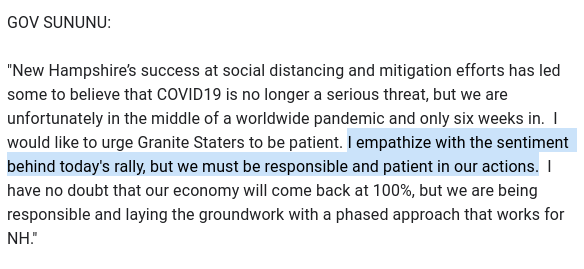 Will be interesting to see how long the balance holds.
There are no plans for more rallies. But Sununu's been clear that any re-opening will not be soon. The case levels and death toll have not nearly slowed down yet.
And obviously the crisis is nowhere near over.
#nhpolitics
End note: I did find one person at the rally who has lost faith with Sununu.
Scott Sybert, of Deerfield, made the sign below.
Sybert was a Sununu voter, but no longer, he told me.
"He's trying to appeal to both sides," he said. "But there's no negotiating liberty"
#nhpolitics