Nielsen news rankings for March out today. Biggest month in
@GuardianAus
history (internal & Nielsen), almost doubling our previous record month (January) to be the 4th most read news site in Australia. Thanks SO MUCH to the 11.6 MILLION Australians who read
@GuardianAus
in March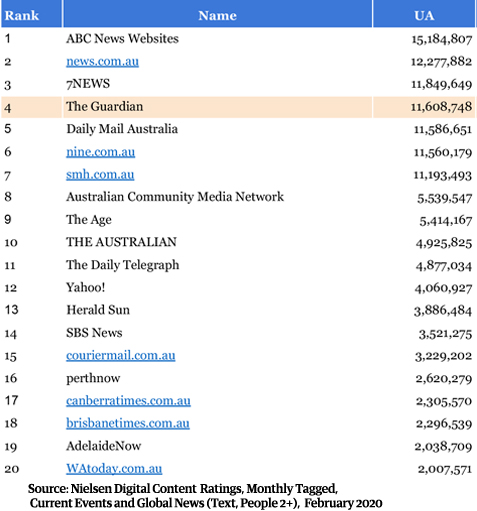 CORRECTION: My apologies, the text under that top 20 table should have read "March 2020", not "February 2020". Here's the table again with the corrected description text at the bottom.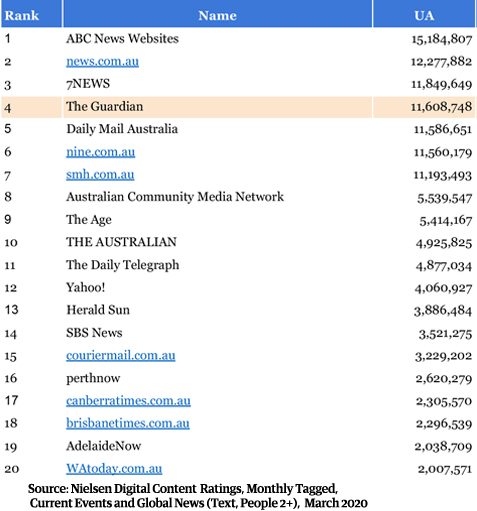 .
@GuardianAus
had the biggest growth, +104% on February. The big shock is Nine dropping to 6th. Nine had already dropped from No3 to No5 in Feb. Now, in March, they've dropped again to 6th. Before Feb this year
@9NewsAUS
hadn't been below No2 or 3 since August 2016
It's the first time ever
@abcnews
has held No1 for 3 consecutive months, reaching 15.2m. The previous record Nielsen audience was 11.2m for
@newscomauHQ
in November last year. Also first time ever
@7NewsAustralia
has reached No3 and first time ever
@GuardianAus
has reached No4.
I'm the first to highlight how much bigger our audience is, but should point out this is actually highest ranking for TheOz since Sep2018. That's last time they made top10. & they're up +101% on Feb. So actually recorded 2nd biggest growth in top10, behind
@GuardianAus
's +104%
Adding to this thread a couple of different ways of looking at the record digital news figures across Australia in March. Some of these will surprise you
Here's ranking by the raw numbers.
@GuardianAus
the biggest with +5.9m, followed by
@abcnews
with +5.2m
cc
@meadea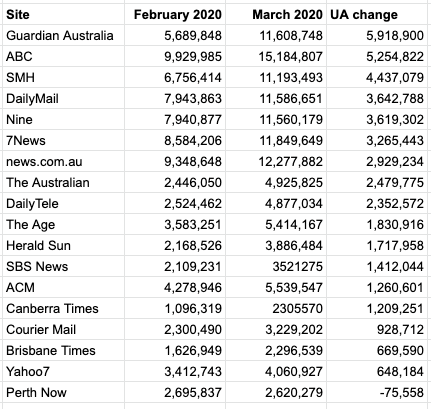 Here's the ranking by percentage growth in Nielsen audience between February 2020 and March 2020.
@canberratimes
at No1 with 110%! That's up from 1.1m people to 2.3m.
@GuardianAus
at No2 with 104% growth and
@australian
at No3 with 101%
Even 30% at the low end is huge MoM growth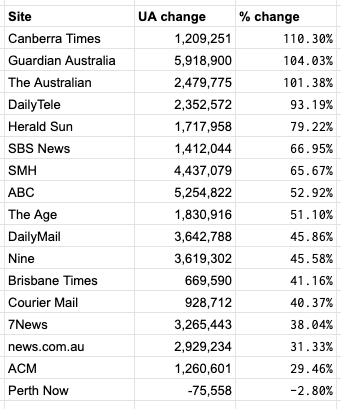 And finally two different measures of engagement. Page views per person (UA) and time spent
@newscomauHQ
leads on PVs/UA, followed by ABC and
@9NewsAUS
but
@abcnews
tops the list again for time spent (48min10sec), followed by newscomau,
@theage
& Nine