[IMPORTANT THREAD_COVID19]
@CMOMaharashtra
Shree
@OfficeofUT
@AUThackeray
@rajeshtope11
@samyrdalwai
@dadajibhuse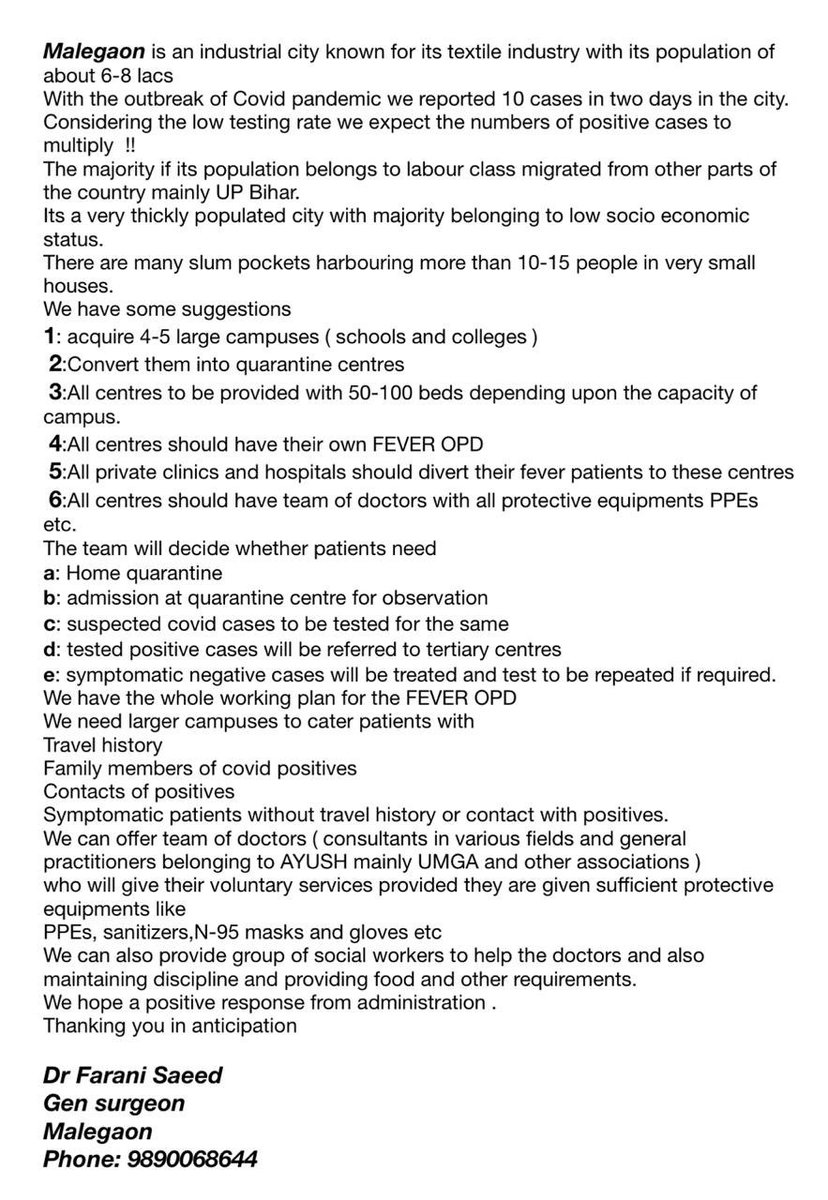 Malegaon is an industrial city known for its textile industry with its population of about 6-8 lacs
With the outbreak of Covid pandemic we reported 10 cases in two days in the city. Considering the low testing rate we expect the numbers of positive cases to multiply !!
The majority if its population belongs to labour class migrated from other parts of the country mainly UP Bihar.
Its a very thickly populated city with majority belonging to low socio economic status.
There are many slum pockets harbouring more than 10-15 people in very small houses.
We have some suggestions
1: acquire 4-5 large campuses ( schools and colleges )
2:Convert them into quarantine centres
3:All centres to be provided with 50-100 beds depending upon the capacity of campus.
4:All centres should have their own FEVER OPD
5:All private clinics and hospitals should divert their fever patients to these centres
6:All centres should have team of doctors with all protective equipments PPEs etc.
The team will decide whether patients need
a: Home quarantine
a: admission at quarantine centre for observation
c: suspected covid cases to be tested for the same
d: tested positive cases will be referred to tertiary centres
e: symptomatic negative cases will be treated and test to be repeated if required.
We have the whole working plan for the FEVER OPD
We need larger campuses to cater patients with
Travel history
Family members of covid positives
Contacts of positives
Symptomatic patients without travel history or contact with positives.
We can offer team of doctors ( consultants in various fields and general practitioners belonging to AYUSH mainly UMGA and other associations )
who will give their voluntary services provided they are given sufficient protective equipments like
PPEs, sanitizers,N-95 masks and gloves etc
We can also provide group of social workers to help the doctors and also maintaining discipline and providing food and other requirements.
We hope a positive response from administration .
Thanking you in anticipation