Breaking!
@htTweets
List of all containment zones in Delhi (so far).
1.Entire effected street near Gandhi Pqrk, Malviya Nagar, New Delhi
2.Entire effected street of Gali No 6 , L 1 Sangam Vihar, New Delhi.
3.Shahajahanabad society, plot no 1, Sector 11, Dwarka.
(1/n)
(2/n)

4.Dinpur Village
5.Markaz Masjid and Nizamuddin Basti
6.Nizamuddin West (G and D block) areas.
7.B Block Jhangirpuri.
8.H. No 141 to H. No 180, Gali no. 14, Kalyanpuri Delhi
9.Mansara Appartments , Vasundhara Enclave, Delhi.
(3/n)

10.3 Galis of Khichirpur including Gali containing H. No. 5/387 Khichirpur Delhi
11.Gali No 9, Pandav Nagar , Delhi 110092.
12.VarDhaman Appartments , Mayur Vihar, Phase I , Extension, Delhi
13.Mayurdhwaj Appartments , I P Extension, Patparganj, Delhi.
(4/n)

14.Gali no. 4, from H. No. J- 3/115 ( Nagar Dairy) to H. No. J- 3/108( towards Anar wali Masjid Chowk), Kishan Kunj Extension, Delhi
15.Gali No. 4, from H. No J- 3/101 to H. No. J - 3/107 Krishan Kunj Extension Delhi.
(5/n)
16.Gali No. 5, A Block ( From H No. A- 176 to A-189), WestVinod NagarDelhi 110092.
17.J & K , L and H pockets Dilshad Garden
18.G, H, J, Blocks old Seemapuri
19.F- 70 to 90 block Dilshad Colony
20.Pratap khand , Jhilmil Colony.
(6/n)

1. Please ignore typos.
2. Please don't panic.
3. Please stay indoors.
4. Please wear a mask.
5. Please wash hands frequently.
(7/n)
At least seven of the total containment zones are in East Delhi. The highest for any revenue district in the Capital.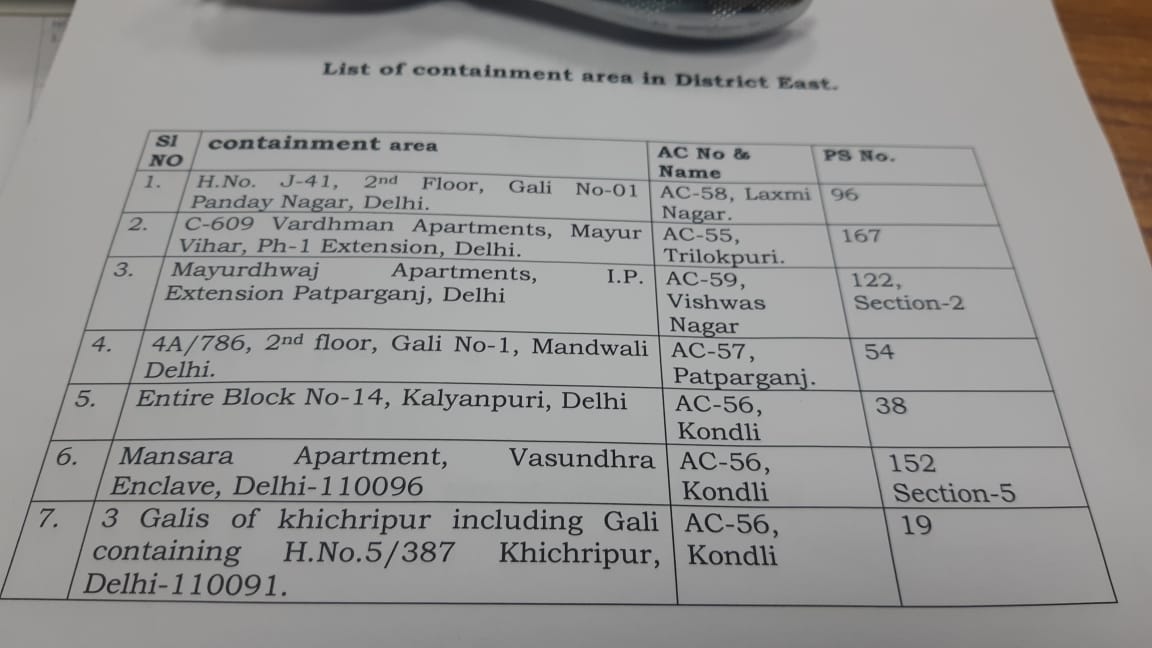 (10/n) Senior government officials said that the contaient area list is likely to be updated.
... So is this thread.