PM is up. He starts with thoughts for UK PM Boris Johnson. "He's a fighter," he says. "To our British friends, Canadians stand with you - we will get through this together."
Trudeau says gov't is offering full-time jobs to military reservists. Health Canada is recruiting volunteers to help out frontline workers. He says 5,000 Canadian companies have offered their services to the national fight against COVID-19.
Trudeau says "We need a sustainable stable supply" of PPE. "That means making them at home." PM says he has good news to share: Thornhill Medical, CAE, Ventilators for Canadians, Starfish Medical will produce 30,000 ventilators.
Canada Goose and Stanfield's, among other clothing manufacturers, will make some PPE like gowns. Trudeau says they've signed purchase agreements for millions of masks - but also hand sanitizer.
"We're working around the clock to make sure our frontline workers have everything they need to stay safe," PM says. Trudeau says Canada is expecting 500,000 masks from 3M tomorrow.
Trudeau says House leaders will meet this afternoon to discuss Parliament's return - to pass legislation needed for the Canadian Emergency Wage Subsidy (CEWS) program for most businesses.
Trudeau says our health care system is "a major asset" during this pandemic - a system where health is a "right not a privilege."
Asked about border closure decision from March. "I'm focused on today and I'm focused on tomorrow. There will be a lot of reflections on what happened in the past," PM says.
Question on ventilators - do you expect we'll need 30,000 of them? "We need to be ready for any and every circumstance. The opportunity to make sure we have ventilators available is extremely important. We certainly hope we won't be needing all those ventilators," he says.
Trudeau says Canada can share ventilators in other countries facing difficult circumstances.
(For context: there are only about 5,000 ventilators in whole country right now, according to PHAC. So, 30,000 new ventilators is an extraordinary amount.)
Trudeau says "there's still more work to do" on getting PPE across the Canada-U.S. border. "It's in our interest to continue working together." He says the supply chain is fully integrated. The 3M shipment (500,000 masks) is "very good news."
Support for Indigenous communities. He says, from the beginning, the gov't has been very concerned about the impact of COVID-19 on First Nations - especially those in remote areas with "particular vulnerabilities."
Credit card interest rates. "Right from the very beginning we've been in discussion with the banks to encourage them to do more," he says. He's happy the banks have taken "some initial measures" to reduce rates.
Non-medical masks. Should regular people where them? "I am not a medical expert. The most important thing is for people to stay home. If they do go out, they need to stay 2 metres apart." He says Tam said yesterday it's OK for people to where them - mostly to protects others.
PM says masks help people avoid "speaking moistly" on others, something he calls "a terrible image." (I think he meant it prevents the spread of droplets from presymptomatic or asymptomatic folks).
Trudeau says Canada will use Huawei-donated masks as long as they meet quality standards. "This will not effect our decisions on other issues to come," he says (a reference to cabinet's decision on 5G)
On mental health supports. "We need to make sure we're caring for each other. We have done things and we will continue to do more," PM says.
Fines and tickets for people not social distancing. "One of the best ways to ensure this pandemic is as short as possible, as nonconsequential as possible - we need to stay home. We need to engage in social distancing," he says, adding that will help with the death toll.
Rapid, widespread testing? PM says this is an essential part of controlling the spread of this virus. Canada has a good track record but "We can and we should be doing even better," he says. Trudeau says they're looking at serological tests (tests to see if you've had COVID)
Dr. Tam continues her delicate dance with advice on masks. She says a non-medical mask can be an "additional layer" and help reduce spread of droplets when getting groceries or when on transit. "Face coverings are not appropriate for everyone," she says, notably babies.
Minister Anand says Canada received a shipment from China yesterday - 8 million masks, including orders directly from Nova Scotia & Quebec.
Anand expects 2.3 million N95 masks to be delivered by the end of the week. Canada has received 20,000 litres of hand sanitizer - with another 10,000 litres to follow in short order.
Some important breaking news - Quebec Premier Legault confirms that the tooth ferry is an essential service. "He's immune to the coronavirus," he says.
That should read: Tooth *fairy* But I'd really love to see what a tooth *ferry* looks like, too.
New — Canada's top doctor says she'll wear a mask when physical distancing isn't possible.
http://CBC.ca/1.5524974
#cdnpoli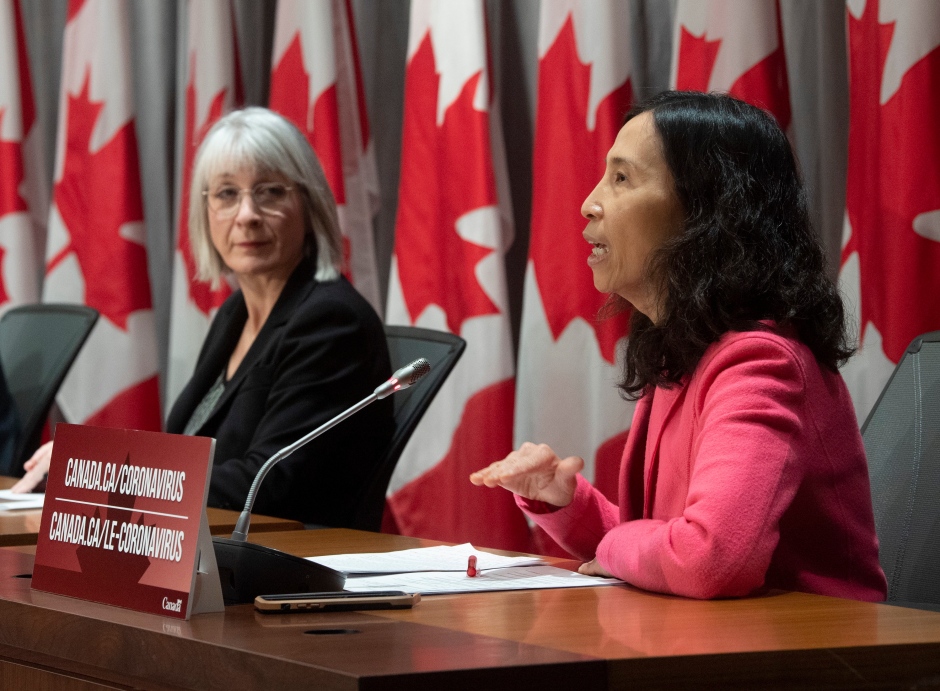 After downplaying the effectiveness of non-medical face masks, both the chief public health officer and federal health minister now say they would wear them in cases where physical distancing isn't possible in public.