[NOTICE TO THE PUBLIC] SCAM ALERT FOR
#TharnType
In Manila Fanmeeting
PLEASE READ THIS THREAD CAREFULLY.
TEP is continuously receiving concerns regarding a scam with TharnType in Manila Ticket transfer.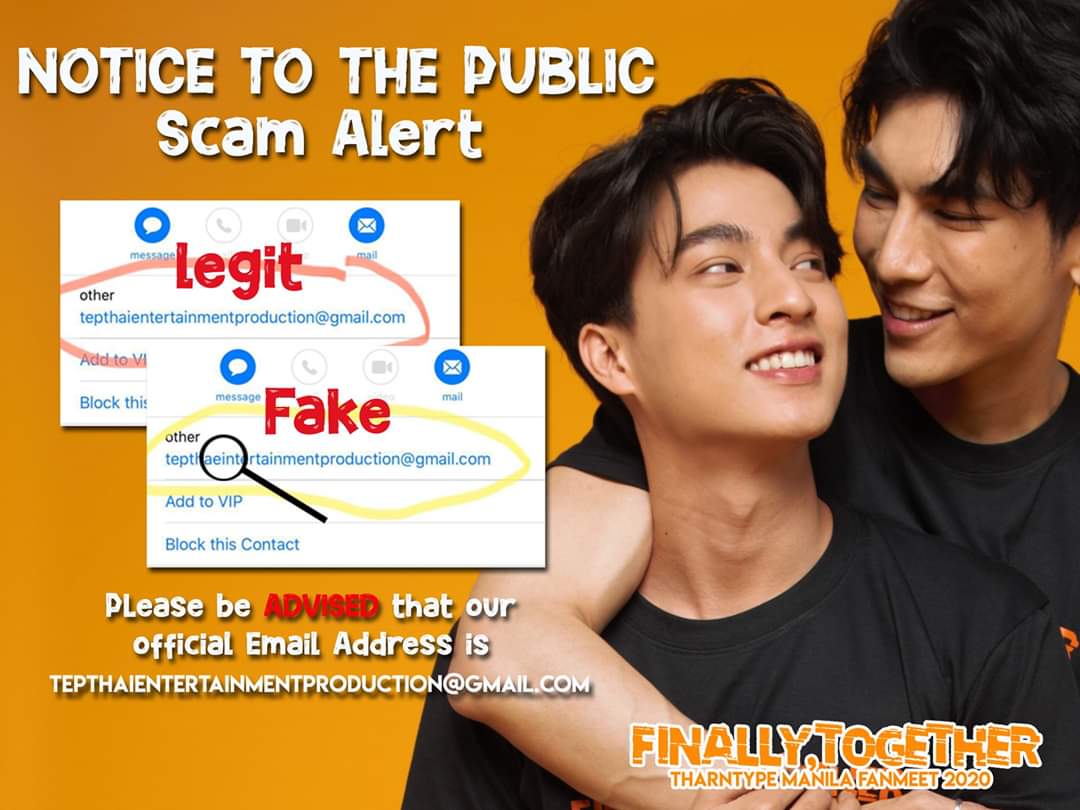 We want to ensure that we avoid this problem and make sure that everyone receives their well deserved TharnType in Manila tickets in a secure way. Here are the things you should remember when selling/buying a TharnType in Manila ticket (transfer) :
1. FOR THE SELLERS, please do send us an email (
[email protected]
) that you are going to transfer your ticket to a new owner. Please include their name, phone number, email address and also your ticket tier and ticket number.
2. FOR BUYERS, please do wait for TEP's confirmation email before paying. Payment details will be provided by the ticket seller. This is to make sure that the new ticket holder can have the assurance that the ticket is legitimate and is on our record.
Please note that the PROOF OF SUCCESSFUL TRANSACTION will be in the confirmation email as well. AGAIN, email will be coming from
[email protected]
3. After receiving the email confirmation, you may pay the amount and inform us that the transaction has been done via email, then wait for the new ticket voucher to be sent to the new ticket holder.
Note: PLEASE DO NOT PAY THE TICKET IMMEDIATELY. Wait for our confirmation for ticket transfer to avoid any scam.
Please make it a habit to double check the spelling of the email to make sure you are sending it to the legitimate email.

Be vigilant and always be wary of online scammers.

Please notify TEP if you are doubtful of a transaction.