In the energy sector, one of the most short term impacts of the coronavirus/covid19 crisis has been the fall in electricity demand and its impacts on discoms and power generation companies. This thread will look at some of the evidence, and associated issues.
https://twitter.com/siddharth3/status/1242388239933030402
Early evidence from BSES Yamuna and BSES Rajdhani, which are two of Delhi's distribution companies (discoms) show an approximately 25% reduction in power demand. This is in line with the all India demand reduction of 25% since the lockdown began.
An important aspect of this has been that renewable energy generation (yellow graph below) has remained unchanged. To compensate for the lower demand, coal power generation has taken a hit.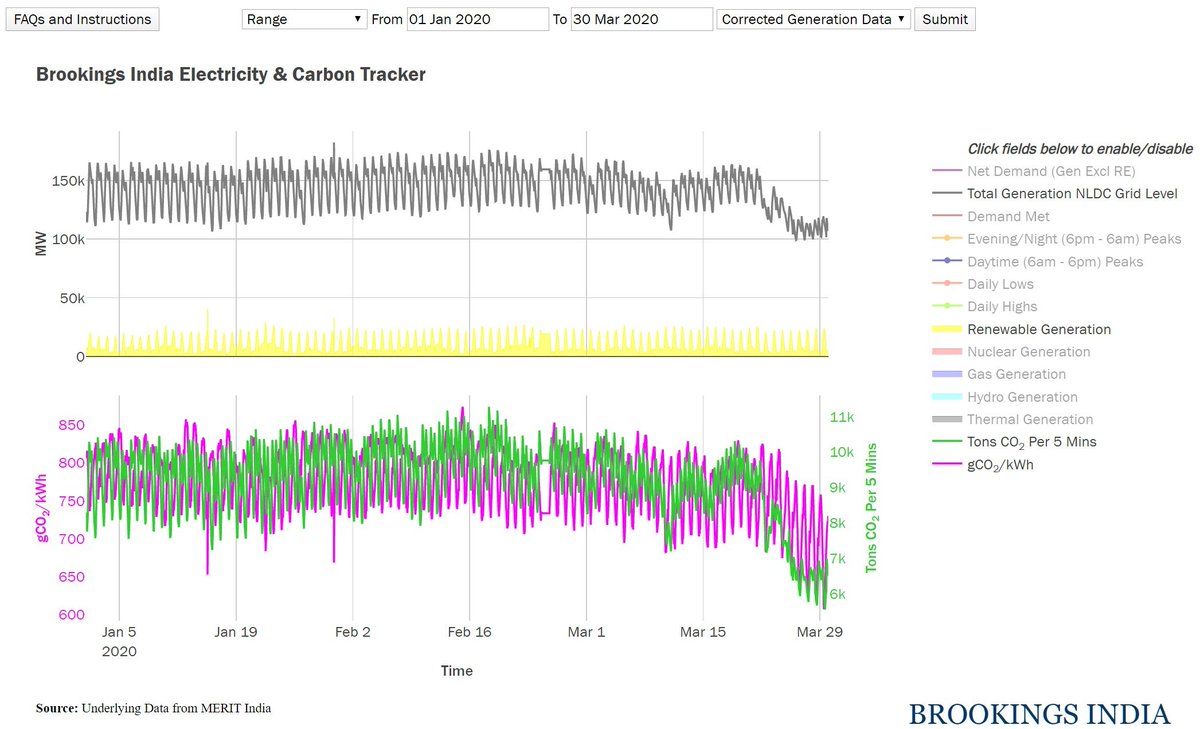 This has impacted states differently. In Delhi, renewables are 3% of the generation capacity today (target is to have 29% of portfolio by 2022). States like Gujarat have a very high share of renewables already, with around 30% of the total.
States with a high share of renewables have been disproportionately impacted by this crisis. This because variable renewables with fluctuating supply (solar, wind) are running on full capacity while coal generation has to ramp up and down to fill the gaps and balance the grid.
This ramping up and ramping down of coal fired electricity is complex. It requires certain technologies and practices that may not be in place. It also requires energy storage infrastructure (like batteries) that do not exist at that scale.
So one of the fallouts of the coronavirus pandemic on the power sector is that power system flexibility (to accommodate a higher share of variable renewables) will develop.

(This is akin to unprepared offices being forced to adopt technologies and practices to work remotely).
Meanwhile to help the discoms, the government has allowed for power generation companies to keep supplying to discoms even if they can't pay for this electricity immediately.
Discoms are bracing for a steep fall in revenue collections. Around 40% of Delhi discom revenue is from commercial and industrial consumers, which have stopped functioning. For residential consumers, there is no physical reading of meters happening. And most don't use e-payments.
Discoms themselves are playing an important role in the pandemic. They have ensured dedicated control rooms and multiple sources of supply to hospitals so that there is no outage in these places. And they have rested/rationed non-critical staff.
Also supply chains for electrical equipment have been disrupted despite it being in essential commodities list. So finding replacement parts and equipment won't be easy for the next many weeks (or months, depending on long it lasts).