Yesterday (29th March), I wondered on Twitter if I could teach cinema online and raise money for
#coronavirusrelief
.
As of now, Rs 10,000/- have already been raised and donated.
I have a feeling this will grow. Hence starting a thread.
Keep reading if you want to know more.
None of the money comes to me.

Students make donations to the fund of their choice, out the options I provide to them. I give them a time window of making the payment.

Once they send me the confirmation message, I register them for an upcoming lecture.

Then we talk cinema.
This is how it works:
- You fill up a Google form
- I inform you about an upcoming lecture. Provide you with a list of funds dealing with
#coronavirusrelief
- You make the donation to the fund of your choice
- Send me the donation receipt and your seat is booked
- Lecture begins
Two lectures are sold out already. We have managed to raise and donate Rs 42,501/- so far.

This money is more than I could have donated on my own. So I am giving my time. People are contributing with small amounts of money.

Together we are stronger.
We just completed our 50th registration. As a result of which Rs 78,192/- have already been donated.
Hope this will inspire more and more people to join us.
The good thing about this plan is that even if I totally suck as a teacher, your altruism will lessen your regret!

Today we have our 1st lecture. We have also decided to increase the number of seats per lecture.
Spread the word. Here is a chance to learn cinema, while helping India fight
#coronavirus
. More than 50 have contributed so far.
Fill this for more details:
https://forms.gle/H1c8UZwmB5rJ4P4VA
Rs 1 LAKH RAISED AND DONATED!

This is the first big milestone. Many thanks to all of you who have contributed, through money, encouragement, or spreading the word.

The Cinema Gods must be smiling! :)
Lecture #1 begins.

Fundamentals of Screenwriting

10 students.

Excited! :)
For their contribution, heartfelt thanks to the first batch:

Anirudh, Swati, Nitesh, Manuj (all Mumbai)
Tushar, Manav (both Pune)
Mayank (Hyderabad)
Tanima (Indore)
Abhijeet (Almora)
Piyush (Singapore)
All lectures of this week are SOLD OUT
We have donated Rs 1.35L through three lectures.
On Sunday evening, the lecture schedule for the next week will be announced
Until then please help spread the word. Fill this form for details and free registration:
https://forms.gle/vLQyCZzoSXsvSLEv9
We just concluded our second lecture. Many thanks for their contributions to:

Vinayak, Aditya, Dhananjay (Delhi)
Hardik, Raj (Mumbai)
Sumit (Navi Mumbai)
Amey (Bengaluru)
Sarmad, Anonymous (Pune)
Anamika, Kartik (Jaipur)
Daanish (Nainital)
Akash (Amsterdam)

Thank you guys!!
More than 50 students will attend tomorrow's lecture. They come from sixteen different Indian states. And some will be joining from Canada, Australia, Ireland and the USA.

Some of my childhood friends will join us. The youngest student is a dear cousin of mine. This will be fun!
New Lectures Coming Up
8th April, 6 pm: "Introduction to Film Directing"
10th April, 6 pm: "Dialogue Writing for Screen"
12th April, 10 am: "Writing a Story: Beginning, Middle, End"
12th April, 5.30 pm: "Fundamentals of Screenwriting"
For more details:
https://forms.gle/vLQyCZzoSXsvSLEv9
Rs 2 Lakhs Raised and Donated!

Everyone of you - who have contributed, who have helped spread the word, or sent good wishes - deserve praise for this. Please continue to help those who need our help, today more than ever.
Today's lecture had more than 50 students from all over India and world. Almost 90K was raised by today's lecture alone. My heartfelt thanks to:

Hindol, Saneeya, Abbas, Rahul, Pratik, Brenna, Amit Srinivas, Ismeet, Rohan, Amir, Apoorva, Viraj, Harshad, Akash (all Mumbai)

contd.
Also to:

Vishal (Nagpur), Prashant (Navi Mumbai)
Dhruv, Srishti, Vandna (Delhi), Sagar (Porvorim)
Gurpreet, Soumyadeep (Pune)
Saurav (Sydney)
Ankit (Thane)
Dhruvi (Valsad)
Ananya, Dhruv (Toronto)
Saurabh (Mountain View, California)
Rehman (Melbourne)
Gautam (Ludhiana)
contd.
Also to:

Samridhi (Kota)
Manu (Hospet)
Shriharsh (Bhilai)
Anvesha (Guwahati)
Dushyant (Gurugram)
Sai Prathima (Dublin)
Nikhil (Bhubaneshwar)
Arya (Bokaro)
Vipin (Cochin)
Karthik (Coimbatore)
Abhishek (Cuttack)
Also to:

Shubhangi, Sheetal, Ankur, Aakash, Nuhar, Vishal, Subhangi, Harshit (all Bangalore), and Rajnish!
Another milestone reached.

Rs 3L raised and donated!
Lecture #4 was Introduction to Film Direction.

Many thanks to:
Sreenidhi (Ahmedabad)
Aditya (Aligarh)
Apurva (Ambala)
Amit, Ankur, Amey, Manish, Chandramoli, Shubhangi (Bangalore)
Arjun (Chandigarh)
Vipin (Cochin)
Andrea, Gurnain (Gurgaon)
Manu (Hospet)
Sriharsh (Kawardha)
Also to:
Mayank, Sathya, Minakshi, Yashaswi (Hyderabad)
Madhav (Kolhapur)
Kunal (Kolkata)
Samridhi (Kota)
Sachin (London)
Rehman (Melbourne)
Uday, Rashi, Saneeya, Saransh, Adhiraj, Suchita, Aksh, Aneesha, Rohan, Anaya, Tirtha, Junhai, Sameera, Hardik, Vaishnavi, Siddhima (Mumbai)
Gautam (Ludhiana)
Vishal (Nagpur)
Rohit (Nashik)
Sumit, Prashant, Aditya (Navi Mumbai)
Dhananjay, Daanish, Sonali, Anant, Srishti, Ritubrata (Delhi)
Muskan (Noida)
Ajith (Palakkad)
Syed (Raipur)
Savitha (California)
Arjun (Surat)
Saurav (Sydney)
Ankit (Thane)
Dhruv (Toronto)
Out of all the money donated through these lectures, Rs 55,000/- have gone for the welfare of the daily wage workers in the film industry.

This itself warms my heart. I could not have done this on my own. Thank you so much for your contribution. This is so special!
Rs 4L donated!
Have you contributed by spreading the word? It is simple. Learn Cinema, Help Fight Corona. Fill this up for details:
https://forms.gle/vLQyCZzoSXsvSLEv9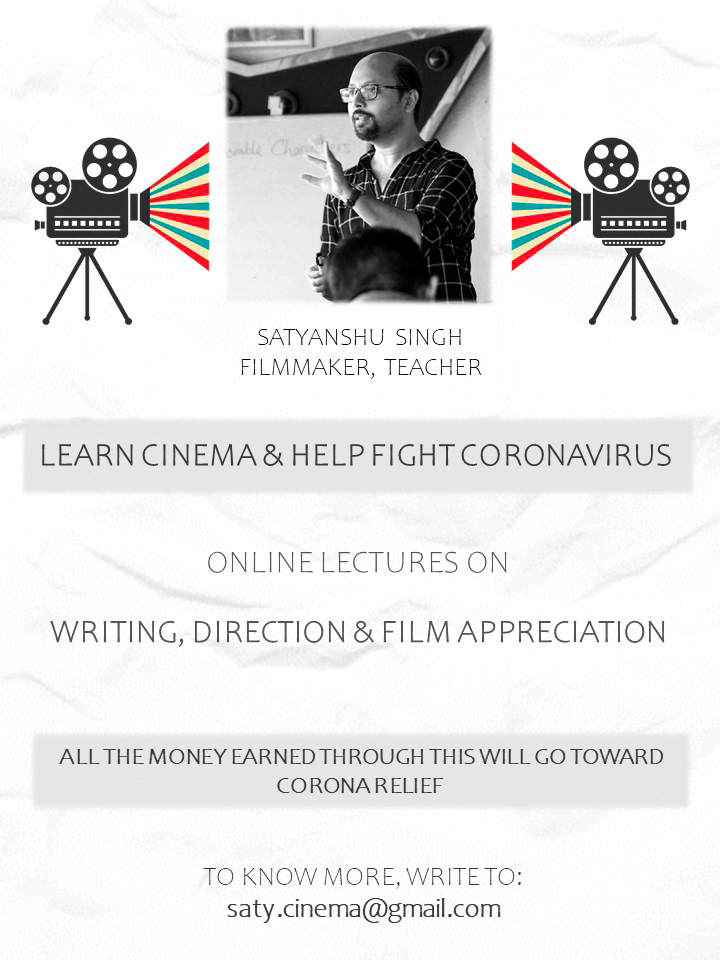 Rs 79K from todays' lecture! We had students from Delhi, Mumbai, Bangalore, Hyderabad, Pune, Kolkata, Ahmedabad, Surat, Goa, Palakkad, Nagpur, Nashik, Mathura, Kota, Bhilai, Chandigarh, Gandhinagar, Aligarh, Mathura. Also from Toronto, Sydney, Munich, London, Melbourne, Calgary.
More than 500 have registered themselves for these lectures now.

I'm glad to be able to connect to some from smaller towns and cities where I never get to conduct my workshops.

Ranchi, Chengalpattu, Patran, Hubli, Gulbarga, Asansol, Dharwad, Udaipur, Kota, Rishikesh and more.
We are going to announce the schedule for next week's lecture tomorrow morning. Stay tuned for that.

And also for a SURPRISE!!! Something exciting is coming up.