𝟏 𝐦𝐨𝐯𝐢𝐞 𝐚 𝐝𝐚𝐲
(𝐟𝐨𝐫 𝟑𝟎 𝐝𝐚𝐲𝐬 𝐬𝐭𝐫𝐚𝐢𝐠𝐡𝐭)
𝐜𝐡𝐚𝐥𝐥𝐞𝐧𝐠𝐞.

⠀⠀ ⠀⠀⠀⠀
So i made this thread because I'm bored, and I think it would help me finally clear up that long watchlist of mine. It's obviously a challenge for me, but if anyone wants to try doing the same thing, then please try it.
Day 1
Paper Towns (2015)
Dir. Jake Schreier
My rating: ★ ★ ★ ☆ ☆

"What a treacherous thing it is to believe that a person is more than a person. Margo was not a miracle. She was not an adventurer. She was not some fine, precious thing. She was a girl." -Quentin Jacobsen
Day 2
Princess Mononoke/ もののけ姫 (1997)
Dir. Hayao Miyazaki
My rating: ★ ★ ★ ★ ☆

This film is one of the best animation films i've ever watched. I can't believe I just watched this gold. Eboshi-sama is my favorite character, idk why but she just screams COOL to me.
Day 3
Scary Stories to Tell in the Dark (2019)
Dir. André Øvredal
My rating: ★ ★ ★ ☆ ☆
Effects for the monsters are good, but the performances and writing wasn't THAT good.
Day 4
Breakfast at Tiffany's (1961)
Dir. Blake Edwards
My rating: ★ ★ ★ ★ ☆
One of the must-watch classic romance movie! I just love how people talk in that period of time.
Day 5
Ladies in Black (2018)
Dir. Bruce Beresford
My rating: ★ ★ ★ ½
Pretty costumes! Good ending for everyone and that made me happy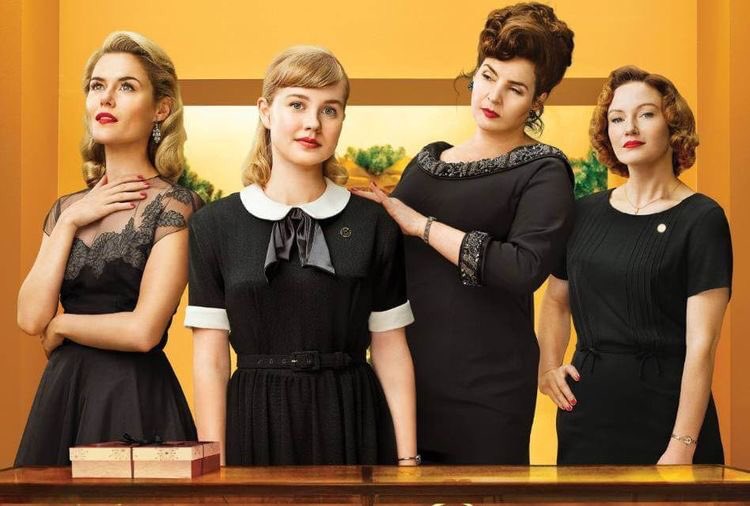 Day 6
Lost in Translation(2003)
Dir. Sofia Coppola
My rating: ★ ★ ★ ★ ½
"The more you know who you are and what you want, the less you let...things upset you."
Day 7
海がきこえる/ Ocean Waves (1993)
Dir. Tomomi Mochizuki
My rating: ★ ★ ★ ½
A nostalgic romance story of young Morisaki Taku. I love hearing some Kōchi dialect here and there. It's easy to watch and the art is quite beautiful. It lacks depth, I think.
Day 8
ハウルの動く城/ Howl's Moving Castle (2004)
Dir. Hayao Miyazaki
My rating: ★ ★ ★ ★ ½
Adventure, magic and love. Hayao Miyazaki always put an educational meaning behind the movie. In this one, it teaches that war never makes any sense. 「そうなの。心って重いの」
Day 9
耳をすませば/ Whisper of the Heart (1995)
Dir. Yoshifumi Kondou
My rating: ★ ★ ★ ★ ☆
I want what they have!!


「自分の中に原石を見つけて、時間をかけて磨くことなんだよ。」
Day 10
Contratiempo/ The Invisible Guest (2016)
Dir. Oriol Paulo
My rating: ★ ★ ★ ★ ½
New development after new development to achieve a great twist at the end. I'm not gonna lie, I had headache watching this one, but it was a good film!
Day 11
Rules Don't Apply (2016)
Dir. Warren Beaty
My rating: ★ ★ ½ ☆ ☆
The editing is weird, i still didn't get the message whatsoever. I don't have things to say except that Lily Collins.
Day 12
崖の上のポニョ/ Ponyo (2008)
Dir. Hayao Miyazaki
My rating: ★ ★ ★ ★ ☆
This is one of the cutest movie that Ghibli Studio made!! It's interesting that they made Sosuke behave almost like an adult. I could see the beauty of the sea and the lives underwater and I

it.
Day 13
Superbad (2007)
Dir. Greg Mottola
My rating: ★ ★ ★ ★ ☆
Funny as hellll! I can't believe I'm saying this, but Bill Hader is kinda cute

Day 14
Moulin Rouge! (2001)
Dir. Baz Luhrmann
My rating: ★ ★ ★ ★ ☆
Damn that was a good musical movie that I just watched. Very colorful and it took me to a rollercoaster of emotions.
"The greatest thing you'll ever learn is just to love and be loved in return."
Day 15
Vivarium (2019)
Dir. Lorcan Finnegan
My rating: ★ ★ ½ ☆ ☆
Aesthetic wise? It's fine. Story wise? There's still so many questions like how and why this happened. It would be great if there are developments behind the kid and the book and the symbols.
Day 16
Love. Wedding. Repeat (2020)
Dir. Dean Craig
My rating: ★ ★ ★ ½ ☆
What a messy wedding it was.
"We're just afraid to let a real relationship happen... 'cause we know how easy it is to lose the ones we love." When Jack said it, I felt that.
Day 17
Portrait de la jeune fille en feu/ Portrait of a Lady on Fire (2019)
Dir. Céline Sciamma
My rating:





I love it so much i have nothing to say. Women. That's it.
Day 18
Dolemite Is My Name (2019)
Dir. Craig Brewer
My rating: ★ ★ ★ ★ ☆
It's a lot of fun! And educational, imo. Lots of inspirational quotes too.
Day 19
Jennifer's Body (2009)
Dir. Karyn Kusama
My rating: ★ ★ ★ ½ ☆
What a cool teen(?) movie with a pinch of horror on top of it.
Day 20
Red Dragon (2002)
Dir. Brett Ratner
My rating: ★ ★ ★ ★ ☆
It's a Prequel The Silence of The Lambs. Watched this before knowing that. There's a plot twist, kinda a shocking one.
"Our scars have the power to remind us that the past was real"
Day 21
It Comes at Night (2017)
Dir. Trey Edward Shults
My rating: ★ ★ ★ ☆ ☆
What comes at night, exactly? Other than dreams ? Or is it fear?
Day 22
El Bar/ The Bar (2017)
Dir. Álex de la Iglesia
My rating: ★ ★ ★ ☆ ☆
Going to a random bar *GONE WRONG*. Amusing on the first half but it's going downright gross afterwards.
Day 23
Girl, Interrupted (1999)
Dir. James Mangold
My rating: ★ ★ ★ ★ ☆
Probably one of the best movies that took mental illness as a theme. Was very satisfied with the ending

.
"I told her once I wasn't good at anything. She told me survival is a talent."
Day 24
Maleficent: Misstress of Evil (2019)
Dir. Joachim Rønning
My rating: ★ ★ ★ ½ ☆
Love the beautiful cinematography. It feels like it's just another disney movie. Good ecological criticism tho.
Day 25
A Dog's Way Home (2019)
Dir. Charles Martin Smith
My rating: ★ ★ ★ ☆ ☆
It was a journey to watch, I can't believe I cried over a film about a dog trying to go home, like wtf. Visual effects are meh.
Day 26
The Squid and The Whale (2005)
Dir. Noah Baumbach
My rating: ★ ★ ★ ★ ☆
A film about join custody based on Noah Baumbach and his brother's childhood experience. Well I think it's very interesting to watch. And yeah I could see Wes Anderson's touch on it.
Day 27
Zombieland: Double Tap (2019)
Dir. Ruben Fleischer
My rating: ★ ★ ★ ☆ ☆
One of my favorite movie about zombies! Well it was funny just as the first one, it's great that they still use the same actor & actress too. Pretty cool zombie fighting scene tho.
Day 28
Aladdin (2019)
Dir. Guy Ritchie
My rating: ★ ★ ★ ☆ ☆
That's a good visual and effects. Songs are just. Well it's good for spending free time.
Day 29
Eyes Wide Shut (1999)
Dir. Stanley Kubrick
My rating: ★ ★ ★ ★ ☆
Well, that's a deep film. Too deep even. I have to watch an explanation video after watching it. Slow paced, suspenseful music, a different kind of horror.
Day 30
The Willoughbys (2020)
Dir. Kris Pearn
My rating: ★ ★ ★ ½ ☆
It's a very cute family movie. Love the soundtrack and the animations. Ricky Gervais as the voice actor for the cat?? Gold.
And that's the end of this thread. It's a good thing to do especially when you're in quarantine and doesn't know what to do.