I couldn't get into "High Flying Bird". I dunno. Apparently it has lyrical dialogue. I saw an inert movie.
It's honestly shocking how good "Portrait of a Lady on Fire" is. Shocking. Necessary revision: That was the best film of 2019.
I rewatched "Before the Devil Knows You're Dead". Better than I remembered. Riveting performances. Still, it's lesser Lumet.
Moving through "McMillions". I'm not sure I've ever been more excited for a movie or miniseries and more bored while watching it. So sluggish, repetitive.
Finally watched Park Chan-wook's "JSA: Joint Security Area". Annoyed I waited so long. Riveting, masterful storytelling, completely original. Part military thriller, part detective movie. Surprisingly moving. Quite easily one of the best movies I've ever seen.
In retrospect, I took Natalie Portman and Ashton Kutcher for granted in "No Strings Attached". It's kind of a delightful movie, and it's probably Kutcher's best performance. They're perfect together.
"The Cooler" is one good actor, two great actors and a bunch of good ideas squandered by a mediocre director.
A handful of gorgeous scenes saves "Away We Go" and its faulty casting of John Krasinski from being a total waste of time. Two poignant if brief turns by Chris Messina and Melanie Lynskey.
"Stranger by the Lake" is a movie. It's really French. It's quite good. But I have a lot of questions.
"The Plot Against America" is fantastic and a faithful and worthy adaptation of Roth's great novel. Zoe Kazan has never been better.
Finally watched "Repo Man". Beautifully shot despite a low-budget punk aesthetic. It's unique, but I didn't love it. It's never boring though. Tonally memorable.
I am watching "21". Kate Bosworth is in it. We unfortunately no longer live in a world that believes in itself enough to cast Kate Bosworth. Instead, we deprive ourselves. We subsist.
"21" is like a capsule to a time when people like Brett Ratner and Kevin Spacey still thought it was a good idea to spend $35 million on impressively mediocre card shark movies for college boys who loved "Rounders" and "Good Will Hunting" too much.
I'm watching Sam Fuller's "The Naked Kiss" for the first time. Lured by the synopsis. It opens with our hero, a hooker, shot in POV, beating her drunk pimp into submission with her pocketbook. Strong start.
"The Naked Kiss" is still capable of shocking nearly 60 years later. Fuller eviscerates his targets with shotgun subtlety: small-town sanctimony, misogyny and sexual hypocrisy, and America's dangerous enchantment with wealth and power.
"Elizabeth" (1998) is a colorful but wanting showcase for a director painting inside the lines of a middling script. Even so, the final act powerfully illuminates the symbolic and spiritual design of the English monarch.
"The Way Back" is a handsomely made but disappointing sub-genre mashup: a youth sports movie and a redemptive addiction drama. Ben Affleck is quite good, but the movie struggles to balance the competing demands of its storylines, which ultimately feel superficial.
Just finished "The Plot Against America", which is fantastic. Can't decide whether Simon's deviations from the book are an improvement or a misstep, but there's no way Roth's ambiguity would have satisfied a viewing audience.
Also, if Morgan Spector isn't cast in way more stuff after this, Hollywood has malfunctioned.
"Ashes and Diamonds" is gorgeously shot. I respect it. But I've seen too many movies about soldiers "questioning the cause" to really give in to it.
"Bad Education" (2020) is an impressive followup to "Thoroughbreds" for Cory Finley, though I kept thinking, what would Bennett Miller have done with this movie? Or Alexander Payne? There's an even better movie to be made. The story's too good.
"Sword of Trust" is a low-budget Lynne Shelton movie, starring Marc Maron, about four people questing to sell an antique sword believed to be proof that the Confederacy won the Civil War. It's ridiculous. It's also really funny.
It's also got at least four great comic performances. Shot on location in Alabama, which is nice. Reminded me of "All the Real Girls" at times.
"Popstar: Never Stop Never Stopping" is quite funny. Like a lot of Lonely Island stuff, it's a pretty hollow movie, but it's never boring.
I was wary about Netflix's "Extraction". Ten minutes in, they've mentioned a "proof of life", so I'm obligated to keep watching. That's one of my things.
He didn't pay for a proof of life. By the standards of that Meg Ryan movie, he's doing the right thing, but he shot everyone in the room, so the chances I'm watching a movie about clever negotiation seem low.
Action movies today rely far too much on action. It's icing, not cake.
"Extraction" is a grim, morally stupid action movie. Still, it's too beautifully made to totally deny. But let's stop allowing stunt coordinators to direct action movies from now on.
I watched the new Seinfeld special and almost laughed.
"Un Flic" (1972) is up there with "Le Cercle Rouge". Stylish, gripping, soulful. Super French. Jean-Pierre Melville built the engine of the modern heist film 50 to 60 years ago, and we're still chugging along on it.
The first episode of HBO's "I Know This Much is True" looks, at first, like an overindulgent acting exhibit, but there's a lot going on there underneath. Juliette Lewis goes off like a faulty Roman candle. Grim, but great.
I feel like Netflix's "The King" was ignored last year. I didn't want to see it. But it's a surprisingly rich and unique take on the medieval epic. David Michod strips away the regality and bets on a number of risky casting and story choices. All of it works.
I think Netflix's marketing in the fall papered over the movie's idiosyncrasies, undermining Timothy Chalamet and Robert Pattinson, who look out of place in the trailer. But the film is partially about that. I suppose it's a harder sell.
If "Caroline and Jackie" had stars and a multimillion-dollar budget, it would've been nominated for a screenplay Oscar. It's like a modern American "L'Avventura". The characters are too self-impressed to be depressed.
Also, what has to happen for everyone to realize that Marguerite Moreau is tops?
I'm usually irritated by directors who build their aesthetic around close-ups, but Lenny Abrahamson does it beautifully throughout "Normal People". He finds a nice balance between faces and landscapes. Gorgeous series.
Finishing "Normal People", which is good. People apparently think the actors are too attractive, but their attractiveness more than makes up for the fact that they're too attractive.
"Wild Rose" is a little rote, but Jessie Buckley is a fantastic singer and a dynamite actress. She's better than her movie. It's worth seeing if only to watch her buzz around Glasgow.
Oh, figured it out. The girl in "Normal People" looks like Holly Hunter in "Broadcast News". Done.
"Uncut Gems" is even better the second time. The Safdie Bros. may claim otherwise, but there's a quiet moralism buried beneath the movie's frenetic surface. What they choose to notice in their characters is telling.
Twenty minutes into Spike Lee's "Da 5 Bloods", which looks insufficiently financed. But there's Delroy Lindo. So, maybe it's OK.
I promise I will eventually finish "Da 5 Bloods".
I still have not finished "Da 5 Bloods", but I watched the first episode of HBO's "Perry Mason". Dense. Beautiful. Not much else. Peak TV is over.
Like a lot of Spike's recent movies, I don't love "Da 5 Bloods", but I can't quite dismiss it either. Too many good ideas, and Delroy Lindo is — no surprise — fantastic. But it's really uneven.
I am watching "Private Property" (1960) because it is 80 minutes long, and its synopsis begins with the words, "Two drifters."
"Private Property" is the first black and white movie I've seen where a rich and desperate housewife fantasizes about her gardener by walking around the house wearing his leather belt like a dog collar. Wasn't expecting that. This movie is fantastic.
There will never be a sufficient explanation for the world's problem with Anne Hathaway, but she's great in "Colossal" so far.
Movies that use metaphorical Godzilla monsters to explore alcoholism, selfishness and toxic masculinity are, of course, legion, but "Colossal" is probably the best. Recommended.
"Greyhound" is a $200 million movie made for a quarter of that. It doesn't help that Tom Hanks's script is bogged down in a dense military argot that makes it nearly impossible to follow the story's particulars. Most of movie takes place at night. On the ocean. Not ideal.
Watching David Lean's "Summertime" (1955) and Katharine Hepburn's Venician loneliness is huge.
"Summertime" is a beautiful movie. According to what I read, Venice sucks now, so it's a nice time capsule.
To wash away the disappointment of "Greyhound", I'm watching for "The Hunt for Red October" for the first time in 25 years. Submarine movies are a strange genre.
Entertaining, but "Patriot Games" and "Clear and Present Danger" are the best Jack Ryan movies. The character is more developed, Harrison Ford is better cast, and those movies are more removed from the cheesy jingoism of Cold War Hollywood.
"My Beautiful Laundrette" is worth it just for Daniel Day-Lewis's startling South London accent. Such an odd little movie: immigrants, cocaine trafficking, white nationalists, a jazzy laundromat, soap-bubble sound effects, furtive laundromat sex. No shortage of things.
Watched "Knives Out" again. Still works, but I can't tell whether Daniel Craig's Southern accent is good or not.
"'71" is like a taut John Carpenter thriller set against the Troubles in Belfast. Exciting, deftly written, politically meaningful.
"The Call of the Wild" is a good movie for children.
What Soderbergh pulls off in "Unsane" with an iPhone, good actors and a $1.5 million budget is bonkers. And no one is better at shoehorning real, actual ideas into pulpy material. Hollywood should be embarrassed.
Physically, Nicole Kidman is all wrong for the lead role in "Destroyer", but she's such a skilled actor it ultimately doesn't matter. Among her best performances and one of the finest crime dramas in recent memory. Egregiously ignored.
It's also got all kinds of flaws. None of them matter.
"Win It All" is a solid gambling movie. Not bad, not great. A little perfunctory. That's often one of the charms of a Joe Swanberg movie, but it's a weakness here.
I'm not a big Peter Yates guy, but "The Friends of Eddie Coyle" is directed with a fair amount of style and restraint, and the movie builds meaning at a slow and quiet pace as it follows its characters. An unsentimental crime drama representative of its decade.
And almost worth it just for Robert Mitchum's face.
"I Am Not Your Negro" is a powerful, thought-provoking documentary, but I'm wondering if I wouldn't have gotten just as much, if not more, reading Baldwin's text. How much does the imagery really add?
"Alice" (1990) is somewhat boring. Even William Hurt is boring, which I wouldn't have thought possible.
"The Last Dance" almost made me cry despite my unwavering disinterest in the sport of basketball. Two thumbs up.
"King of New York" is thought by many to be a masterpiece. I'm not so sure, but it's damn compelling. Gorgeously and poorly directed at the same time. Beautiful and seedy. Full of malevolent characters.
It makes sense it's one of Tarantino's favorites.
"Private Life" is a beautiful movie. Poignant. Jenkins's characters are like little beating hearts wading through a river of disappointments and indignities.
Watching Fatih Akin's "In the Fade". Diane Kruger deserves more opportunities. This is very good work. In her second Nazi movie, but I guess that's Germany.
I don't know why, but this German-Turkish movie's unremarkable score was composed by Josh Homme.
A good movie (and a warning) about the growing threat of white nationalism, cycles of violence and the nihilism of revenge. A better performance by Kruger. Akin's best since "The Edge of Heaven".
Akin's unwavering respect for a German court system that completely fails his grieving heroine is surprising, moving and something I'd love to see more of in American cinema.
"A Futile and Stupid Gesture" is a warm, entertaining and well-made comedy about the construction of a legendary media empire. Domhnall Gleeson is also quite good although I couldn't tell you why.
"To Die For" is impressive just for the scope of its satire. Gus Van Sant skewers America's media, bigotry, class divisions, misogyny, celebrity culture (and a bunch of other stuff) all within the limits of a simple, small-town murder plot.
And I'm convinced if Nicole Kidman wasn't so blindingly gorgeous, Hollywood would genuflect for her like they do for Meryl Streep.
Watching this new Aaron Sorkin movie. Three minutes in he's already fetishizing his characters' educational degrees.
Another cheap Sorkin trick: Having liberals recite the Bible, chapter and verse, to stunned conservatives.
Finished "The Trial of the Chicago 7". Sorkin's second directing effort. They're both witty, little mouse mazes, but there's no cheese at the end. It's just him standing there with his arms crossed, brimming with self-satisfaction.
Also, Mark Rylance should be in many more movies.
Ten bucks I like "Hubie Halloween" more. At some point I'm watching "Hubie Halloween".
Nobody on the planet makes movies like Alex Ross Perry. His characters are so twisted and cruel that I'm convinced he couldn't possibly be a nice person. "Queen of Earth" is great though.
I wonder why Gus Van Sant made the same exact movie twice in "Good Will Hunting" and "Finding Forrester". Was it financial? Political? It's just different characters forced through the same mold.
Man, this movie really is from another era. Its budget was $43 million. Today, they'd make this for $10 million tops if they made it at all. Connery must have been paid $15 million or more. For a quiet drama about... writing.
Professor Crawford is a tragic figure. Dude just wanted to write a book of literary criticism, William Forrester secretly destroyed it by lying to every publisher in New York.
Crawford is destroyed. He takes it out on a bunch of high schoolers. He's racist to Jamal. He tries to destroy Jamal. And in the climax, Jamal and William deliver the coup de grâce. Crawford will never recover, and he just wanted to write nice things about William.
"Don't Look Now" (1973) is somewhat elliptic like a Kubrick movie. I felt like I was watching a (not-so-scary) horror film made by someone smarter than me. Roeg exploits genre as a clever lure to explore deeper themes. (Grief. Dwarves?) Not fully comprehended in one viewing.
Zachary Quinto really nails what an asswipe Glenn Greenwald is in "Snowden".
Oliver Stone loses the handle on "Snowden" in the final act when he can't stop himself from turning the movie into a mawkish love letter. Up to that point, it's a pretty gripping thriller and one of his better efforts in 20 years.
Finally watched "Hearts of Darkness". One of the most incredible things I've ever seen. Completely insane. Hysterically funny at times. It's nearly as good as "Apocalypse Now". I was told that for years, and it's surprisingly true.
Throughout the doc, Coppola is a genius, a grandiose, deluded egotist, a sociopath, a self-destructive gambler. I always revered "Apocalypse Now", but it's got to be one of the greatest artistic feats in human history. It's a miracle.
It also makes you wonder about the relationship between brilliance and narcissism. Some of Coppola's behavior could be labeled toxic. He says and does things I would never say or do. But now I question whether a nicer, more compassionate person could make that movie.
At the same time, he has this incredible ability to direct and indulge really wild, insubordinate people like Dennis Hopper and Marlon Brando. If Brando derails everything, he just improvises on the fly like a jazz musician. It's incredible.
"Trumbo" doesn't need to be that long.
Riley Stearns's "Faults" is a little too facile and ironic for me, but he nails a strange, almost Lynchian tone that never collapses. To a certain extent, his direction is more interesting than the movie itself. A unique movie about cult deprogramming.
Mary Beth Winstead is fantastic though. Put her in everything. Eventually people are going to wake up to how good she is.
"Charade" is cute. Beautifully made. They should have shot the whole thing in the Alps. Paris? Just stay in the Alps.
I do not like the dramatizations in "The Social Dilemma".
This doc only reinforces my belief that you need to read newspapers. Regularly.
"The Social Dilemma" made me want to build a bomb shelter and buy cyanide tablets. Essential viewing.
A techie on the doc said I should never click on recommended YouTube videos, but I don't quite see the problem. YouTube offers me videos about CHVRCHES, skateboarding, David Letterman, Mac Demarco, Project Greenlight and Ina Garten. Not exactly civil war kindling.
Orlando Bloom's "Southern" accent is all over the place in "The Outpost" and it's screwing with his hero schtick.
Caleb Landry Jones continues to be more interesting than the movies he's in.
This story deserves a better movie. I wondered why I never heard of the Battle of Kamdesh. Only eight Americans died, which doesn't sound like much until you see the U.S. was outnumbered three to one and had Taliban running around with RPG launchers in their base.
The movie's mostly a missed opportunity, but I want to read Jake Tapper's book about the battle.
The first two episodes of "A Teacher" are perfectly fine. Kate Mara as a teacher banging her student is maybe a little on the nose, but I'm not bored. People are twisted.
"Booksmart" is very funny and well-directed by Olivia Wilde. It should have been the biggest movie of last summer.
The world would probably be a slightly better place if everyone was forced to watch "Of Fathers and Sons", a deeply troubling documentary about a year in the life of an al-Nusra Front fighter and his young Syrian family. Oscar-nominated in 2017.
"Bombshell" is OK. Margot Robbie and John Lithgow as Roger Ailes are standouts, but Jay Roach is a glorified TV director. A weak, budget score. Stoops in the end to sentimentality. Too much was made of Theron's performance.
"What She Said: The Art of Pauline Kael" is a pretty good documentary about a film critic.
"Lost in Paris", a slight, somewhat-charming Jacques Tati homage, just made me wish I was watching a Jacques Tati movie.
Watching "The Queen's Gambit". This actress reminds me of Audrey Tautou. Is it me or is every male character introduced as coarse or ominous, and then... they're decent? Seems deliberate.
"Made in Britain" is 80 minutes of Tim Roth running around London with a swastika between his eyebrows, shattering windows, stealing cars and screaming at social workers. It's like a racist "Grand Theft Auto". In a good way. "Good Time" owes a debt to this movie.
Rewatching "The Insider". Ten bucks to the person who can explain to me why Michael Mann emphasizes outdoor greenery, either through lighting or focus, across the film. There's a visual preoccupation with the natural world.
Honestly, this guy is obsessed with blowing trees in this movie. And why are they blowing all the time?
I'm not imagining this. This dude cares a lot about these freakin' trees and greenery. It's subtle at first...
And then he starts hammering it home when CBS hangs Wigand out to dry.
At the end of that scene, Wigand's lowest moment, he cares about nothing else.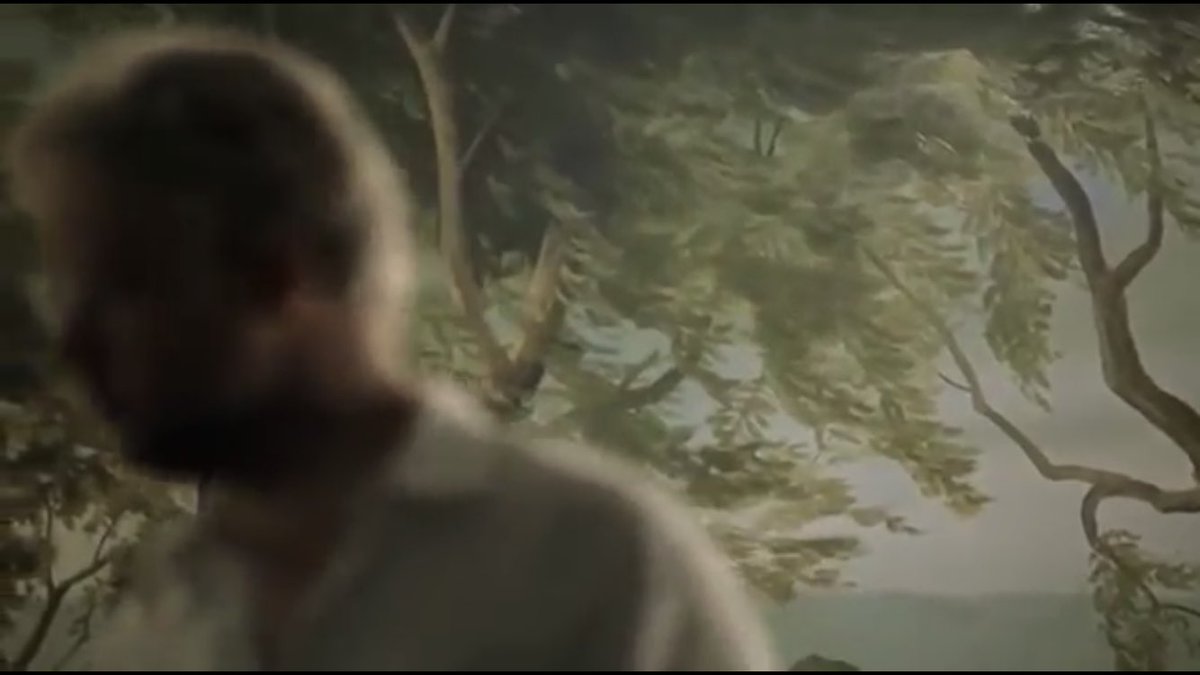 Oooooh,
@rejectnation
has some thoughts:
https://www.google.com/amp/s/filmschoolrejects.com/michael-mann-cool-colors/%3famp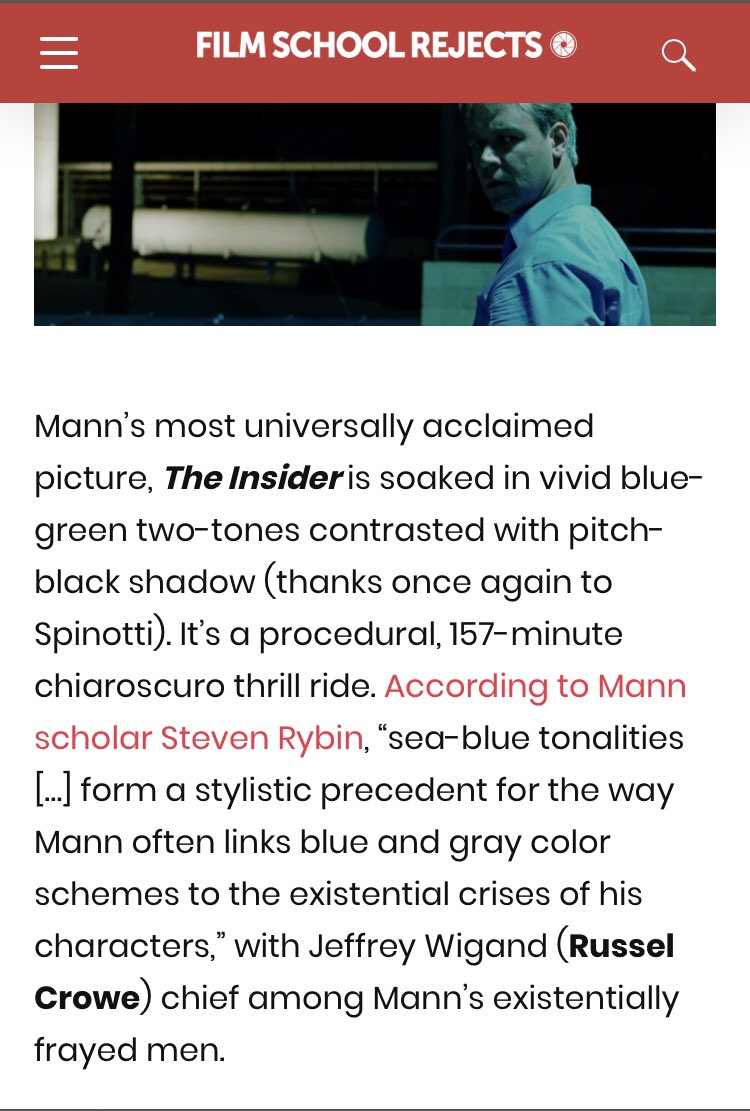 I've been bored with New York filmmakers and their (indistinguishable) intellectual dramas for a while now, with a few exceptions. Alex Ross Perry is one of them. "Golden Exits" is good. Fantastic in parts. Wonderfully unsympathetic characters. Adam Horovitz is a nice surprise.
"The Remains of the Day" is a nice movie adapted from a better, perfect novel. The anti-"Downton Abbey". Emma Thompson and Anthony Hopkins are

.
"In Another Country", an amusing South Korean triptych, would probably be unbearable without the presence of Isabelle Huppert, who plays either three characters with the same first name or three revolving-door versions of the same character, in a similar story told three times.
"Breakdown" is like if "Bad Day at Black Rock" was dumber. Which is basically a compliment. Delightfully bonkers in the final act.
"Kansas City Confidential" is a clever, well-executed film noir. "Heat" and "Reservoir Dogs" — "Dogs" in particular — don't exist without this movie. Beautifully shot too.
Finished "The Queen's Gambit". Really well-done. Anya Taylor-Joy is a surprise. Not a missed beat in the whole series.
I've also never seen a movie or series that teased so many well-worn motifs — neglect, abuse, misogyny, jingoism — only to gingerly sidestep them in favor of a narrative where the heroine is her own primary obstacle.
"Happiest Season" is a little rickety. It resolves itself way too easily, and it drowns you in medicine at the end. But the leads are really good, and Dan Levy just belts homers in the background like it's batting practice.
I haven't seen a more emotionally accurate travelogue than "The Trip to Spain" and the two preceding films in Winterbottom's series. It's beautiful, then it's sad. It's beautiful, then it's hilarious. It's beautiful, then it's frustrating. Escape is temporary.
Half hour into "Beanpole" and it's already one of the most jaw-dropping pieces of acting and writing I've seen in a while. So heavy, so Russian and so good. Quiet, precise performances that communicate as much about the country after WW2 as the characters.
"Beanpole" is extraordinary. A postwar story about two shell-shocked nurses in a Leningrad hospital. The performances are so unique, so finely detailed, and the direction is so restrained and assured I figured the director, Kantemir Balagov, must be in his 40s or older. He's 29.
I suppose it's not impossible that a guy in his 20s could write that movie, but to also get those performances, to pull off the entire film, including its painterly aesthetic, on what must have been a relatively tiny budget, is remarkable.
Finally watching "Killing Eve". Fantastic. If spiritual corruption is the key thematic artery of Scorsese's filmography, Phoebe Waller-Bridge's is... everyone is a pervert.
"Legend" is overlong, it spends too much time tipping its hat to Scorsese, and it's not helped by a weirdly brassy, second-rate score. Tom Hardy is brilliant in a double performance as twin brothers. No surprise there.
It's gorgeously made, but I didn't love "Journey to Italy", which I guess means I'm wrong.
I was convinced I must not have understood it, so I read a several laudatory reviews by really smart people. It appears I understood it.
I literally said in response to this scene, "Oh, bullshit."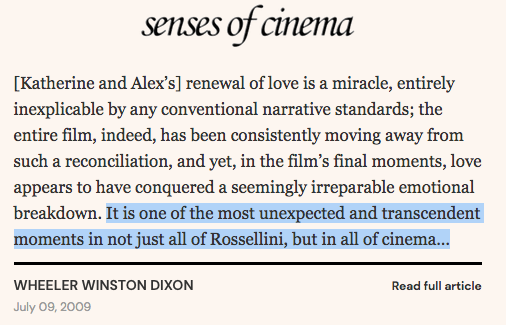 Finally watched "Interiors". Woody Allen aims for Bergman and pretty much nails it. Near masterpiece. Maureen Stapleton is fantastic despite having just three or four scenes. A drama that sees deeply into life.
"Master and Commander: The Far Side of the World" must be the last good swashbuckler. Very little CGI, if any. A $200 million budget. Great actors. Lackluster box office, rejected by the people. Trump should be no surprise.
"The Last Black Man in San Francisco" feels like the lovechild of Spike Lee and early David Gordon Green. Beautiful, lyrical. A little too loose and meditative for me, and it really, really leans on Joe Talbot's keen, evocative visual style, but an impressive debut.
"Killing Eve" slips in the third series. Too many unfocused episodes, abrupt shifts in character, too much lazy storytelling.
"Beast" is a cool, dark, adult fairy tale. I watched it because Jessie Buckley is the lead. Once again, she's great, a growing trend. Why are all the great new actors British and Irish (and not American)?
"Professor Marston and the Wonder Women" has to be the horniest movie ever made about comic books, which, considering the career of Kevin Smith, is saying something. A little racy, cerebral and, apparently, at least partially true.
I'd say it's "A Dangerous Method" meets "Wonder Woman", but as it turns out, the character of Wonder Woman, being pretty kinky already, gets on just fine without Cronenberg's psychosexual fixations. Should have been nominated for a screenplay Oscar.
It's also surprising the movie didn't attract a more notable cast.
Watching "The Midnight Sky". Post-apocalyptic science fiction set it 2049. Just like "Blade Runner 2049". Also post-apocalyptic science fiction. Coincidence?
"The Midnight Sky": Pair a helpless child with a hopeless, old man and run them through a metaphor. The first three quarters of the movie feels predictable, not boring but not compelling either. I laughed at the ending. Some of the set design details are interesting.
I watched the first episode of "Horace and Pete". I don't see myself watching the second.
Jared Leto's pompous serial-killer strut is the best thing about "The Little Things" so far.
Finished. Still the best thing. Can't really hang a movie on that. John Lee Hancock attempts a Fincher movie, and his reach exceeds his grasp. Leto is good though.
But there's a good movie in there.
Also, days later, it's completely unclear to me why this movie is set in the '90s. All the period vehicles, the clothing. Why?
Watching "Shame". Appears to be another movie about people who move to New York in lieu of therapy.
Another Steve McQueen movie that looks great, plays great, great acting... and still there's something missing. Apparently sex addiction is not nearly as fun as it sounds.
I'm checking out this BBC series "Doctor Foster" because Jodie Comer as a homewrecker sounds strong. It is. This series bobbles between a sober domestic drama and a half-bonkers melodrama, and I kind of love it.
This series is completely bonkers, and it's fantastic. The first season's finale is a total barn burner. Couldn't stop laughing.
It's basically a Sirkian melodrama without the filmmaker's subversive, Technicolor direction. It's amusing to read all the British critics' reviews four years ago misunderstanding the series's lunacy. This could be brilliantly remade in the United States.
Is it wrong if I say that the most troubling thing, to me, in the Britney documentary is those podcasters uploading the anonymous voicemail and saying it was from a "credible source"? Read newspapers.
Also, Bob Ehrlich's wife said she would happily kill Britney when I was in college? I have no recollection of this.
Is "Doctor Foster" the most entertaining thing I've ever seen in my life?
Melodrama has to be a perilous climb for any filmmaker. I can't imagine how stressful it would be to direct performances in such a histrionic narrative without it splitting apart into complete stupidity.
"Overlord" goes hard. A brisk, pulpy men-on-a-mission movie with evil Nazi medical experimentation. Euron Greyjoy is the villain. More cool than stupid, but there's a little stupid.
"I Care a Lot" is nearly a very good movie. It's kind of stylish. Kind of gripping. It's got the politics of an angry Twitter thread. Rosamund Pike is terrifying. But it's just kind of fun.
"Let Them All Talk". Really good. Soderbergh has reached some higher plane where he can tie one arm behind his back — shoot an entire chamber piece during a real oceanic crossing — nail it, and leave no scent of the gimmick.
"Patrice O'Neal: Killing is Easy" is a nice (pretty good) documentary if you loved Patrice O'Neal. Complicated guy — chronically unapologetic — but a title-belt-holding comic. "Elephant in the Room" is a career-defining masterpiece.
Watched first episode of "Beartown", a Swedish drama about a provincial junior ice-hockey team. Bold choice for HBO but compelling. Like "Friday Night Lights" plus a murder. Snow all over the goddamn place.
I watched "North By Northwest" again. It's not my favorite, but I liked it a little more because moving images will never look that creamy again.
"Waiting for Guffman" is sweet and funny. Reminded me of an Altman movie more than any other of Christopher Guest's in that its earnest characters seem completely oblivious to the true significance of their pursuit.
I'm sure "Safety Last!" blew minds in 1923, but I couldn't stop looking at all the background shots of a much smaller Los Angeles that looked and moved more like New York with fewer cars and busy sidewalks. What happened?
And this has to be what Pauline Kael meant when she chirped about "fancy" critics turning movies into Rorschach tests.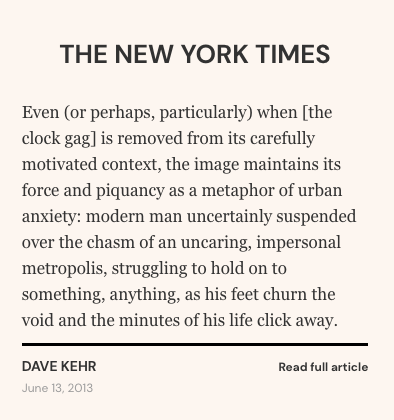 "Judas and the Black Messiah" tries to wrap a Fred Hampton biopic inside a thriller like "The Departed" or "Heat". It ends up with neither. The stories of Hampton and his "Judas", played beautifully by Lakeith Stanfield, merely compete with each other.
But the movie powerfully confronts the racism and murderous savagery of Hoover's FBI and the U.S. law-enforcement system. (It's also a hell of a lot better than Sorkin's self-satisfied Chicago 7 drama last year.)
Instead, I wish there was a Hampton biopic and a separate tragic thriller about William O'Neal, the double-crossing informant who facilitated the FBI's shocking assassination of the Black Panther leader. They're equally worthy protagonists.
"Two Men in Manhattan" feels like it was an excuse for Melville to run around New York with a camera at night, play jazz nonstop and riff on old newspaper noirs. I could think of worse ideas, really.
"Promising Young Woman" made me want to detonate the planet. Is that the desired effect? Perfect script.
Someone should have screened "True Grit" for the director of "Let Him Go" before he made the movie. You don't need to sell the majesty of the West. Don't talk about your characters; let the audience observe them. If possible, aim for a 90-minute runtime.
The final episode of the BBC miniseries "Thirteen" is pretty dumb. Has a sequence like the Waterloo Station scene in "Bourne Ultimatum" except Bourne is... a diabolical pedophile. Squanders Jodie Comer's incisive performance as an escaped kidnapping victim.
I can't find the remote, I'm not getting up and Hulu just keeps playing stuff, so I'm watching the pilot for "Felicity". This is actually pretty good. Felicity is out of her goddamn mind.
The state of Felicity's hair is a Metaphor, isn't it. She tells the parents to scram and, boom, off with the hair tie, breeze in the face, slow-mo New York sidewalk shot. Textbook self-empowerment.
"Felicity laments the fact that she is no longer able to pursue art."

These episode synopses are fantastic.
Watched "War Dogs". Todd Phillips is permanently OK.
If you want to hammer "Nomadland", call it ponderous. Impressive but a little boring. But these people picking at it because it's not some anti-Amazon polemic are ridiculous. Zhao clearly has deeper priorities.
"Nate Bargatze: The Tennessee Kid" made me laugh. He should have his own sitcom and be the Southern Ray Romano.
Watched "Bad Lieutenant". Abel Ferrara's movies worry the hell out of me. The Mets and Strawberry as pagan symbols are a nice touch. Avoid heroin if you can.
I can't stop thinking about "Bad Lieutenant". Is it a masterpiece? Is it the most profoundly lurid Christian movie ever made?
Watching "Blue Crush" for the first time in years. So much random pop music. Way too much. Soundtrack sales must have driven this. ... Oh, P.O.D. needle drop.
Everyone in this movie is out of their mind except for Sànoe Lake. Anne-Marie is nuts. Matt is nuts. Michelle Rodriguez is a total buzzkill.
Kate Bosworth carries this whole movie on her back.
Chadwick Boseman is fantastic in "Ma Rainey's Black Bottom". George C. Wolfe does a decent job adapting August Wilson's tightly wound play. I suspect the play is better than the movie, but it's an illuminating movie.
Less a Ma Rainey biopic than a simmering dissection of African-American pain and injustice.
Forget preaching abstinence to teenagers. Just screen "Summer with Monika" for them and move on. Brilliant movie.
I tried for a second time to watch "Mank". I'll get there.
"Mank" is tedious.
"The English Patient" feels like an inspired but inferior reassembly of something deeper and greater. I'm guessing it's the genius of Ondaatje's book, but I haven't read it.
"Beirut" feels like it was a challenge to shoot an entire thriller using as few lights as possible. I'm tired of movies that look like this.
This movie looks like crap, and it feels like a mess.
"Miracle" nails its cliches.
Sheesh, these camera operators have to be pretty good skaters.
"Mare of Easttown" is good. Kate Winslet is good. The writing is good. The directing is good. Television is increasingly meh. This show is not.
I never paid attention to the WeWork story, but the Hulu documentary is worthwhile. It reminds me somewhat of when I worked at Patch and could not believe what I was hearing from New York during all-company conference calls. Corporate environments are insane.
I'll never forget Arianna Huffington saying, "And every local editor will have their own editor!" (basically doubling the costs of an unprofitable startup) and the AOL corporate structure responding with the longest second of silence I've ever experienced.