Some of these accomplices to Oprah included, in part:

Anthony Edwards: Featured w/ a talking role in Oprah's special. After a glowing intro by Oprah where she plugs his CSA group twice and his 2017 CSA article by name, which itself is monetized & promotes both his organizations.
Edwards' article accuses Gary Goddard of abuse some 40 years prior. The accused was never tried in court & maintains his innocence. Another who accused him voluntarily withdrew his case after Goddard filed a 300 pg exhibit-based motion showing he wasn't on island at time alleged.
As a result of Edwards' story amidst the surge of 2017 MeToo accusations, more than half a dozen others claimed various forms of "sexual advances" allegedly made by Goddard decades ago.
(P.S., 0 new accusers arose in MJ's case despite 5 yrs. of global fishing for victims + LN.)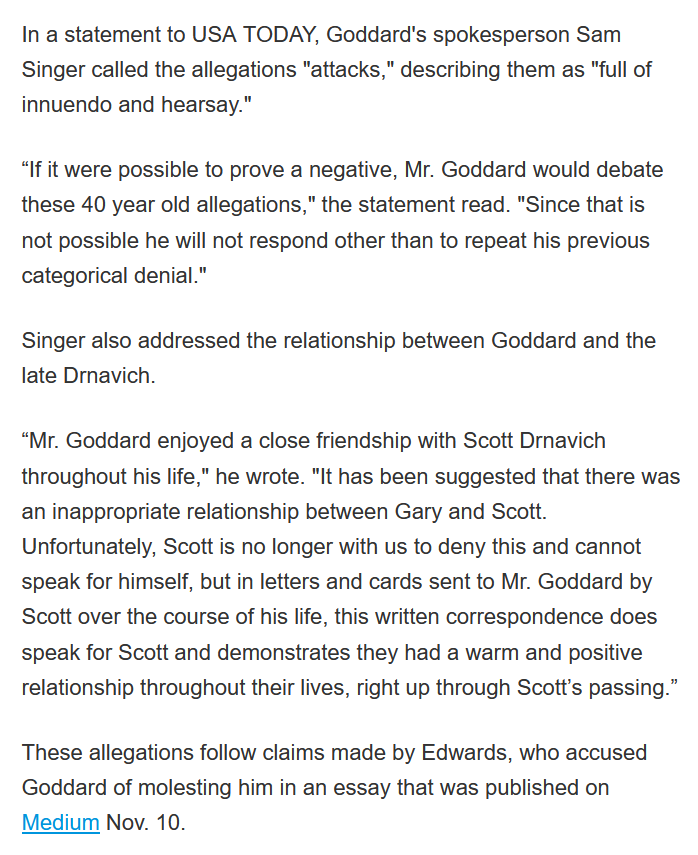 Edwards has become the strongest promoter of LN & sidekick to WR+JS.
He turned LN into an ecosystem of self-promotion for his group. His only other Medium story is attacking Chapelle while promoting LN. Last event from group was LN-related.
He attends court hearings w/ the 2.
Dr. Howard Fradkin: Another star CSA-advocate on Oprah's show.

Oprah lauds his credentials as having "counseled over 1000 male victims—OVER 1000!"

Oprah then immediately plugs his book, by name, which he sells for $10-$27 on Amazon.

She has him stand for a round of applause.
Fradkin is asked by Oprah to detail the "grooming" patterns, which she tells the world "we saw so clearly in LN & so many examples of it."

Oprah uses the SPLICED Hawaii clip from LN as her "most striking" example. JS again LIES by claiming MJ said "best part was being w/ ME."
Fradkin proceeds to ramble off stereotypical "grooming" behaviors as if directly comparable to stories in LN.

"...how touch is introduced in a very gradual way. First it's just rough-housing, then touching a leg."

But in Wade's case, he claims sexual abuse started on 1st visit.
Fradkin uses his Oprah connection as part of his own credentials & promotion of his CSA group: "featured as an expert on Oprah Winfrey's '200 Men' show..."
He also uses it to self-promote on FB and makes post-after-post to excitedly promote Oprah & LN, complete w/ CSA hashtags.
But not to stop there, Fradkin worked Leaving Neverland into many areas of his site & community.

He references it as part of his FAQs.

He includes it in news & announcements.

He includes it as the only story under media highlights.

He includes it in multiple email mailings.
Beyond Edwards and Fradkin, numerous other mainstream "MeToo warriors" and CSA advocates found their way onto the set via Oprah's command. These others, despite not getting speaking roles, were just as instrumental in helping to fill the room w/ CSA survivors for dramatic impact.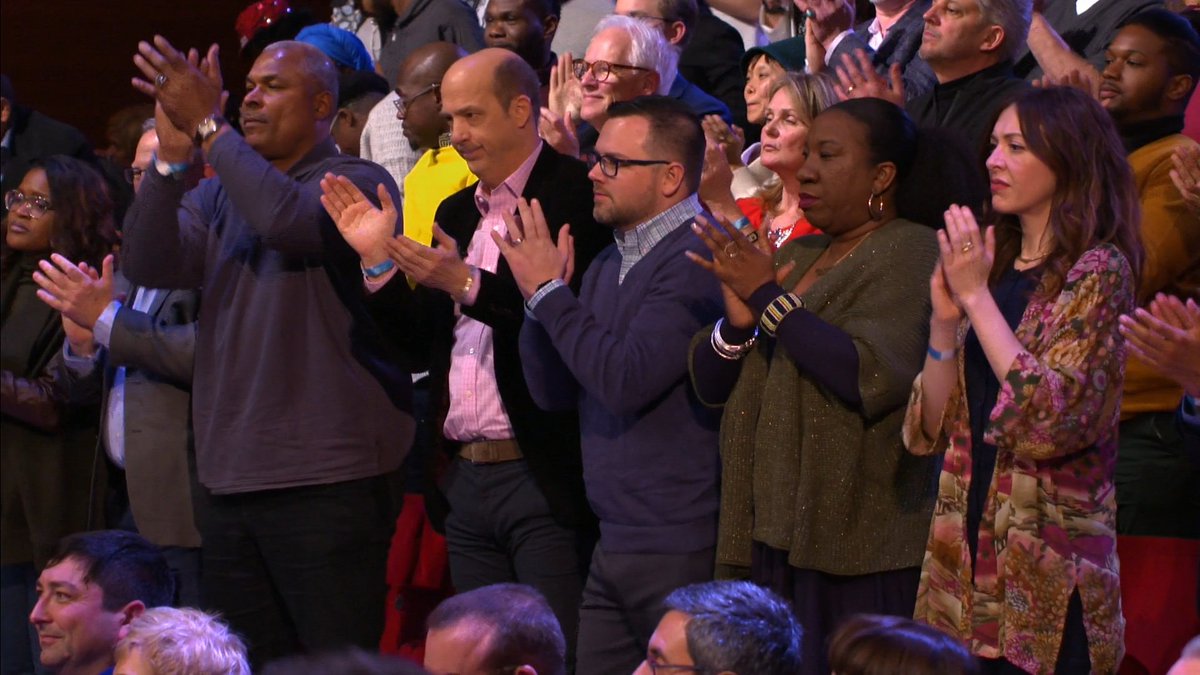 A set of such caliper wouldn't be complete without Tarana Burke, founder of MeToo who was also at Sundance premiere & "HBO Me Too Panel."

Tarana: "it's always going to be explosive to have a conversation about MJ and child sex abuse..." and don't forget about the "grooming!"
Many others worked behind-the-scenes for Oprah and continue promoting LN to their respective CSA groups.
Male Survivor ORG featured LN video on their home page for months & continue blogging about it including to condemn Chapelle. Multiple members attended Oprah's show.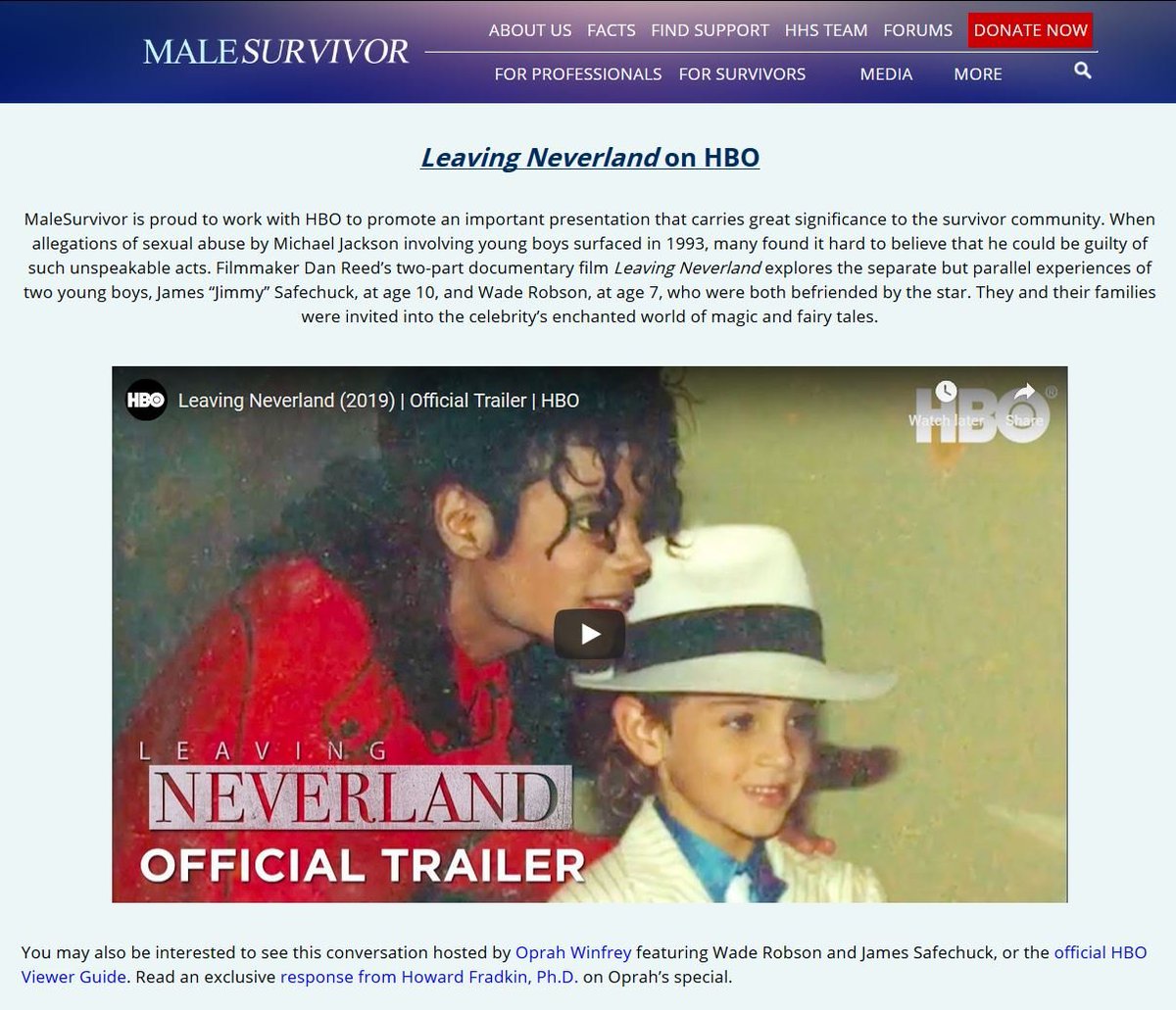 As part of the MaleSurvivorOrg community, many members & leaders have engaged in promoting and commending LN across dozens of threads. Many members from the group were part of Oprah's screening and indicated they were recruited through various group emails including Edwards').
Oprah & her CSA advocates used these disgraced allegations for their self-interests, at the suffrage of CSA victims in attendance.

They say "it's not about MJ" yet Oprah uses his name 65 times in 58 minutes. LN uses Michael's name 327 times. CSA organizers sure use it as well.