Which hospital in Nairobi does comprehensive wellness checks at a reasonable price?
Guys

Tweeting me "Following" doesn't work like it does on FB. If you want to see the replies, favorite or bookmark the tweet then come back later.
Thanks to
@Thunderthighz_
I called MP-Shah. They have a comprehensive package for 19,999. I didn't capture everything but here's a list:
- Total blood count
- Kidney function test
- Blood sugar / diabetes
- Cholesterol
- Blood group
- Micronutrients (kina potassium etc)
- Urine test
- Uric acid
- Pap smear
- ECG
- Thyroid function test

A consultation with a G.P, opthalmologist, and dentist. Results come out next day, except the pap smear that takes 3 days.
If you have experience with other hospitals, share the price and list of tests, I'll add them on the thread.
For MP-Shah, you don't need to book an appointment but don't take breakfast on the morning of the visit.
Via
@nc_missy
Nairobi Womens:
1. Standard Package (8,500/=)
Physical examination
Pap smear
PSA (prostate specific antigen – men)
Urinalysis
Stool analysis
Full blood count
Lipid Profile..
HIV (with consent)
Chest x-ray or lumbar spinal x-ray
Fasting blood sugar
2. Nairobi Women's executive Package (14,500/=)
All the standard tests above, plus:
Liver function
Chlamydia endo-cervical / urethral swab
Rheumatoid factor (arthritis)
Phosphate & calcium
Thanks
@nc_missy
Mater Hospital between 13,000 and 17k. Thanks
@sarahnmwangi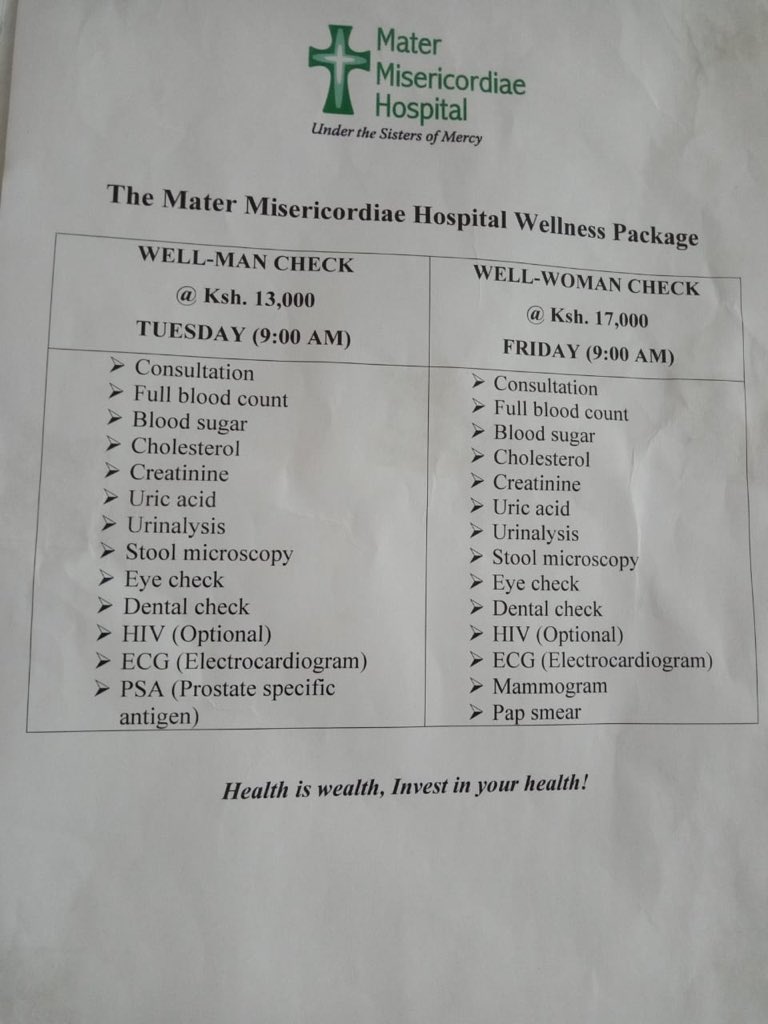 One Health at 20k. Thanks
@OkiroMakena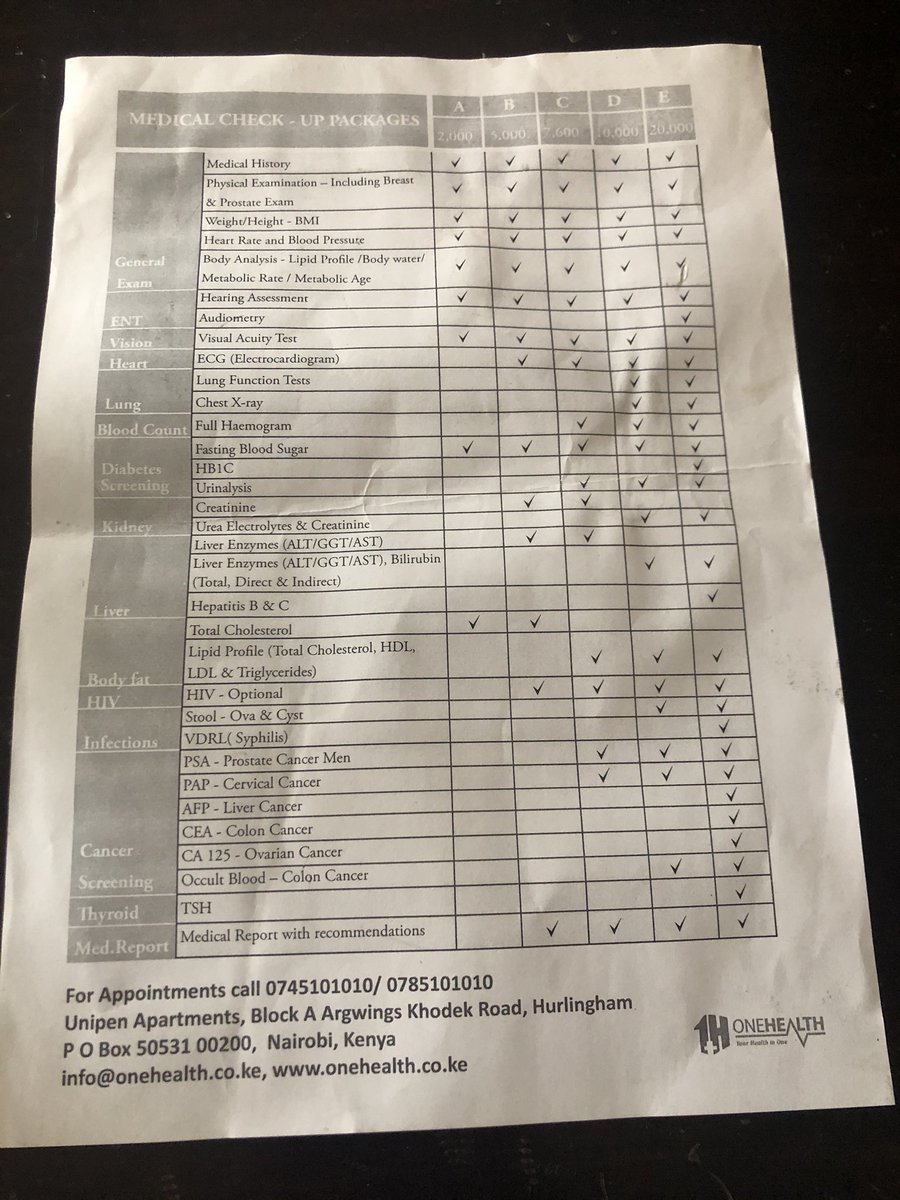 AMREF medical centre pricing. Max 20k
Thanks
@PeterKisare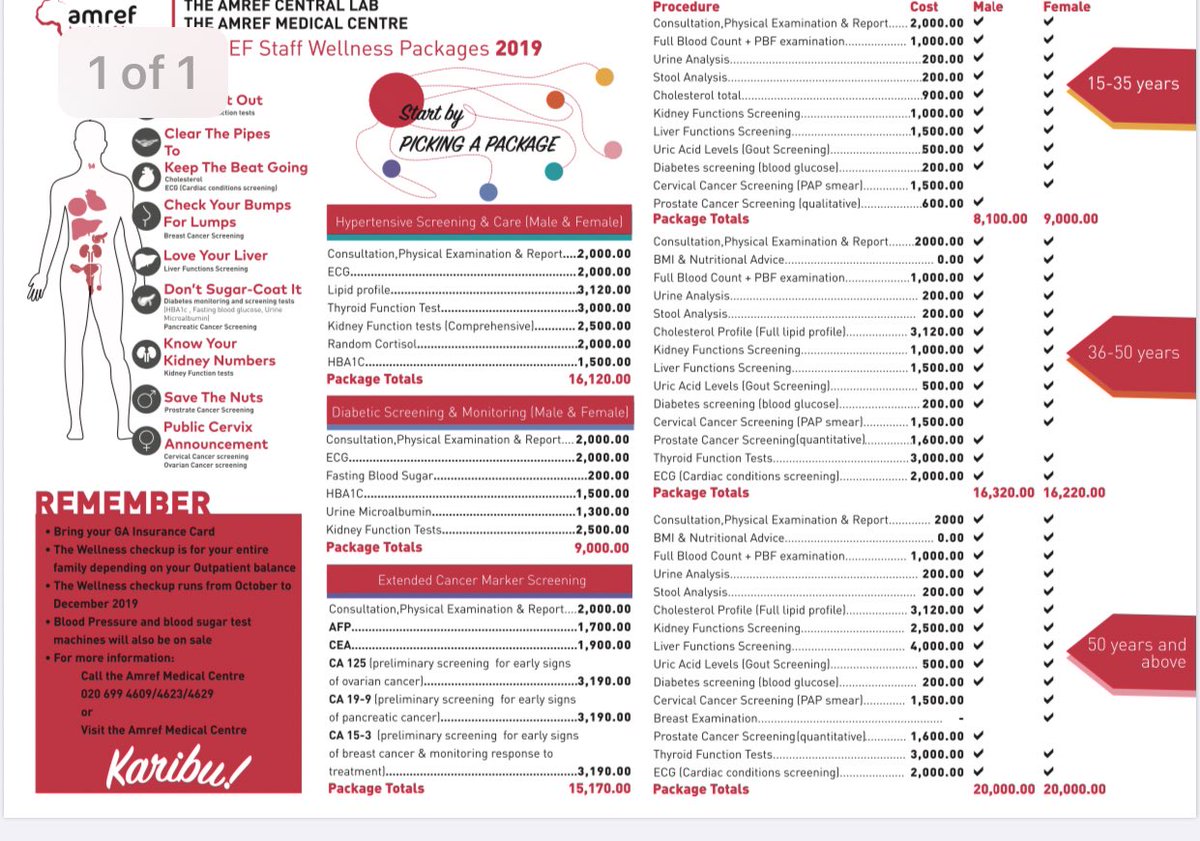 Medanta at 15k but concerns on quality raised by
@FrankHook
and
@R_Samie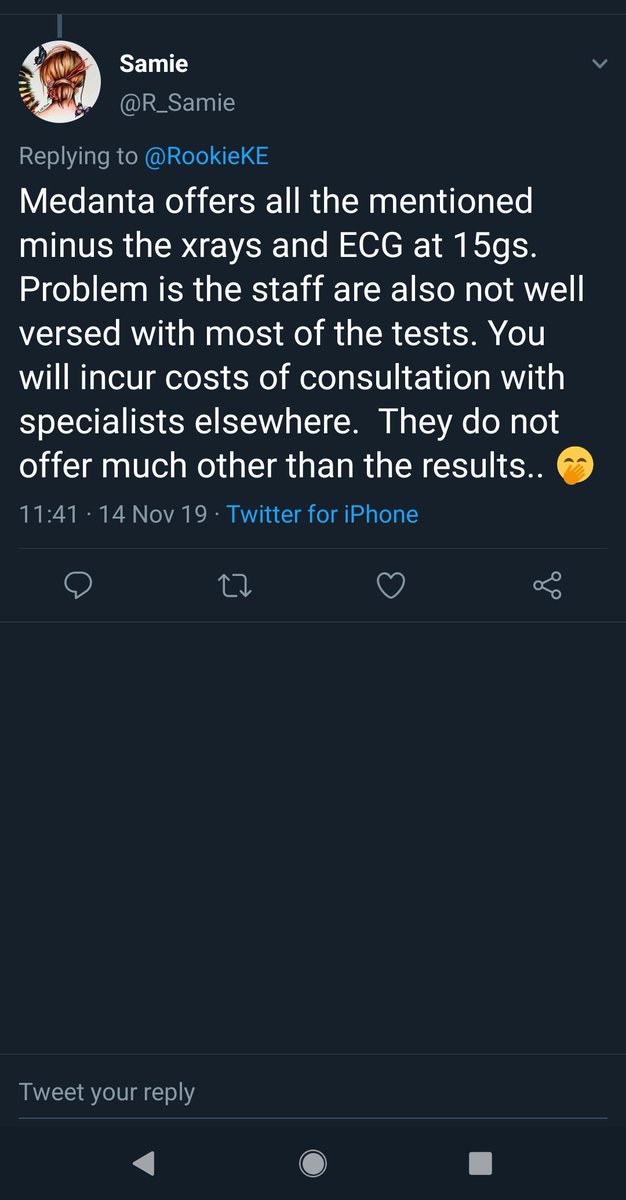 I should have written THE Nairobi Hospital cos that price!
Folks asking about insurance. I've done Step 1 for you. Take the next two steps:
2. Call the hospital you like ask them if they take insurance
3. Call your insurer / refer to your policy to see if wellness checks are covered.
Guys. Men especially, please don't check into this thread to ask silly questions.
Check-Ups Medical Centre Upper Hill. Cost: 10k thanks
@Shirley_Sein
BMI/ Body Fat Composition
Physical Examination
Nutritional Assessment
BMI/ Body Fat Composition
Vitals incl. BP
Urine Analysis
HIV/VDRL (syphilis)- Optional
Uric Acid (Gout-male
optional)
Contnd:
Full Blood Count with
differentials
Complete Lipid Profile Incl. Cholesterol
Complete Kidney Function Incl. Urea, Creatinine and Electrolytes
Complete Liver Function Tests
PSA/PAP/Breast Exam(Based on Age)
Contnd:
ECG (One lead - Arrhythmia and Atrial Fibrillation detection WITH Arterial Age, Blood Velocity AND Stress Level Monitoring
Case Management Program Enrollment And Follow Up Report
Riverdale Medical Centre (15k) thanks
@LLMaranya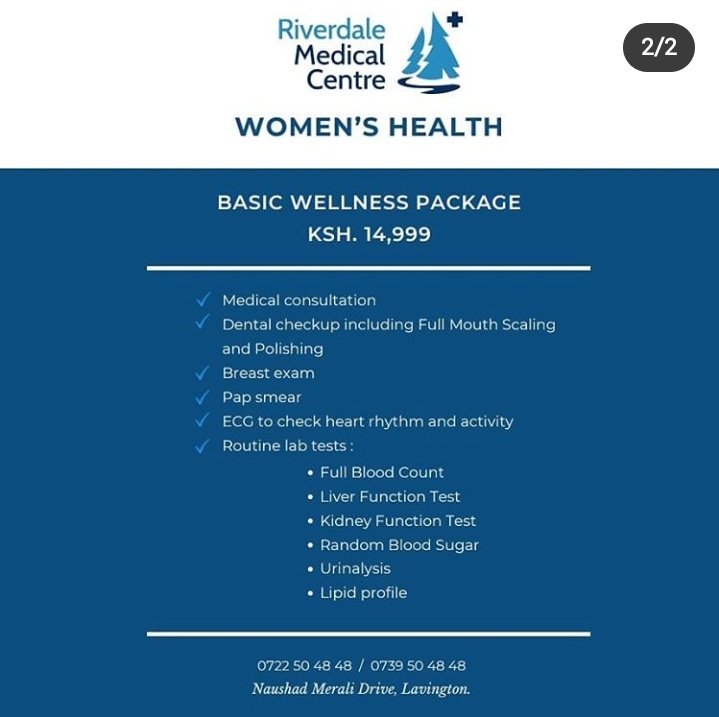 Metropolis Lab (10-12k) thanks
@ArnNyash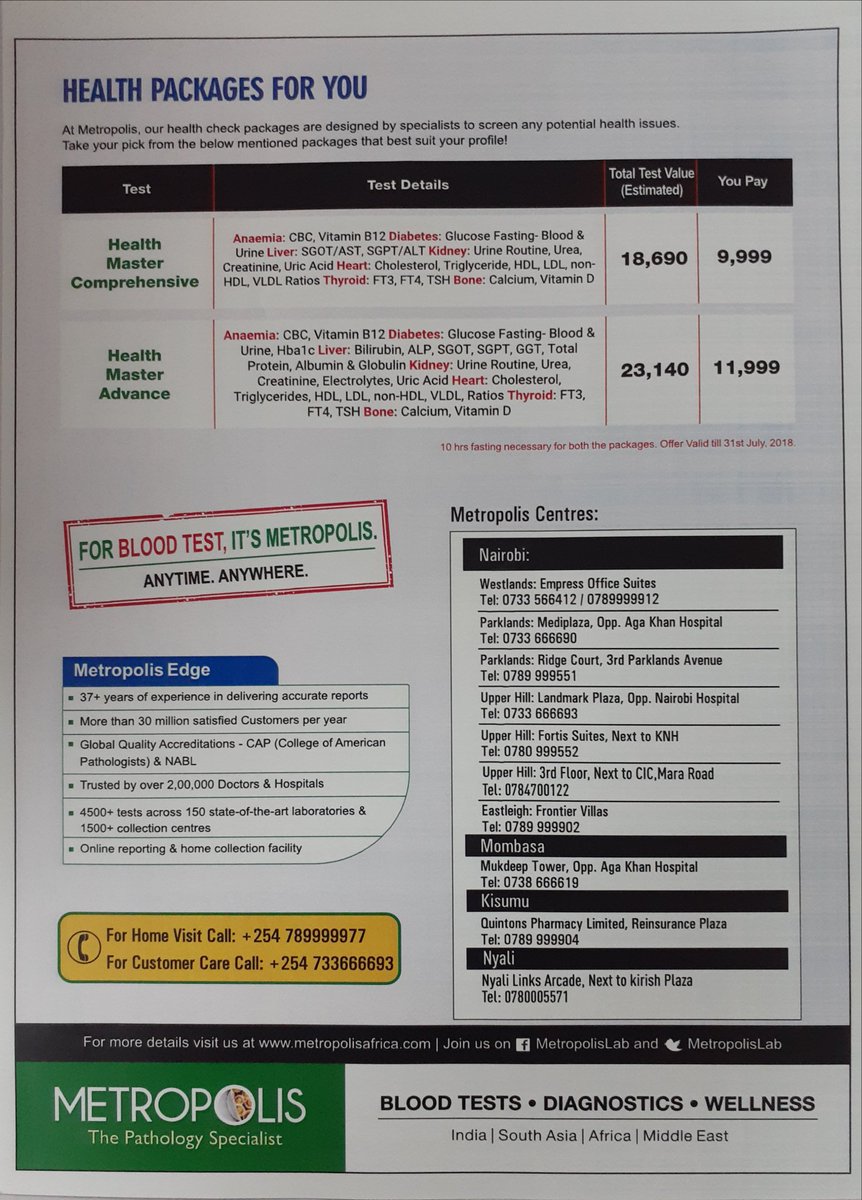 Nairobi Hospital (2) via
@kennzaro
32,630/=