1/n Thread: Strong comments by UK
@CommonsForeign
in new report on defending democracies.
Notes possible reputational risk to UK having judges on
#HongKong
Court of Final Appeal (CFA), by appearing complicit in a system undermining rule of law.
Australia has 4 judges on CFA.
2/n The 4 Australian non-permanent judges on
#HongKong
CFA are:
- Murray Gleeson
- James Spigelman
- William Gummow
- Robert French
Notably, the report indicates that
@CommonsForeign
wrote to counterparts in Australia in August urging reassessment if current trends continue.
4/n Presence of Australian judges on CFA is something the legal profession & judiciary have been proud of. Has brought great benefits to
#HongKong
& Australia.
Organisations, such as
@thelawcouncil
,
@JudicialConfAus
& others will be watching developments closely.
5/n Also,
@dfat
consistently notes having Australian judges on CFA via speeches & talking points on
#HongKong
. Upholding
#ruleoflaw
major part of relationship.
For example,
#ruleoflaw
was part of Australia's
#UPR
recommendation on HK in Nov 2018, see below
@HongKongUPR
#HKUPR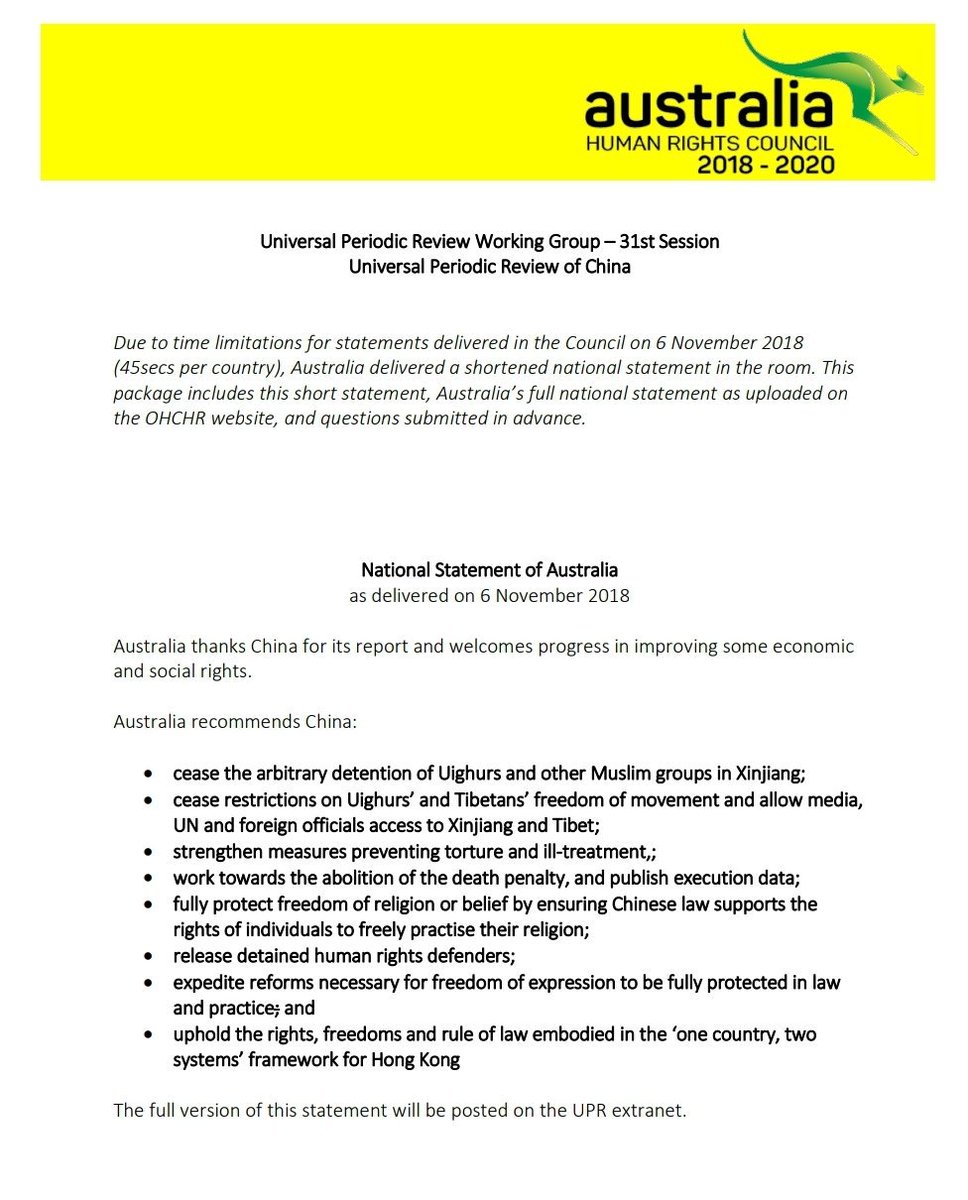 6/n I'm not arguing to remove Australia's judges yet.
But, with deteriorating
#ruleoflaw
, incl; arbitrary application of law, lack of certainty in law, limited accountability of police, judges' fears of PRC influence & more, it should be carefully & continuously assessed.
8/n Continuing the thread. Given Zhang Xiaoming's comments, should Australian judges on CFA be CCP "patriots"?
Such statements, and similar others, should be condemned by HK & Australian govs, plus respective legal professions. It is a rule of law issue.
https://news.rthk.hk/rthk/en/component/k2/1490984-20191109.htm