1. "Before searching for a solution to the Kashmir problem, we should understand it better." Yes.
@ShekharGupta
should understand the problem starts w the bogus & racist 19C British invention of "Paramountcy", to disallow "Native Princes" getting privileges of eg German princes..
2. "Paramountcy" was a legal fiction invented so the British could indulge in what is now called "regime change" w the "Native Princes".... who were useful stooges but who, whether Hindu Muslim or Sikh, not being white, couldn't get the same status accorded to European princes..
3. Then came WW1 & the British panicked... begging for troops from the puppet princes, promising them they finally may get their desired status, be independent one day; hence not only Kashmir, Hyderabad but also Patiala Bhopal TravancoreCochin demanded/dreamt of independence...
4. Of course the British were destined to break their promise to the puppet princes of "Indian India"...
5. Britain decides on India becoming indep (and the successor State of British India) in Feb 1947; decides in June 1947 in carving out Pakistan from parts of British India
6. Later in the
@UN
Sep 1947 Argentina says there are two succcessor states India & Pakistan, then withdraws its own theory, India is the sole Successor State, Pakistan a *New* State (Zafrullah had tried to argue Pakistan was "present" at Versailles & the League... not accepted)
7. Meanwhile, back at the Ranch, May 1947: the proto Hurriyat (Muslim Conference) is sucking up to Hari Singh! saying he should be a full His Majesty not merely a His Highness!
8. Sheikh Abdullah has already denounced the Pakistan idea in a Lahore newspaper in 1946...
9. And as of c1928? Iqbal, founder of Pakistan even before his 1930 speech describing a W Pakistan, titles Abdullah "Lion of Kashmir" (so Paks, Hurriyat please don't piss on Sheikh's grave or call him a Quisling); he singlehanded organized the Muslim majority against Hari Singh..
10. Now enters the Handsome Dashing Dunderhead, Mountbatten, uncle of Philip, Consort of the future Queen of England... his dunderheadedness must be protected by Britain's stooge historians at all costs at all future times... since he's (almost) a member of the
@RoyalFamily
11. 13 June 1947... only meeting between Nehru Jinnah Mountbatten abt "Native Princes", the "Indian India"of 1/3 area, 1/4 popn... Jinnah is happy being Churchill's stooge, wanting the "Princes" loyal to the British Crown etc etc .. Nehru & Patel see through the humbug...
12. The British are uninterested in that meeting about anything except the new India Pakistan promising to burn/destroy the
#Kompromat
material the British have collected about the Native Princes, used to control them with eg sexploits in Paris etc (Hari Singh esp?) etc...
13. As 15 Aug approaches, the British invent a bogus "Lapse" to their bogus idea of "Paramountcy"... Mountbatten goes running around getting "Accession" to either India or Pak to prevent such a bogus "Lapse" to the their bogus "Paramountcy"...
14. Mountbatten was wedded to all these fictions, Hari Singh too...
#SardarPatel
#StatueofUnity
was keenest to be practical, do whatever is necessary to create a new India, Nehru had been fiercely against Hari Singh for years & pro Abdullah (jailed by Hari Singh)...
15. BR Ambedkar was on his own, isolated from Nehru Patel Mountbatten, not in the loop... but he alone sees through the British humbug...they had failed to understand their own law! No such thing as Lapse of Paramountcy, suzerainty inherited by the sole successor state, India..
16. Great Ambedkar alone on 18.6.1947 saw thru the British error, whether deliberate or negligent, in their own jurisprudence... And I alone saw in 2005/2006 that Ambedkar had done so...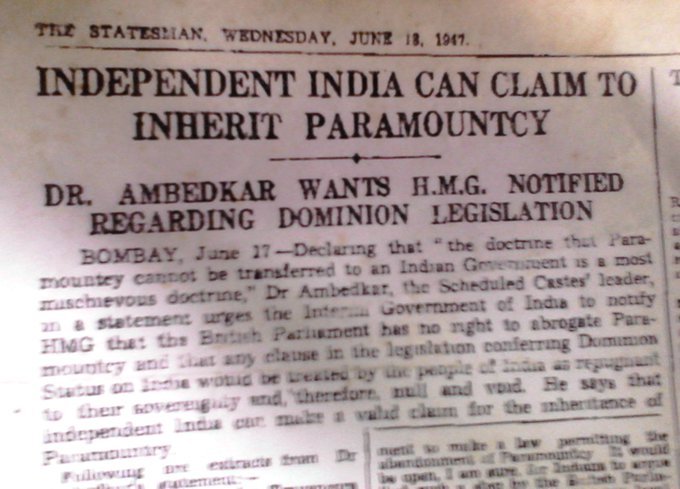 17. Mountbatten running around before 15 Aug getting "Accession" to either India or Pak to prevent "Lapse of Paramountcy"... to their credit Patiala (Sikh) Bhopal (Muslim) Travancore Cochin (Hindu) agree..others follow, only Kashmir Hyderabad Junagadh Chtral few others don't sign
18. Mountbatten made one visit to Srinagar.. had he guts & brains enough he could have deposed Hari Singh in the name of George VI, held a referendum himself.. who'd have won that? Sheikh Abdullah! In a walkover! Sardar Ibrahim soon flees to the new Pakistan, forms "Azad JK"...
19. Nehru & Patel united there'd be one India (Pak not in the picture at the time) despite Churchill gassing on about how the British Crown had made commitments to the stooge "Native Princes"...Nehru led the States' Peoples' Congress, followed by Sheikh Abdullah
20. The "States' Peoples' Congress"... Nehru and Abdullah were intent on subverting the rotten political cultures of the "Indian India" of the "Native Princes" whether Hindu Muslim or Sikh... the "Native States" covered 1/3 of the area, 1/4 of the whole population...
21. Both Nehru and Abdullah were fierce antimonarchists and pro democracy... that pit them
against the British,
against Hari Singh,
against the flatterers of the Muslim Conference (proto Hurriyat)
against Jinnah...
(so bhakts please stop your humbug about Nehru, Abdullah)
22. As of 15.8.1947 Hari Singh has not signed, Dogra J&K having started life on 16.3.1846 has ended; the Pakistanis immediately start planning rifles & tribals to take Kashmir by force; there's no HH Hari Singh when there's no HM George VI. Hari Singh begs for recognition, gets 0
23. So as of 15.8.1947 the entity known in int law since 16.3.1846 as Dogra J&K had come to an end: it was ownerless sovereignless territory; Patel&Nehru let Hari Singh be, urging Sh Abdullah be released from jail as the genuine representative of the maj; Paks readying for attack
25. As the Paks attack, more men than rifles... the Pak General Akbar Khan (later of Rawalpindi conspiracy etc) has promised them Kashmir's lovely women... 4,000/5,000 Kashmiri women get taken in the same lorries, sold in Peshawar, Rawalpindi; those women saved Kashmir!
26. Had the Paks not stopped for the Rape of Baramullah, they'd have taken Srinagar Airport as planned and no Indian airlift would have been possible... But the airlift happened, and India and Abdullah threw the invaders out over several months... except for "AJK", Skardu, Gilgit
27.
#Whatif
the Paks hadn't stopped for the Rape of Baramullah: Srinagar airport would have fallen, no Indian airlift! Here is J&K in an alternative Universe:
https://www.facebook.com/notes/subroto-roy/suppose-the-paks-hadnt-stopped-for-rape-of-baramullah-srinagar-airport-would-hav/10153108377471126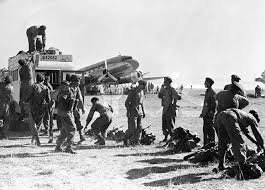 28. During the battle, from the battlefield!, Sheikh Abdullah & Bakshi Ghulam Mohammad accepted Mountbatten's idea of a referendum immediately as it arose! Who baulked? The Pakistanis of course... So Paks... no more
#fakenews
on that front either please...
29. "Aggression is the issue, not Accession" says Sheikh Abdullah to the
@UN
Feb 1948; Pak took Kargil then lost it, India held Skardu then lost it; UN: a "military decision" had been made dividing the territory; by Roman law this de facto boundary is the de jure boundary. Finis.
30. As for
#Article370
#Article370Scrapped
the Zombie political entity after Dogra J&K died on 15.8.1947 has been put to rest... two fresh Union Territories arise, UT of J&K soon to be a State again... two steps away from solving Kashmir the only way it can be fairly w stability
31. Hurriyat should be allowed to become Pakistanis living peacefully, **normally** in India.
@MirwaizKashmir
@Sageelani
can renounce Indian nationality signing an
@HMOIndia
form (allows those who've inadvertently become Indian to not be so), be given Indian "Green Cards", Finis