Things we've learned from the Inside The Empire
@TMKSESPN
interview:
1. Girardi was fired because he didn't communicate well and had some push back against Analytics
2.Boone rarely makes any decisions as the analytics team is set up right in the dugout tunnel
3. George Steinbrenner wanted to move the Yankees out of the Bronx to the upper west side. That's where he wanted the New Stadium built

4. George almost sold the Yankees to the Dolans

5. George Steinbrenner almost ran the Rangers, Knicks, and Yanks as part of the deal
6. The Authors of the book knew that the Yankees weren't signing Harper or Machado back in October when they interviewed the front office
7. The key part of Boone's interview for the Manager job was to correctly put together the lineup the analytics team wanted while plainly just looking at the numbers without any names attatched.
8. Giancarlo Stanton suffered major nerve damage in his face and had major psychological issues after getting hit in his face with Miami. He says that every hitter loses the ball in its final 8 feet of flight. When that happens you have no idea where it's going
9. George Steinbrenner had an agreement with Davey Johnson to manage the Yankees after 2002. He also wanted to fire Torre again after 2004
11. Brian Cashman saved Joe Torre's job MULTIPLE times and felt absolutely betrayed by Torre after Torre wrote his book, "The Yankee Years".
12. Brian Cashman is the most powerful man in baseball. The Yankees have the biggest analytics team BY FAR. The Analytics team has just as much say in trade discussions as Cashman. WOW
13. Aaron Judge is the face of the Yankees. He will be a Yankee for life, and be will be the next captain within the next few years. The organization is absolutely in love with him and Judge loves it in NY
14. Brian Cashman decided to fire Joe Girardi after Gary Sanchez was benched and their feud reached the media after his benching. Nothing was going to save Joe.
15. Joe Girardi was absolutely shocked by his firing. After being eliminated by Houston Joe came to Cashman with ideas for the 2018 season and Cashman cut him off and fired him on the spot. Girardi called Hal in tears and Hal said "I stand by Cashman's decision"
16. George Steinbrenner gave Randy Levine 3 tasks.

1. Get a new stadium at all costs

2. Get a new regional sports network

3. Bring outside streams of revenue not related to the on field product.
17. Randy Levine saved the Yankees from moving from the Bronx to the upper west side. George Steinbrenner hated being in the Bronx because he thought it was unsafe
18. Some Players started to tune Girardi out and felt like they didn't connect to him. This feeling started as far back as 2011 or so. His message quickly grew stale.
19. The Yankees had to build New York parks and parking lots in order to get their new stadium. Problem is everyone takes the train and the parking lots have been rendered useless and NY loses tons of money because of it
20. The deal between George Steinbrenner and the Dolans goes like this:

George would've sold 80 percent of the Yankees to the Dolans, in return he'd have become the managing general partner of all 3 teams (Yankees, Knicks, Rangers). Meaning no Jim Dolan making decisions
21. The Dolans also would've received the YES Network as well in the agreed upon deal. The Yankees and their Network are worth BILLIONS, and the Dolans would've owned both
22. Brian Cashman did not plan on trading for Giancarlo Stanton and took great joy having all the leverage over Derek Jeter. Stanton fell right into the Yankees laps. It was not in their original plans at at all
23. The original Stanton deal involved Chase Headley Being the one dealt to Miami, But Miami wanted a better hitter and Cashman gave them Castro knowing Gleyber Torres was waiting in the wings
24. Boone has the right to go rogue and go with his gut against the analytics, but he better be right or else he will be left on an island by the front office. It's incredibly rare that he ever goes fully with his gut
25. The Yankees pay for a full college education for every kid that signs with them knowing that 90 percent of them will never reach the Majors.
26. Brian Cashman has major PTSD from when George was around. Often times George would call him first thing in the morning to scream at him about something. Cashman does not seek headlines like George, And when Girardi and Gary's feud made headlines it was the final straw for Joe
27. The main job of the manager is to be the face for the in game decisions that the analytics determine. Boone's main job is to be good with the media and present the reasons for the decisions that are made.
28. Cashman wanted to move Jeter to the Outfield in the Mid 2000s

29. Robertson And Romine prefer Boone over Girardi
30. The organization felt that Girardi gave up on them around July. He'd isolate himself in his office at that point and refused to talk to anyone including the coaching staff and people in the organization believed at that point he was ready to stop managing and be with his kids
Cont... Girardi regained faith in the team in September when they got hot, but the damage was done.
31. Brian Cashman offered Brian McCann the starting DH spot after Sanchez took over as Catcher, but McCann preferred to be traded, but didn't want to go to the west coast. The Astros and Braves were the only teams he'd have waived his no trade clause for
32. The Marlins original asking price for Stanton was Gleyber Torres and Estevan Florial. Cashman, knowing he had all the leverage, laughed off that offer.
33. All baseball decisions run through Cashman, the Analytics and scouting heads, and the head of business affairs. It isn't until they have all had their say and reached a consensus before a deal is presented to Hal Steinbrenner
34. Hank Steinbrenner helps out Hal as Hal goes to Hank about every potential deal because Hank is the baseball guy while Hal is more of a business man. Hal very much values his brothers opinion
35. George Steinbrenner was very jealous of Joe Torre's Fame during the dynasty years. He wanted it to be known that it was HIS Team. Their breakup was years in the making because of that
36. The Authors of the book feel like Gerrit Cole will be the Yankees target after this season. They feel that he's a true Ace
38 via
@LukeBecker_YN26
, Cashman thought he had a deal to acquire Manny Machado from the Orioles at the deadline, the trade involved the same players in the Britton trade, but the Orioles changed their minds and wanted a position player as the main piece.
39 from
@LukeBecker_YN26
, Cashman almost left the Yankees in the Mid 2000s but George talked him out of it. Cashman demanded that the team get with the times and George said he could do whatever he wanted to stay
40. Roberto Alomar and Aaron Judge helped Gleyber Torres out of his slump. Further showing Judge's leadership
Via
@LukeBecker_YN26
41. Cashman couldn't meet the price that the Giants wanted for Bumgarner, Bumgarner is their Derek Jeter and they believe he'll re-sign in San Francisco. Cashman wouldn't discuss a trade for deGrom because of how bad his relationship is with the Wilpons
Via
@LukeBecker_YN26
42. During the Yankees fire sale in 2016, Cashman wanted to also trade Starlin Castro and Brian McCann, but Hal Steinbrenner ruled against it as he didn't want to throw potentially multiple seasons out the window.
Via
@LukeBecker_YN26
43. James Dolan was the one who killed the deal between George and the Dolans because he wanted to run everything.
Via
@LukeBecker_YN26
44. A big reason why Gary Sanchez's catching skills took a dip in the second half of 2017 was because he toned back his pre game catching work. Gary HATES doing the Wild Pitch drill. He stopped doing it and Girardi let it slide.
45. Spring Training under Boone was MUCH different than under Girardi. Under Girardi everyone had to be in uniform by 9:30 while Boone pushed that back an hour and let his players sleep in more. Boone had a short speech and players took notice of how different things were
46. Brett Gardner really helped take pressure off of Giancarlo Stanton. Giancarlo was being swarmed by the media when he first arrived (something he was very unused to) and Gardner called them over and stalled so Giancarlo could gather his thoughts and get dressed.
47. The Yankees have video and stat pacs on every baseball player in organized baseball as far down as high school. If you played high school baseball, there's a good chance they have video on you
48. In the spring, each Yankees player is assigned an iPad Pro and then emailed daily updates to browse. Everything is on there: his lifetime at-bats against the day's starter; pitch-over-pitch analysis of how that team attacks him; heat-maps reminding him where/what to swing at
49. Brian Cashman did not want to be the Yankees GM, in fact, he begged his predecessor Bob Watson to stay. Since joining the Yankees as a college intern in 1986, he'd watched George take apart powerful men who'd dared to fill the seat. He didn't want to be next.
50. Along with Stick Michael, Brian Sabean and Bill Livesey were big, if not THE reasons as to the Yankees getting Jeter, Posada, Mariano, and Andy according to Cashman. Cashman doesn't take any credit for the dynasty years
51. The people responsible for drafting the core 4, Sabean, Livesey, Kevin Elfering, Mitch Lukevics, were fired by George Steinbrenner because he had people in his ear saying they weren't any good
52. Brian Cashman thought that when he'd arrive at the canyon of heroes after the 1996 World Series that he'd see George happy, instead he found him screaming at the players to get their wives off the floats.
53. This entire thing is too crazy to type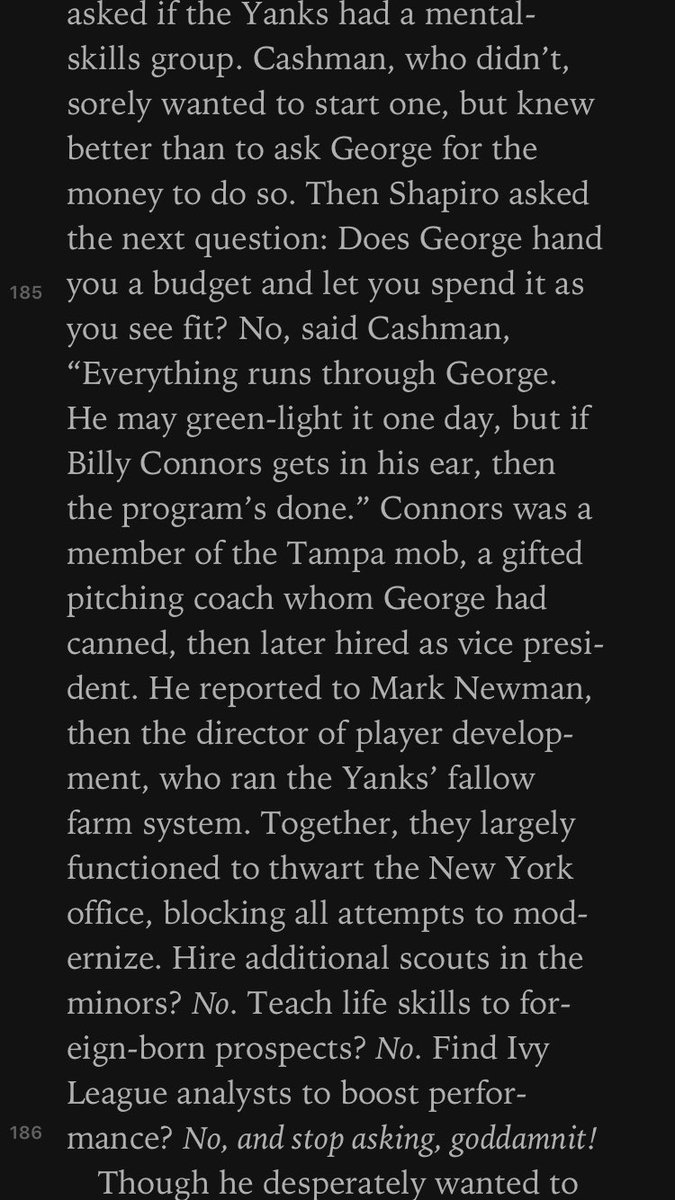 54. Mark Shapiro of the Blue Jays reccomended Chad Bohling to the Yankees as the director of mental conditioning when the Yankees finally decided to start the mental conditioning program that Cashman always wanted
55. A Big reason for the Yankees failures in the 2000s were because most of the players were big names that were brought in from other places, there was no chemistry. For example, Giambi just wasn't a fit there as a person. He just wasn't the Yankee type
56. After 2001 when the Yankees brought in Mussina and Giambi, it was the downfall of Torre. He couldn't relate to fhe new arrivals, and they complained about that according to a team source.
57. George Steinbrenner would have the YES Network embarrass Torre by making them ask him tough questions after losses and George would also leak to Bill Madden at the Daily News that George was secretly meeting with Lou Pinella to replace Torre according to Cashman.
58. Jason Zillo and the Yankees PR team stage Role Play sessions for players with under 4 years of service. 3-4 players interview another player about hot button subjects such as immigration and Gun control, making the guy being interviewed uncomfortable.
59. Brian Cashman has his eyes on Bumgarner for the right price. At the moment it's unlikely Bumgarner is traded
60. When George Steinbrenner fell ill in 2007, he asked Randy Levine to talk to his kids and wife to see who should take over as the managing general partner. The unanimous choice was Hal, and George agreed, saying "That's where I would've gone too".
61. The signings of Ellsbury, Beltran, McCann, and Tanaka were looked at as "Patches" while Cashman built the innards of the organization. During that time Hal approved Cashman's request of building a performance science department and a second academy in the DR.
62. The Yankees lost between 7-8 thousand season ticket holders earlier this decade, because this generation wasn't buying their plans anymore, so Hal paid for studies on what young kids want when they go to games. Some of them go for the experience instead of the game
63. Hal spent MILLIONS resetting the stage. He converted the concourse overlooking Monument Park into an enormous outdoor bar and built selfie stations, with strategic backdrops, all around the park. He gave ticket-package buyers pregame access to the field to hang with players
64. CC Sabathia was caught tipping his move to home plate by Boston, allowing them to steal on him whenever they wanted and run wild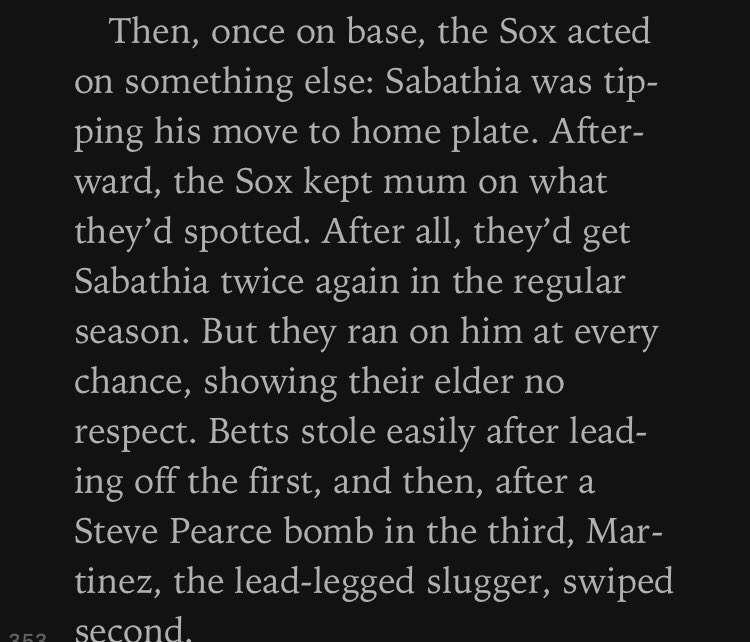 65. Wow. If an opposing manager was cussing at my team I'd have gone insane.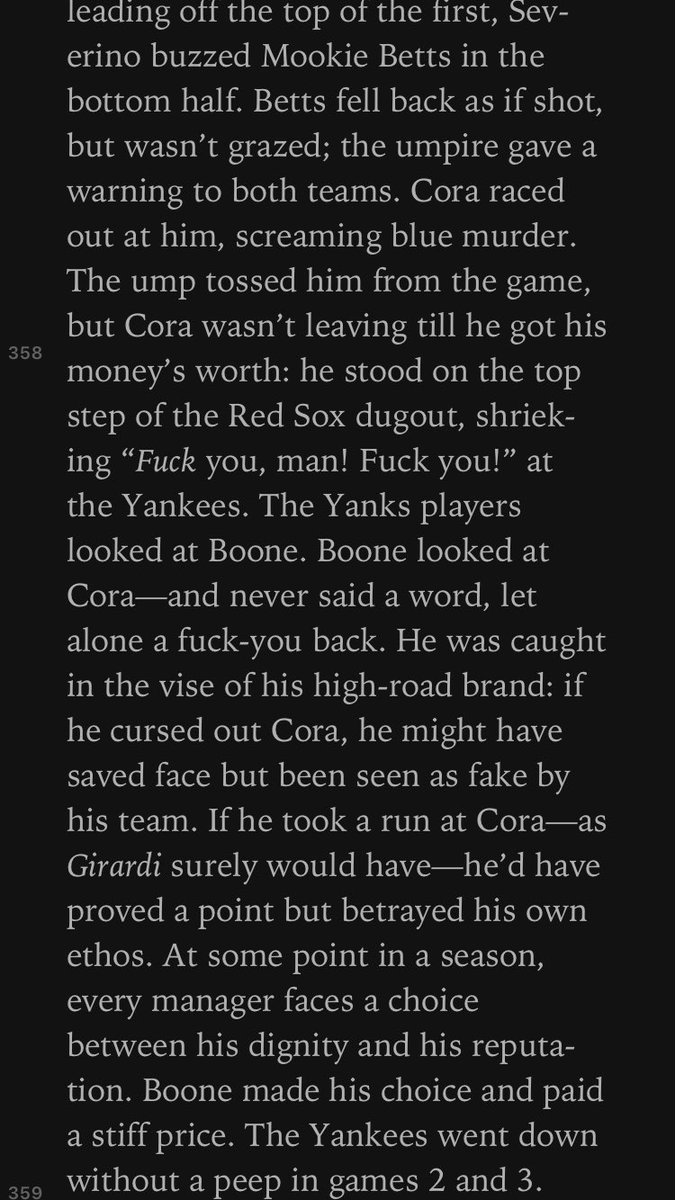 66. After getting swept by Boston in the summer at Fenway, an unnamed veteran player on the Yankees acknowledged that "looks like We might be a little short this year"
67. The Authors believed that the Yankees lacked vocal veteran leadership after getting swept by Boston in Fenway.
68. Hal Steinbrenner visits the Yankees Tampa complex often and bought 2 hotels for his Low A ball teams to live in and paid for suites for hotels he didn't own so kids could cook meals instead of eating fast food and hired nutritionists for them.
69. The Yankees use reruns of the show Friends in order to introduce their young international players to English
Most importantly. The show transmits the values these new-age Yanks espouse: friendship, teamwork, and living in peace with buddies who badly out-earn you.
70. A Yankee official admitted that most international signings don't really mean much "We sign five or ten kids who are stars in their country, and forty or fifty others so they'll have someone to play against once they get here," he says."
71. Randy Levine negotiated the deal to let George Steinbrenner back into baseball after he was banned. George Steinbrenner somehow reached Levine on the phone at LAX (Back when there wasn't Cells or beepers) And had Levine come to his apartment and that's how he was brought in.
72. Randy Levine got George Steinbrenner reinstated on March 1st. When he called George (Who was in Spain) to tell him the news, Steinbrenner responded "Fuck You Levine, it should've been January 1st!"
73. When George Steinbrenner negotiated TV deals with the Dolans, he had an opt out in his contract for one specific conditon, to build his own regional sports network aka what is now known as YES Network
74. The 50 million dollar deal George Steinbrenner made with the Dolans helped save the Yankees when they were bad in the 80's and allowed for Steinbrenner to bring in key free agents to turn the ship in the right direction.
75. The Dolans goal when trying to buy the Yankees was to have them on MSG because they'd have 7 NY teams all on their station. That way fans would pay a premium to watch.
76. Levine and the Yankees offered the Dolans 50 percent of what would become YES Network if the Dolans gave them their TV Rights back. James Dolan didn't want to let them get out of their rights and they ended up suing each other. The Yankees ended up paying 30 million

Cont...
So Jim Dolan could build a practice facility in the suburbs.
77. John J. Filippelli, the YES programming executive, was given only 5 months to quickly build or rent large production quarters, hire several dozen veteran TV staffers, and fill a 24-hour day with original product 365 days a year.
78. Filippelli came up with shows such as Yankees Classics, Yankeeography, and Center Stage All within that 5 month time frame.
79. Filippelli still didn't have enough content to cover 24 hours, and that's when George Steinbrenner reccomended getting Mike and the Mad Dog to do a simulcast
80. Filippelli originally thought he could get Bob Costas to be the play by play announcer for the Yankees...Until he looked at Costas' schedule and saw he was only available to do 6 games a year.
81. George Steinbrenner and Woody Johnson of the Jets almost teamed up to build the new stadium on the West Side Highway.
82. Due to the unique way Levine negotiated the new stadium being built, the other MLB teams pay about a 3rd of the yearly bill due to the competitive balance tax
83. George Steinbrenner paid only 80,000 dollars to buy 10 percent of the Yankees and become their managing general partner.
84. According to Mike Ozanian of SportsMoney, NYY earn 20 percent more than the second-wealthiest team, have a market value nearly three times the average of the other clubs ($4 billion vs $1.6 billion),and have the second-richest TV deal of any team,earning $125 million a year.
Additionally, they earn about $100 million a year from the game's national TV deals with FOX, ESPN, and TBS.
85. When the Yankees negotiated with Torre after 2007, they offered him 5 million guaranteed with incentives to bring it to 8 million and earn a second year extension. The pitch was, We paid you a premium when you won all those titles,but you haven't won a title in seven years.
Torre wanted a 2 year deal with stipulations that if he got fired during 2008 that his 2009 salary would be fully paid and if he was dismissed after the 2008 season, he'd receive a buyout for 2009. The Yankees almost immediately declined and he went to LA.
"Torre thought he made George Steinbrenner, when it was George that made Joe Torre". - Randy Levine.

Torre had been fired 3 times before being hired in 1996, very rare does anyone get a 4th chance.
According to Levine, George didn't mind the credit Torre claimed for managing those title teams. What George resented was "Joe cutting him out of the credit, along with everyone else. George was always a 'we' guy, not a 'me' guy, and Torre thought he'd grown bigger than George."
86. A bootleg copy of Joe Torre's book was obtained by the Post days before its release the week of the BBWAA Dinner. Cashman was ambushed by questions about the book and Cashman called Torre and asked if what the writers were saying was true and Torre said no
87. Judge polices the clubhouse for Boone just like what Jeter did for Joe Torre. Judge speaks up when young players like Gleyber or Andujar get a little sloppy
88. Steve Swindal, the Ex Husband of Jennifer Steinbrenner, was originally intended to be the person George handed the team to until their divorce, leading to Hal being chosen when George fell ill. Hal preferred the Hotel Business over the Yankees business
89. Hal Steinbrenner has never considered selling the team and says he has no plans to sell the team.
90. Cashman definitely thought about Re-Signing Andrew McCutchen after the 2018 season. Obviously Cutch got a big deal from Philadelphia and the reunion didn't come to fruition
91. CC Sabathia was the last person to leave the Yankees clubhouse after everyone packed up their stuff after being eliminated. He stood in front of his locker, signed a pair of cleats, and put them in Sonny Gray's locker.
92. Brian Cashman acknowledged the failures of several stars in the "G did everything we asked of him, outside of perform when it counted, but when he's on, he's unstoppable. And then, when he's off, he's so off, it's horrific—

Cont...
swinging at a curve seven feet in front of the plate. But, I mean, he's one of the better players in the game today. He just happened to get off track at the wrong time."
93. It's very possible that Boston spread the video of Severino tipping pitches around the league according to Cashman.
"Well, there's so much video out there—once one team spots it, it spreads like wildfire. Not saying the Red Sox told everybody, but that's how it works in the division. You've got a buddy in Toronto, you say, 'This is what we've got, now go out and whack the guy.'" - Cashman.
94. In an interview with Sweeny Murti, Bob Klapisch said that the analytics team wanted Bryce Harper and thought they needed his production. Cashman said no because he thought guys like Gary were going to bounce back.
95. The analytics team really liked Manny Machado as well and the analytics team almost outvoted Cashman on those guys but Cashman prevailed.
96. The Yankees actually had more interest in Harper than Machado, But not at 300 million. They also thought Machado might corrupt Dominican players such as Gary and Gleyber in a way which I think is bullshit
*Correction* Gleyber is from Venezuela
97. In an interview with the Short Porch Podcast, Bob Klapisch (Co-Author) revealed that the Yankees weren't super close to trading for Cole in 2017.
98. Klapisch also revealed that restlessness from the fans might've had an impact on Hal Steinbrenner giving the green light to give Gerrit Cole his massive contract. Fans were tired of coming up short.
99. The Yankees floated the 7/245 offer to Scott Boras for Cole, who then took that and got that number for Strasburg, thus increasing the price for Gerrit Cole.
100. Hal and Hank Steinbrenner, along with Cashman, met to discuss what they needed to offer to Cole after the Strasburg contract. They knew 7/245 had to be beat. Ultimately they did what it took to get Cole with a 9/324 Million contract.
101. Andy Pettitte was as important as anyone in the Cole recruitment process. He talked to Cole about the cultural differences between NY and Houston (Pettitte played for both) and Pettitte told Cole "You don't have to be a New Yorker to thrive in New York."
102. Hal Steinbrenner talked to Gerrit Cole on the phone and told him "We're all in on you. Come up with whatever offer you want. I'm here to tell you that we're fully committed."
103. CC talked to Cole on the Phone as 2 west coast guys talking about playing in NY, but Pettitte got to Cole the most because he was Cole's childhood idol telling him he's perfect for NY.
104. Klapisch hears that the Dodgers offer wasn't that close to the Yankees (Contrary to what Verducci reported). The Yankees blew everyone else out of the water to get their Ace.
105. The Yankee contingent were at a restaurant when the Cole news broke on the TV's at the restaurant. All of the patrons stood up and Gave Cashman and Boone a standing ovation.
106. Klapisch predicts the Yankees will take a run at keeping Austin Romine because they love him so much.
107. Brian Cashman really likes Clint Frazier. He loves his upside and is VERY reluctant to trade him because he fears Clint becoming an All Star elsewhere. He senses an explosion waiting to happen where Clint puts everything together.
108. J.A. Happ is likely to be dealt to stay under the 248 Million Luxury Tax Threshold.
109. The Cole signing is likely a One and Done thing according to Klapisch. Don't expect the Yankees to buy all the big free agents like they used to. Cashman and Hal are still committed to the prospects and Re-Signing their homegrown guys.
110. There wasn't really much thought of bringing Didi Gregorius back. He would've had to have given the Yankees a crazy discount for him to stay.
111. Klapisch believes that if Didi never got hurt, he very likely would've received a contract extension.
112. Dellin Betances and the Yankees both have mutual interest on him coming back for 2020. He's already mostly over his achilles injury. Dellin loves the Yankees and is very loyal to the guys in the clubhouse.
113. Klapisch would be very surprised if Dellin leaves.
114. Cashman initially wasn't sold on DJ LeMahieu but realized by watching the 2018 Red Sox that they needed more contact hitting. The example he set on situational hitting reached his teammates.
115. Klapisch would not be surprised if the Yankees try to move Andujar to 1st base because that's the only potential spot for him. Urshela is the 3rd baseman.
116. An Aaron Judge extension this offseason is "Possible, but unlikely" according to Klapisch. Klapisch would like to see Judge have another fully healthy season before giving the extension and he feels the Yankees feel the same.
117. Klapisch "There is no doubt Aaron Judge will finish his career as a Yankee and he will be the Yankee captain".
118. The Astros are the most hated team in baseball throughout the league. Their arrogant and cheaters and lousy and mean and nobody is more pissed at them than Rob Manfred. They ignored his warnings about sign stealing. In fact they doubled down on it.
119. Klapisch believes AJ Hinch, Carlos Beltran, and Alex Cora all could be suspended for their role in the Astros scandal.
120. The people leading the investigation besides Manfred are former FBI, Cops etc.... the MLB are trying to get to the bottom of EVERYTHING that went on.
121. This is the team Cashman has wanted for a long time. Klapisch would be surprised if the Yankees don't roll through the American League.
122. Klapisch could see this Yankees team winning 110-115 Games in 2020.