China's Industrial policy = Hamiltonian state finance + Jacksonian trade protection + Fordist assembly lines + Kennedyesque R&D spending.

US really should have taken out IP on its history!
Many are still stuck in pre-Crash view of China's economy as a low-cost export powerhouse. Post-Crash China is a domestic demand-driven economy. A vast internal market supercharged by a logistics revolution (cheap transport) that attracts the worlds firms.
https://www.ft.com/content/a7a8bf98-4f12-11ea-95a0-43d18ec715f5?accessToken=zwAAAXBH8eTAkdOnqL-YTxIR6tOVoEPRjscV9Q.MEUCIQDkVfaMC0je2kmqKZVQEctH-t4zY2JHzLaKe7nadoglwQIgR6sxuyfk3idxg0UE3ta5T9TGbRbqddqa0KzWbI7zy9o&sharetype=gift?token=ba7a64bc-15c5-45dd-9a2a-d9aaff0d49cf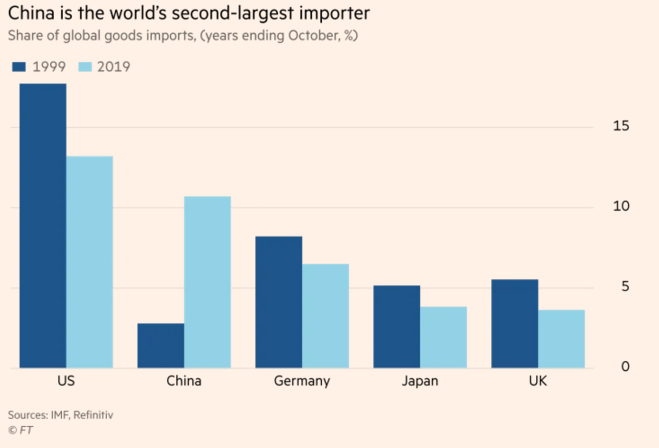 Sound familiar? Thickly populated wealthy industrial Eastern seaboard; ppl poor resource-rich hinterlands in the West; Railroads & real-estate financial boom; Cheap water transport along great Rivers; Massive FDI & flow of know-how from a richer continent.
https://twitter.com/70sBachchan/status/1194643097453355008
China's Post-08 restructuring was 𝘪𝘯𝘵𝘦𝘳𝘥𝘦𝘱𝘦𝘯𝘥𝘦𝘯𝘵 w West. Crash caused by US-EU banks collapsed Trade. Staggering

stimulus, smaller US & EU's Austerity were choices.

demand for Jap/Ger cars, US MNC's, Aus coal, LatAm Ag etc kept systm afloat
https://www.ft.com/content/df82b67c-a5f2-4ee2-b168-85f4bbb9b05f
Wuhan went from a backwater to a 2nd tier city after China's urbanization post 2008. It became a Auto hub as companies such as GM, Renault, and Nissan set up factories further inland for China's booming internal market. ht Andrew Liu
https://www.theguardian.com/commentisfree/2020/apr/10/blaming-china-coronavirus-pandemic-capitalist-globalisation-scapegoat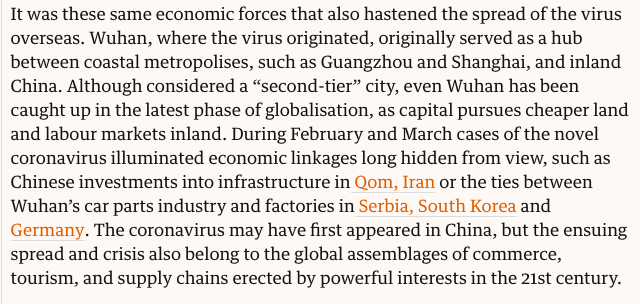 Sound familiar? Though tens of millions have lost jobs in cities, & rural ppl in distress amid flood disasters, luxury brands in China clock record sales.
Inequality widens in China's new Gilded age. (
@yuenyuenang
's excellent book
https://sites.lsa.umich.edu/yy-ang/wp-content/uploads/sites/427/2020/03/Chinas-Gilded-Age-SummaryIntroduction.pdf
https://twitter.com/yuenyuenang/status/1297259980945600512